City Denies Permit For Straight Pride Parade, Tells Organizers To Find New Venue
MODESTO (CBS13) — The hopes of the National Straight Pride Coalition have been dashed for now as Modesto City leaders announced on Friday the group will have to find another venue to hold their march and parade.
City spokesperson Thomas Reeves said there were issues with the event.
"As of tonight I can confirm the City of Modesto will be denying the permit," said Reeves.
The straight pride event was planned in Modesto's Graceada Park for Aug. 24. Reeves says the event organizers were faced with a problem.
"We were informed today by the insurance carrier that they are denying insurance. If you don't have insurance, you can't reserve one of our parks," Reeves said. "The second thing is our concern for safety. We have a big concern for the residents around Graceada Park where the event was planned to be held."
READ ALSO: Plans For Straight Pride Rally Lead To High Tensions In Modesto
Reeves says straight pride organizers can apply for another permit to hold the event at an alternative site not in a residential area and will still have to ensure they have proper insurance.
Don Grundmann, the outspoken organizer of the National Straight Pride Coalition, said he is being set up to fail.
"My presumption is that were being set up to be told that the bureaucratic process won't be completed in time," Grundmann said.
He suggested that Modesto city council members had an agenda of their own.
"Even if I turned in an insurance policy as I'm speaking to you, we would be told that it's too late to complete the process. Maybe that isn't true, but it wouldn't surprise me if that occurs," Grundmann said.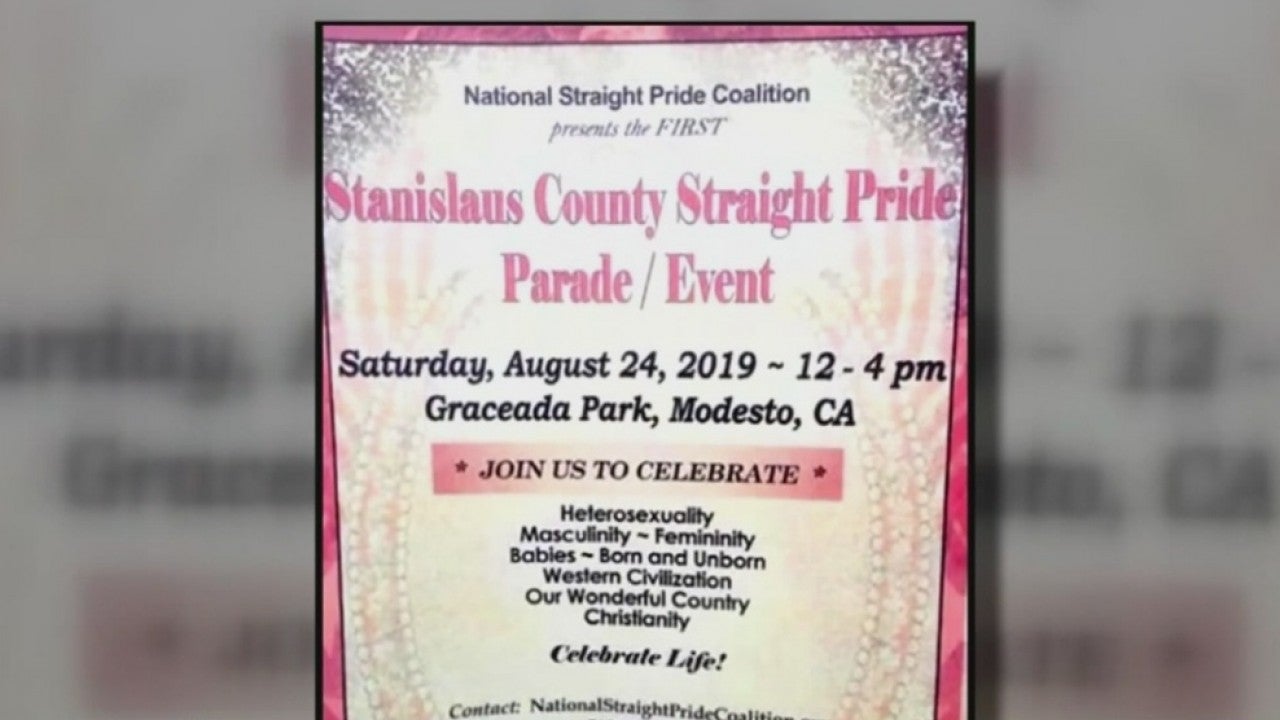 The event was advertised on social media in a colorful flyer celebrating heterosexuality, masculinity and more.
Opponents at a city meeting Wednesday night said the event is really about white supremacy and hate speech.
Matthew Mason is a student and LGBTQ activist who came out as gay 4 years ago. His adoptive mother, who lives in Modesto, was in support of the straight pride parade. Mason said Modesto is an inclusive city and council members made the right decision.
"Everybody in the community has really been speaking out and taken a stance against this really harmful rhetoric that Don Grundmann is trying to bring to our community," Mason said.
The issue of the parade has divided many for weeks.
READ: LGBTQ Center To Offer Safe Space During Modesto 'Straight Pride Parade'
"I can understand where they're coming from with all the hate that's been going on," said Stacey Hernandez of Modesto.
Adam Webber also had issues with some of the language he was hearing from Grundmann and supported the city.
"I think it was the right decision. I'm openly gay myself and also a physically disabled person so obviously, I would be concerned about a group like that coming into the area," Webber said.
For his part, Grundmann remained defiant, telling CBS13 that members of his planning committee will meet in Modesto Saturday to view alternate locations. He promised the parade will take place as planned in Modesto on August 24th.
Thanks for reading CBS NEWS.
Create your free account or log in
for more features.