El Dorado County Deputy Brian Ishmael Killed While Responding To Theft At Marijuana Grow
SOMERSET (CBS13) - El Dorado County Sheriff's Deputy Brian Ishmael was shot and killed after responding to an incident overnight.
Just after midnight, Deputy Ishmael was on a ride-along with a 28-year-old off-duty San Joaquin County Sheriff's deputy when they received the report of marijuana crops being stolen from a home in the area of Sand Ridge Road.
Ishmael and the other deputy went to the home, and when they arrived, Ishmael was shot and killed. The other deputy returned fire and was hit by a bullet. He was taken to the hospital where he underwent surgery and is expected to recover. He is now assisting with the investigation, according to El Dorado County Sheriff John D'Agostini.
Ishmael was a 4-year veteran with the El Dorado County Sheriff's Office and had previously worked for Placerville Police Department for two years.
Two people were arrested in connection to the shooting. They are described by the sheriff as Hispanic adults. One was shot and taken to the hospital to be treated. The extent of his injuries is unknown.
D'Agostini said it's unknown if there are additional suspects, but deputies have searched the area to ensure that there is not a threat.
Sand Hill Road reopened around 1 p.m.
Ishmael graduated from Ponderosa High School in 2000, according to his Facebook page. D'Agostini said he had a positive outlook.
"Brian worked in this community and lived in this community; he was easy to talk to, kind, and always positive. He never had a bad day, was a loving father and husband, leaves behind his wife and three children," D'Agostini said.
As Ishmael's body was transported to Sacramento, first responders saluted the law enforcement procession as it passed by.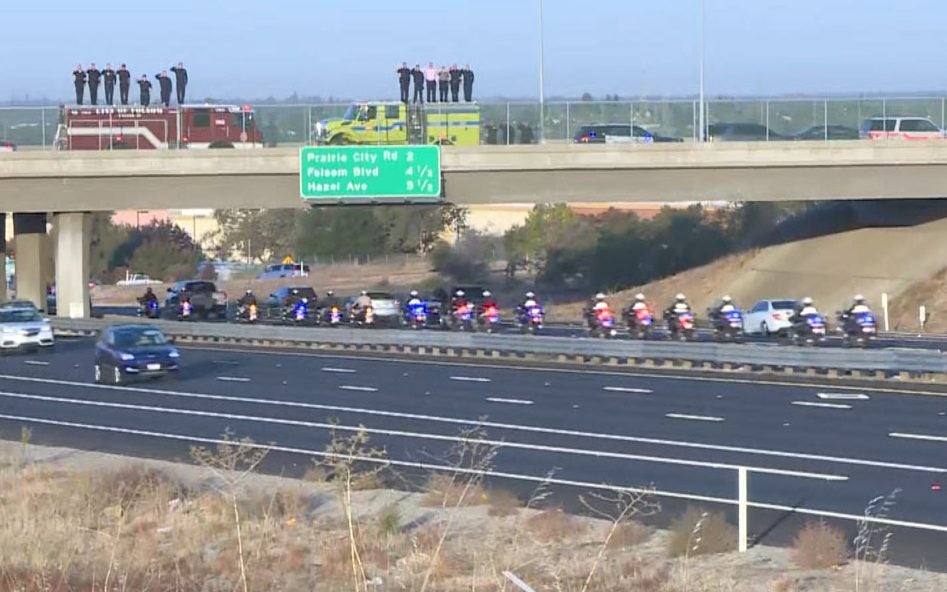 Governor and first lady Newsom issued a statement about Ishmael's death:
"Jennifer and I were terribly saddened to learn that Deputy Ishmael was shot and killed this morning while courageously serving and protecting the people of El Dorado County. Our thoughts and prayers are with his loved ones, friends, and colleagues during this painful time."
The El Dorado County Sheriff's Office posted on Facebook saying it set up a donation website.
Prior to Ishmael's passing, the last time an El Dorado County sheriff's deputy died in the line of duty was in 1991. He was driving to a call for service when he crashed and died.
Thanks for reading CBS NEWS.
Create your free account or log in
for more features.