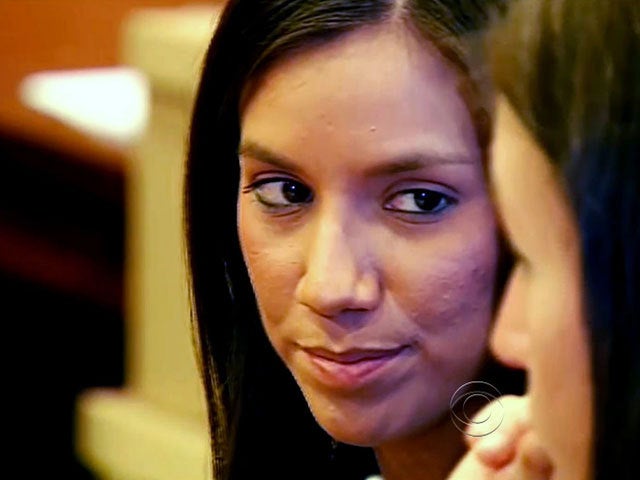 Zumba Prostitution Case: Alexis Wright pleads guilty to 20 counts, including prostitution
(AP) PORTLAND, Maine - A dance instructor accused of using her Zumba fitness studio as a front for prostitution pleaded guilty Friday to 20 counts in a scandal that captivated a quiet seaside town.
PICTURES: Zumba instructor accused of prostitution
The plea agreement spares Alexis Wright from the prospect of a high-profile trial featuring sex videos, exhibitionism and pornography, and more than a thousand texts and emails detailing the operation. Prosecutors will recommend a prison sentence of 10 months.
The 30-year-old Wright was accused of conspiring with insurance agent Mark Strong Sr. to run a prostitution business in which she kept detailed records indicating she made $150,000 over an 18-month period. She was also accused of using a hidden camera to record sex acts without her clients' knowledge.
Strong, 57, was convicted 13 counts related to promotion of prostitution and sentenced to 20 days in jail.
Wright quietly answered "guilty" 20 times when the judge read the counts, which include engaging in prostitution, promotion of prostitution, conspiracy to promote prostitution, tax evasion and theft by deception.
The scandal became a sensation in part because authorities said Wright had at least 150 clients in her small town on the Maine coast, leading to a guessing game about who they were. People who have seen the client list say some of the clients were prominent. Those who have been charged so far include a former mayor, a high school hockey coach, a minister, a lawyer and a firefighter.
Working together, Strong and Wright were an unusual pairing.
Wright attended college classes and ran dance classes for the local parks and recreation program before opening her studio in Kennebunk. She was charged with engaging in paid-sex acts in the studio, in her apartment and in her office.
Overseeing the operation and watching the sex acts live on his office computer 100 miles (160 kilometers) up the coast was Strong, a married father of two who ran a successful insurance agency in Thomaston.
It came as no surprise that Wright would seek a plea agreement because evidence presented in Strong's trial was damning.
A video played for jurors showed Wright engaging in sex acts with a man who then inquired about her rate before leaving $250 cash on her massage table. After the man left, the video showed Wright pocketing the money.
There was plenty of electronic evidence, because the two kept in touch via text and email and because Wright videotaped the clients and Strong watched live via Skype. Videos showed them speaking openly of ledgers, payments and scheduling.
Residents of Kennebunk were frustrated by the media coverage of the community of 10,000, better known for its beaches, sea captains' homes and Toms of Maine's toothpaste than for sex and crime.
Names of alleged clients trickled out as they were charged, leading to speculation about who else might be on the list. But residents soon grew weary of the media's attention, especially after it became clear that only a few of the clients were local residents.
Complete coverage of the Zumba Prostitution Scandal on Crimesider
Thanks for reading CBS NEWS.
Create your free account or log in
for more features.