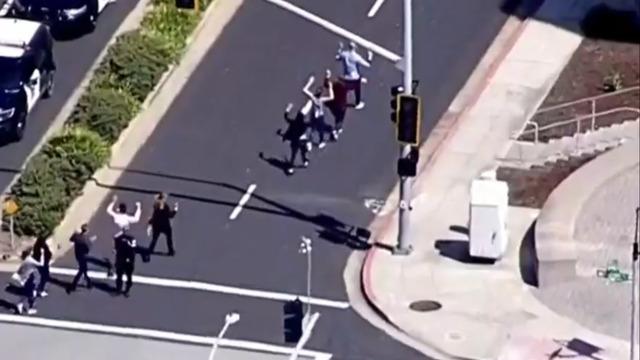 YouTube shooting: Witness describes helping wounded employees
SAN BRUNO, Calif. -- The owner of a restaurant near the YouTube headquarters in San Bruno, California, says he heard gunshots and helped three wounded YouTube employees who came into the eatery after a shooting Tuesday afternoon.
Police confirmed a female suspect in the Tuesday afternoon shooting is dead of a self-inflicted gunshot wound and several other people were injured have all been transported to a hospital. The extent of their injuries was unclear.
The owner of the restaurant, Hashes and Brews, told Crimesider he was outside smoking a cigarette when he heard several pops. He at first thought there was construction in the area and the sound was a nail gun, but then the pops sped up.
That's when he realized the sound wasn't a nail gun -- it was gunfire.
Denny, who didn't want to give his last name, said there was a brief pause in the gunfire before it continued. He said he heard a total of about 15 to 17 shots.
"It went on for awhile, those shots, it wasn't like emptying the clip like 'boom boom boom,' it was more of a slower pace," Denny said.
He said he saw YouTube employees running toward him and three came into his restaurant, two men and a woman. He said the woman was shot beneath her ankle and a bullet had lodged in her leather shoe. One of the men was bleeding from the face and the other had blood on his elbow, but he wasn't sure what kinds of injuries they suffered. He said they may have been graze wounds.
The employees were shaken up, Denny said. Staff there offered them water and towels. One of the men said a woman opened fire outside in the patio area of the cafeteria.
Denny said he didn't want to ask them more questions and they eventually left.
"They were all shakey, they were making me shake," Denny said.
Restaurant host Michelle Tam also tried to help the three YouTube employees. Tam told Crimesider staff there offered them first aid kits. They all were walking, she said.
"We helped them out, we tried to give them some water and towels," Tam said.
As soon as they cleaned themselves up, they left, Tam said.
Tam said Hashes and Brews is nearby the YouTube campus and there's often a lunch rush of employees. Tam described a massive police response but said there were still patrons eating inside the restaurant Tuesday afternoon.
Thanks for reading CBS NEWS.
Create your free account or log in
for more features.