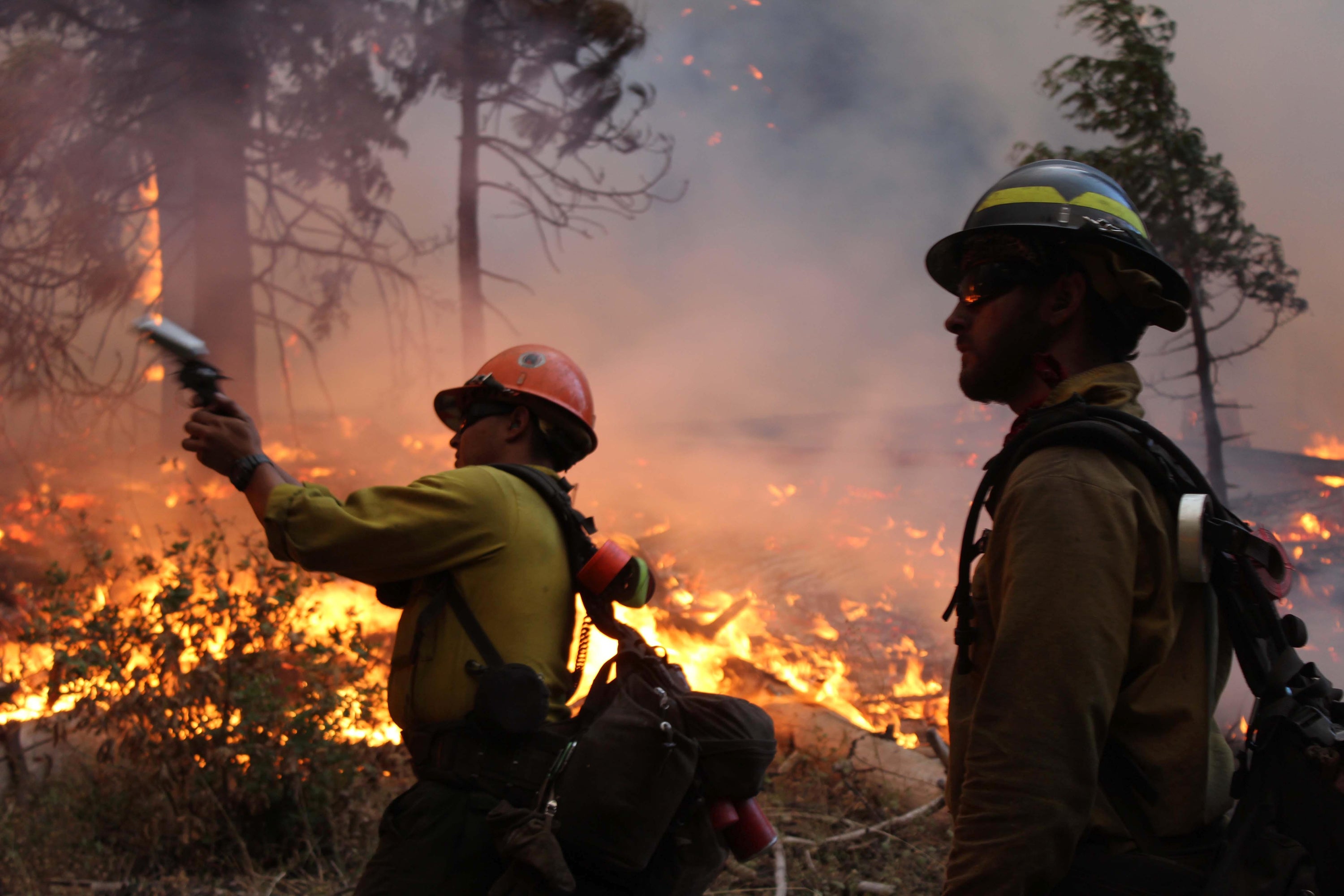 Yosemite fire possibly ignited in illegal marijuana grow, official says
YOSEMITE NATIONAL PARK, Calif. As crews pushed forward with building containment lines around the wildfire in and around Yosemite National Park, one local fire chief speculated the blaze might have ignited in an illegal marijuana grow.
Chief Todd McNeal of the Twain Harte Fire Department told a community group recently that there was no lightning in the area, so the fire must have been caused by humans.
"We don't know the exact cause," he said in a talk that was posted Aug. 23 on YouTube. "Highly suspect it might have been some sort of illicit grove, a marijuana-grow-type thing, but it doesn't really matter at this point."
The video was first reported Saturday by the San Jose Mercury News. McNeal makes the comments just after the 6-minute mark in the video below:
Meanwhile, authorities lifted evacuation orders and advisories for several Sierra Nevada communities once threatened by the massive blaze.
Officials said they still are investigating the cause of the fire, which started 18 days ago in an isolated area of the Stanislaus National Forest and has burned nearly 370 square miles — the fourth biggest recorded wildfire in California.
With higher humidity and lower temperatures, the fire reached 80 percent containment, prompting the sheriff's offices in Tuolumne and Mariposa counties to lift evacuation advisories for communities with several thousand structures in the fire's path.
Officials said 111 structures, including 11 homes, have been destroyed. More than 4,300 firefighters are still battling the blaze.
Officials overseeing the fire suppression effort would not comment on McNeal's statement about the blaze possibly being ignited in an illegal marijuana grow. They would only say that the cause is still under investigation.
"There has been some progress but there are no additional details at this time," said Rena Escobedo, a spokeswoman with the Rim Fire incident command team. The U.S. Forest Service is leading the investigation.
McNeal could not be reached for comment Tuesday.
Whether a marijuana grow or something else was the cause of the fire will take a long time to determine, said Doug Allen, a retired division chief in charge of law enforcement for the California Department of Forestry and Fire Protection in Southern California.
Allen said investigators generally follow char marks on trees and rocks to help find the fire's point of origin, then mark off the territory into grids that are searched for clues. A lightning strike, for example, might have melted sand into glass.
"Everything will have carbon stains that will tell them which direction it came from," Allen said. "You won't find the point of origin on every fire. Maybe a bulldozer has driven over where it started and you're out of luck."
Illegal marijuana grows in national parks and forests have tormented federal land managers for years. Growers hike into remote canyons with poisons and irrigation lines and set up camp for months. The poisons kill wildlife and seep into streams and creeks. The growers leave tons of garbage behind.
The three top causes of wildfire in California are equipment use, such as a lawnmower blade hitting a rock or a vehicle's malfunctioning catalytic converter, plus debris burning and arson.
Thanks for reading CBS NEWS.
Create your free account or log in
for more features.