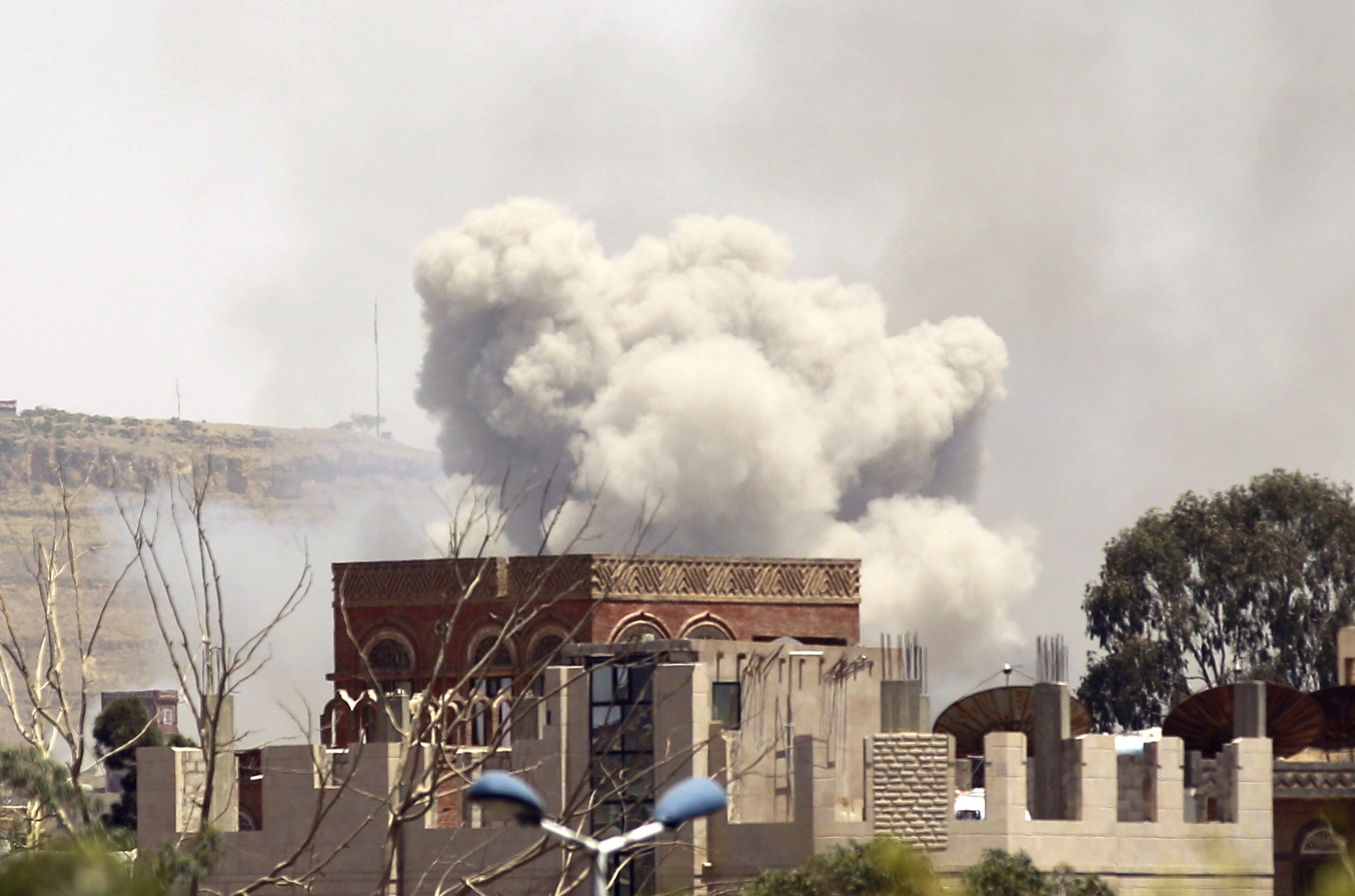 Yemen conflict kills 550 in past month, U.N. says
SANAA, Yemen -- With combatants fighting in neighborhoods and Saudi-led coalition warplanes pounding Iran-backed rebels from the sky, Yemen's war is wreaking a particularly bloody toll among civilians: more than 550 have been killed in the past month, including 115 children, the U.N. said Friday.
Amnesty International said in a new report that some of the airstrikes it examined in the capital of Sanaa and four other cities raise "concerns about compliance with international law," saying they appeared to have failed to take precautions to avoid civilian casualties.
The air campaign that began March 26 "has transformed many parts of Yemen into a dangerous place for civilians," the report said. "Millions of people have been forced to live in a state of utter terror, afraid of being killed in their homes." It said about 150,000 people have fled their homes the past month.
So far, relatively muted criticism from world leaders has been unable to force an end to the violence in the Arab world's poorest country. More civilian areas were hit Friday by warplanes, including a stadium in the southern town of Zinjibar and a courthouse in the town of Lahj, witnesses said. Casualties were not immediately known.
Saudi Arabia leads a coalition of other Gulf countries, Egypt and Sudan, in the campaign against Iranian-allied Shiite rebels, known as Houthis, who have taken over much of Yemen.
The Sunni Arab countries in the coalition and its Western supporters say the Houthis get their arms from Shiite powerhouse Iran. Tehran and the rebels deny that, although the Islamic Republic has given political and humanitarian support to the Shiite group.
The Houthis are allied with military units loyal to former President Ali Abdullah Saleh against the coalition and the forces of President Abed Rabbo Mansour Hadi. Although Hadi is the internationally recognized leader, he was forced to flee his southern stronghold of Aden last month as the Houthis advanced toward the port, and he is now in the Saudi capital of Riyadh.
On Friday, Saleh urged the Shiite rebels to comply with a U.N. resolution that obligates them to withdraw from the cities they occupy so that peace talks can begin. But military units loyal to him also are on the front lines fighting alongside the Houthis, and Saleh made no mention of them ceasing fire.
Saleh made a veiled accusation that Hadi was allied with Yemen's active and dangerous al-Qaida branch, saying that "all militias, al-Qaida, and armed men affiliated to Hadi should withdraw from all provinces."
On Tuesday, the coalition announced its campaign was entering a new phase. It said the strikes had achieved their goal of weakening the Houthis and their allies, and would be scaled down. But fighting did not stop: The rebels continued to press their offensive on Aden, and after a brief easing, airstrikes have revved back up again.
U.S. Secretary of State John Kerry expressed support Friday for the Saudi-led airstrikes as long as the rebels persist in attacking Yemeni government forces, telling reporters after a meeting in northern Canada that the Houthis must stop fighting and enter negotiations.
While expressing concern for civilian casualties, Kerry credited the Saudis with making an important shift from a full-scale air campaign to hitting targets only when militants present a threat or try to seize more areas.
Rupert Colville, a spokesman for the U.N. High Commissioner for Human Rights, said 551 civilians have been killed and 1,185 injured in the fighting between March 26 and April 22. The total death toll including both combatants and civilians is 1,080, the U.N. said.
The deaths, the agency said, resulted from both airstrikes and fighting on the ground. Heavy battles have taken place in several cities, particularly in the south.
The agency said a bridge was hit twice April 22 by warplanes in the western province of Ibb, killing 40 civilians, including seven children. The deaths included people who rushed to help the wounded from the first strike.
Another deadly incident took place Monday in Sanaa, where an explosion from the bombing of a large weapons depot on a mountainside flattened houses below and killed at least 20 civilians, the rights office said. The bombings also partially damaged U.N. offices. A day after the strike, medical officials told The Associated Press that 38 civilians had been killed.
Among the civilians killed in that attack was Leith Shujaa and his parents. Their home was crushed by giant boulders dislodged in the airstrike, according to Ammar Salami, a relative.
Shujaa was worried about the airstrikes wounding his family and would constantly call relatives to make sure they were OK, salami said.
"He was the one checking on us all the time," Salami told the AP. "But he was the one killed in a horrible way."
Salami helped dig the bodies out of the rubble. He said Shujaa's younger sister survived because she had just gone to a neighbor's house, although other nearby homes were also crushed.
The surviving sister, in her 20s, "is still in shock. When you talk to her, she only makes sounds, but doesn't talk," he added.
There have been several coalition strikes that have killed dozens of civilians at a time, reflecting how closely intertwined the combatants are with civilians.
Many bases of the Houthis and their allies are in urban areas. Residents of several cities have told the AP of Houthis setting up anti-aircraft guns on rooftops of homes or hiding munitions in residential areas. Coalition warplanes have gone after those positions, hitting hotels, sports stadiums and offices used by the militants.
Fierce urban combat has also brought a high civilian toll, particularly in southern cities. Aden - the main bastion of the pro-Hadi militias - has seen street battles with tanks, rocket-propelled grenades and automatic weapons. The U.N. casualty figures did not specify how many deaths were from airstrikes or ground fighting.
Maha al-Sayyed said her downtown Aden neighborhood of Mualla and three others have been turned into a "disaster area," where civilians sometimes get trapped in their homes by fighting. Ambulances and supplies can't get in, and bodies often lie in the streets for days, she said, because Houthi snipers on rooftops battle with militiamen below.
A 12-year-old neighbor named Anas was killed and his older brother was wounded when a Houthi tank parked at the end of their street fired a shell that hit their home, al-Sayyed added.
She and others immediately took what possessions they could and fled to another part of Aden.
"When a woman named Sabreen returned to take her belongings from her house, she was shot by a sniper and killed on the spot," al-Sayyed said. Houthis have stored weapons in a hotel and in homes, she said, connecting buildings by knocking holes in walls or by tunnels to avoid going outside.
Al-Sayyed runs a campaign to get supplies to those displaced by the fighting, including people who have fled to Aden from other southern regions.
"Imagine - we are in a disaster zone receiving people from other disaster zones," she said.
Collecting casualty figures amid the fighting has proven difficult. Families sometimes bury their dead immediately without reporting them.
The U.N. children's agency UNICEF said at least 64 children were killed in airstrikes. It also said 23 hospitals were attacked and 30 schools were damaged or occupied by parties to the conflict.
Thanks for reading CBS NEWS.
Create your free account or log in
for more features.