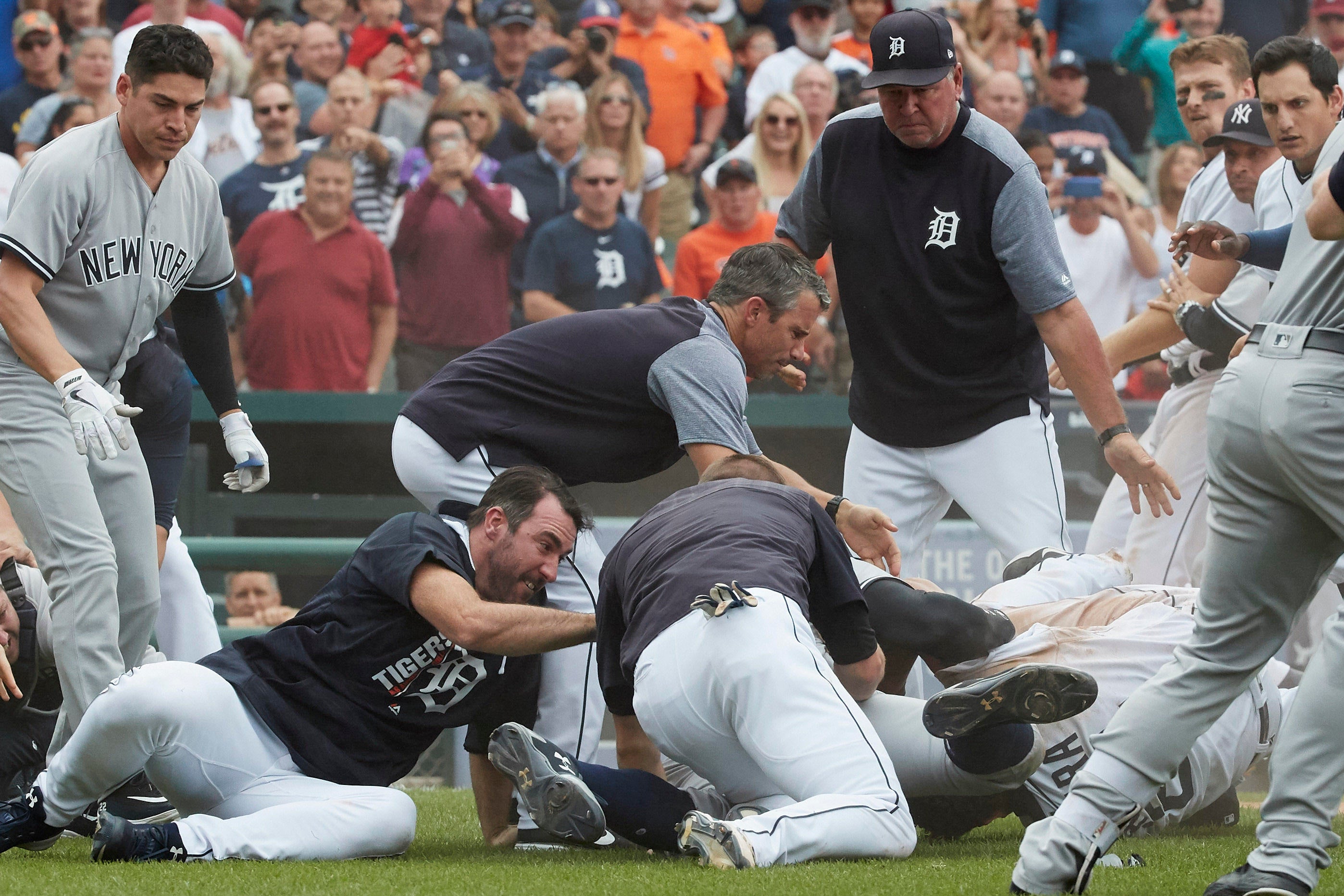 Fists fly, benches clear 3 times during Tigers-Yankees game in Detroit
DETROIT -- Detroit slugger Miguel Cabrera and Yankees catcher Austin Romine wrestled on the ground near home plate during the first of three bench-clearing incidents in Thursday's game.
Five players were ejected, along with managers Joe Girardi of the Yankees and Brad Ausmus of Detroit, and New York bench coach Rob Thompson.
New York reliever Tommy Kahnle and Girardi had just been tossed after Kahnle threw a pitch behind Cabrera in the sixth inning. With the game about to resume, Cabrera stepped toward Romine and the two exchanged words. The New York catcher took off his mask, and Cabrera gave him a two-handed push to the chest.
Cabrera appeared to take a couple of swings at Romine, and the two ended up on the ground as players from both teams spilled onto the field.
Cabrera and Romine were ejected.
An inning later, New York's Dellin Betances hit Detroit catcher James McCann in the helmet with a pitch, causing benches to empty again. Betances and Thompson were then tossed.
Tigers reliever Alex Wilson and Ausmus were ejected in the eighth after Wilson hit Todd Frazier around the thigh with a pitch. The benches cleared for a third time, although the Cabrera-Romine fight was as nasty as things got.
The ill will likely began when Detroit's Michael Fulmer hit Yankees slugger Gary Sanchez with a pitch in the fifth, an inning after Sanchez had homered for the fourth time in this three-game series. Fulmer looked like he might be hurt after throwing that pitch, and he was checked by the trainer before staying in the game.
Kahnle was ejected by plate umpire Carlos Torres immediately after his pitch sailed behind Cabrera. Girardi stormed out of the dugout to argue and was tossed as well.
After Cabrera and Romine were ejected for their fight, Romine was so incensed he threw his mask while entering the dugout.
Surely Cabrera is going be suspended and Sanchez will likely get nailed, too, as MLB reviews video, CBS Sports writes. Fulmer, Kahnle, Wilson and Betances are candidates as well. The hunch is Kahnle gets one. It's anyone's guess on Fulmer, Wilson and Betances as MLB often tries to figure intent. Romine was defending himself, but he did throw punches, so that's likely to garner a suspension as well.
CBS Sports writes that the game ended on a bit of a funny note: Sanchez struck out, much to the delight of the Detroit fans still in attendance.
Tigers beat the Yankees 10-6.
Thanks for reading CBS NEWS.
Create your free account or log in
for more features.