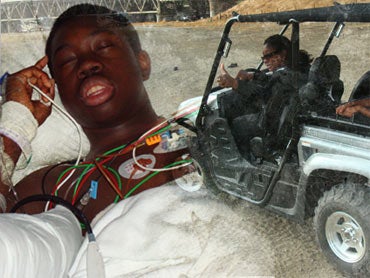 Yamaha's Rhino: For Some A Deadly Ride
By CBS News contributor Myron Levin
In the swath of Kentucky called the Land Between The Lakes, the Turkey Bay Off-Highway Vehicle Area is a rugged expanse of hills and woodlands crisscrossed by 100 miles of trails. Test drivers came here in July, 2002, to try out the Yamaha Rhino, a new breed of off-road vehicle then in development, and had a mishap that would resonate years later.
Keisuke "Casey" Yoshida, president of a U.S. subsidiary of Yamaha Motor Co. Ltd., was behind the wheel of a Rhino prototype. Ike Miyachi, a company vice president in charge of Rhino development, rode beside him in the passenger seat. After descending a long hill to flat ground, the Rhino tipped over, giving Miyachi a foot injury.
At a meeting weeks later, Yoshida raised a question that now seems prophetic. "Casey wants update on instability of vehicle for future liability cases," according to minutes obtained by CBS News.
The Rhino was a hit, with more than 150,000 sold after its introduction 15 months later in fall, 2003. But the vehicle, which looks like a cross between a golf cart with attitude, and an all-terrain vehicle, or ATV, is at the center of a legal firestorm. At least 59 riders have been killed in Rhino accidents, according to the Consumer Product Safety Commission. More than 440 wrongful death and personal injury lawsuits are pending, and Yamaha has settled others. Many stem from rollovers in which drivers or passengers fell or were flung through the open door space to the ground, then smashed by the 1,100 pound vehicle. Adults and children as young as 3 years old have suffered gruesome injuries, including amputated limbs and crushed legs, arms or heads.
Plaintiffs say the Rhino is dangerously unstable due to its unusually narrow stance, high ground clearance and lack of a rear differential to help in turning. They also claim the Rhino's seat belts tend to unspool during rollovers, resulting in belted occupants being partially ejected.
The Rhino has "significant problems," said Inez Tenenbaum, who in June became chairman of the U.S. Consumer Product Safety Commission. "The public needs to be aware that, already, 59 people have been killed in these vehicles."
Under pressure from the agency, Yamaha on March 31 announced a "free repair program'' to improve the Rhino's handling and stability-seemingly a recall in everything but name. The company agreed to install spacers on the rear axles of the vehicles to make them a few inches wider, to remove their rear anti-sway bars, and install protective half-doors on Rhinos that don't already have them. Owners who watch a safety video when they bring in their Rhinos will also get a $100 coupon toward purchase of a helmet. Yamaha stressed that the action was not a recall, but a "voluntary repair program." Avoiding the term "recall'' rankled some agency officials and consumers, but in agreeing to make the repairs, Yamaha insisted on calling it something else.
In an interview with CBS News, Tenenbaum said the safety commission is continuing to investigate. She said that if the Rhino is found to be too dangerous even with the changes, she would be willing to seek a ban.
Yamaha says it has cooperated fully with the safety commission. The company maintains there is nothing wrong with the Rhino, and that rollovers don't occur when drivers follow instructions on warning labels and in the owner's manual. The Rhino is "a safe, reliable and versatile vehicle,'' and "virtually every Rhino-related incident involves at least one warned against behavior (such as failure to wear a seatbelt and/or helmet, underage driver, excessive speed, alcohol/drugs or inattention to terrain/collision),'' according to a statement issued by Yamaha Motor Corp. USA.
Jon Crowley, an off-road enthusiast who runs the website UTVGuide.net and agrees with Yamaha, said he believed most of the injured would have blamed themselves but for plaintiffs lawyers trolling for clients on the Internet and TV.
The Rhino is not an ATV, but a "side-by-side''-- a category of off-road vehicle that is gaining popularity and is not subject to any government standards. Unlike ATVs, which riders straddle like a motorcycle, side-by-sides are more jeep-like, with seating for two, a steering wheel instead of handlebars, a rear cargo bed -- and safety features such as seat belts and a roll cage.
The Rhino has a narrower track and higher ground clearance than most all other popular side-by-sides-enabling it to crawl over rocks and through tight spaces. But just as a stool tips more easily than an easy chair, experts say a narrower, taller vehicle is more apt to roll over in turning maneuvers or uneven terrain. Engineers for plaintiffs' lawyers say the Rhino has a low stability factor, a rough arithmetical measure of rollover risk based on a vehicle's track width and the height of its center of gravity.
Yamaha has touted the Rhino's off-road prowess with a made-up word -"terrainability.'' "Don't Just Tackle Tough Terrain,'' said a Rhino ad. "Make It Say Uncle.''
Yet serious accidents have allegedly occurred under seemingly benign conditions-at low to moderate speeds, on relatively flat ground, and without drivers knowingly doing anything adventurous or sporty. Rollovers have even occurred at dealerships when employees were moving Rhinos around the lot, or taking customers on test drives, court records show. Like Ike Miyachi, the president of Yamaha France suffered a leg injury when his Rhino tipped in 2005.
YouTube video of Rhino spill on sand

There have clearly been accidents in which riders failed to follow safety instructions. The CPSC identified cases where people failed to wear seatbelts or helmets.
But Jason Shamblin, a Birmingham, Alabama, lawyer representing dozens of Rhino plaintiffs, said he has "not filed any cases where my client has been operating or has been a passenger on a Rhino that has been driven as aggressively as I have seen on some Rhino TV ads.''
The product safety commission lent some support to such claims. In announcing the repair program in March, the agency said "Of the rollover-related deaths and hundreds of reported injuries, some of which were serious, many appear to involve turns at relatively low speeds and on level terrain.''
Milton D. Grimes is one of at least several Rhino owners allegedly hurt the first day they got behind the wheel. A former sheriff's deputy and school construction planner, Grimes bought his Rhino in September, 2004, to haul brush and water trees on his rural property near Bakersfield, CA. A couple of days later, he tried it out on desert scrubland near his home. Going 10 to 15 miles per hour on flat, but rough, terrain, Grimes said he made a right turn and the Rhino flipped, chopping his left leg against the ground. Grimes crawled away in search of help, but made it only a few hundred yards. When he failed to come home a few hours later, his son went looking and found him by following the Rhino's tracks.
It appeared he might lose his mangled leg, but nine operations saved it. Grimes regained the ability to walk, but has limited mobility and chronic pain. His lawsuit filed in January, 2005, ended in a confidential settlement. "I just wish that nobody else would have to go through what I have been through-and other people have been through worse,'' Grimes said. "Anybody who gets on one of these (Rhinos) should be aware they're dangerous.''
Yamaha told CBS that its testing showed Grimes was going faster than he said, and disputed his claim that he was wearing his seat belt. The company settled the case without admitting liability.
Justin Miller was 16 when he took his first ride on a Rhino -- and came home missing a hand. An experienced ATV rider, the Northridge, CA. teen was on a camping trip over Memorial weekend in 2008 when he took his family's new Rhino for a spin. He had descended a low hill to fairly level ground, and said he was going less than 15 miles per hour when the Rhino tipped. Apparently in shock, he didn't realize how badly he was hurt until he saw blood everywhere and his hand nearly severed from his wrist. Doctors at Stanford University Medical Center performed seven surgeries but were unable to save the hand.
Saying the company is still investigating the accident, a Yamaha spokesman cited a police report stating that the Rhino was going about 20 miles an hour on the hill, and hit a rock or bump.
Despite the trauma of his loss and constant pain, Miller seems remarkably philosophical. "In my mind, I've always believed that some things happen for a reason, so I've tried to keep an optimistic view.'' Never an outstanding student before the accident, Miller returned for his senior year, worked harder than ever, and for the first time he says he got straight `A's'. Now preparing to start college, he is counting on his lawsuit to get him a sophisticated prosthesis costing well over $100,000. "What they're (Yamaha) doing is endangering people,'' Miller said. Their "main concern is making a profit.''
Some bereaved parents have turned anti-Rhino crusaders, including Texas resident Heidi Crow. Her 9-year-old son, J.T. Crow, died of head injuries when a Rhino allegedly travelling about 15 miles per hour tipped over on a logging trail. Another, John Sand of Lebanon, Ohio, lost his 10-year-old daughter Ellie in October, 2007, when the family was at a barbecue with members of their church and a guest was giving rides on a Rhino. Sand created a website in her memory, where he has posted court papers and Yamaha documents.
Yamaha says both cases substantiate its view that operator error, not faulty design, is to blame. The company recommends that Rhinos be driven by licensed drivers at least 16; the Crow child was a passenger on a Rhino driven by his 12-year old sister. The 21-year-old operator of the Rhino that rolled over on Ellie Sand had allowed three other kids to crowd into the back of the vehicle, though the Rhino is designed for a single passenger. He was charged with vehicular manslaughter, a misdemeanor, and sentenced to 90 days in jail.
Sand still blames the vehicle's design. "There's some simple changes that …could have been made from the beginning that would have spared my daughter's life and other peoples' arms and legs,'' he said.
---
While pundits mourn the advance of the nanny state, there remains widespread tolerance for the long arc of injuries and deaths from off-road vehicles. Since the 1980s, at least 10,000 people have died in ATV accidents-more than one-quarter of them kids under 16, according to data from the CPSC. The annual death toll has been rising with more ATVs in the field. According to some experts, the situation shows the pitfalls of relying mainly on warnings to control the risks of dangerous products, instead of on safer designs.
YouTube video shows Rhino spill in mud

The product safety commission took action in the mid-1980s amid a spike in injuries and deaths. In December, 1987, the agency sued five leading distributors, including Yamaha, declaring ATVs to be an "imminently hazardous consumer product.'' The companies agreed in a settlement to stop distributing 3-wheel ATVs, the most unstable kind-though they did not have to recall existing 3-wheelers. Otherwise, the main focus was consumer education, including blunt warning labels and safety videos.
The commission also wanted a stability standard for ATVs to reduce tipovers. The industry balked, arguing that such stability measures, based on vehicles' physical dimensions, were a poor predictor of real-world rollover risk. The agency backed off, settling for the companies' promise not to lower the stability of future models.
For a while, things got better. In 1988, the year of the settlement, there were 250 ATV-related fatalities. Despite rising ATV sales, the toll mostly hovered between 200 and 250 deaths for several years. Then, casualties rose sharply with growing sales of ATVs. ATV injuries requiring emergency room treatment nearly tripled from 52,800 in 1997 to 150,900 in 2007, according to commission figures. For the first time, deaths topped 500 in 2001; then exceeded 650 in 2003 and 800 in 2005.
At the same time, warnings about all manner of possible driver errors strengthened the industry's hand in liability cases. The companies suddenly had a "buffet of defenses'' against almost any claim, said Ralph E. Chapman, a Mississippi lawyer for plaintiffs in ATV and, more recently, Rhino cases. The companies could "just go through the buffet line and pick out what to eat.''
Carol Pollack-Nelson, a human factors psychologist formerly with the CPSC and now a safety advisor to businesses, said the situation illustrates the need to design out hazards rather than rely primarily on warnings.
"You have a product that's inherently got some pretty serious dangers,'' and people use it "the way they think it's intended to be used,'' she said. "They're not trying to drive their granny to the store ... It goes fast, it goes over bumps, it goes over open terrain. Why else would they have bought the thing?''
---
With more than 140 subsidiaries and affiliates worldwide and nearly $16.8 billion in 2008 sales, Japan-based Yamaha Motor Co. Ltd. is a leading distributor of motorcycles, snowmobiles, and watercraft, along with ATVs and the Rhino.
Lawsuits against the company and its American units involved with the Rhino are scattered across the U.S. -- though a majority have been consolidated in three courts for the purpose of legal discovery. More than 120 cases are pending in the superior court of Orange County, CA, home of Yamaha Motor Corp., USA, the Rhino distributor. Dozens more are in state court in Georgia, where another Yamaha subsidiary manufactures the vehicles. Suits filed in federal courts have been brought before a U.S. district judge in Louisville, Ky. None of the cases has been tried.
Yamaha has produced hundreds of thousands of pages of internal documents, and at least a dozen company officials have had their depositions taken --though most of the information is locked up tight. The records remain secret under protective orders demanded by Yamaha's lawyers. Even so, a number of documents and transcripts filed as exhibits tell the Rhino story.
The "NGV (New Generation Vehicle)'', as the Rhino was known inside the company, began to take shape in 1999. The vehicle would become the "new generation of off-road vehicle for outdoor man,'' in the words of an internal document. Existing side-by-side models were utilitarian work vehicles and not much fun. Yamaha targeted a crossover market of hunters, fishermen, and aging off-roaders wanting something easier to ride than an ATV, and the ability to take along a friend. A promotional video touting the Rhino's narrow stance showed that it fit in the bed of a full-size pickup, eliminating the need to pull a trailer.
No government standards applied to side-by-sides, and Yamaha wanted to keep it that way. There was a risk of the Rhino being defined as a motor vehicle and falling under authority of the National Highway Traffic Safety Administration, with its myriad safety standards-particularly if Rhinos were driven on public roads. Yamaha "must not allow a classification of `motor vehicle' for the NGV,'' declared an internal company document in May, 2000. As a precaution, the company used tires that weren't suitable for paved surfaces, and warned against driving the Rhino on pavement and public roads.
In a statement to CBS News, Yamaha said "the Rhino was always intended to be an off-road vehicle" and because there are different regulatory issues for off-road and on road vehicles, "this document simply reflects that Yamaha was aware of these different regulatory environments.''
The Rhino quickly caught on, bringing "more of an extreme off road capability to the market,'' said Steve Nessl, marketing manager for Yamaha Motor Corp., USA. Some reviews were effusive, including this one in Popular Mechanics: "Through some sort of engineering magic, Yamaha has built the first side-by-side vehicle that can compete with an ATV in serious off-road prowess.''
Early on, there were warnings signs, too-revealed in phone logs of a company database, the Yamaha Call Management System. In October, 2003, a Yamaha dealer in Virginia reported that two employees had been injured when a Rhino flipped while travelling about 5 miles per hour. One suffered a broken wrist; the other minor injuries. Also that month, another dealer reported that a technician had "rolled unit over in paved lot.'' The dealer was "concerned about stability,'' said the log, adding that the dealer was advised: "Unit not for pavement use."
A Minnesota dealer reported in November, 2004, that a customer suffered serious injuries on a test drive, including a broken leg and ruptured spleen. "From what dlr could tell from inspection cust was going at excessive speeds and making sharp maneuvers when she rolled the unit,'' the log said.
In July, 2005, the Farm Industry News sponsored a "Utility Vehicle Shootout'', asking a panel of farmers to rate popular side-by-sides. The Rhino finished a close second out of 10 models. But after the competition, an 18-year old intern for the publication, riding as a passenger in a Rhino, broke his leg when the vehicle tipped. "Witnesses say they were not going more than 5-7 MPH,'' according to the phone log, but added that the driver had been drinking.
Yamaha Dealership Employee Tips Rhino

Watch CBS Videos Online
At a Florida dealership, a customer broke his ankle on a test ride with a salesman in November, 2005. In June, 2006, a Delaware man reported that he'd sold his Rhino after rolling it twice. "A 60-year-old lady bought the unit to haul around firewood,'' the phone log said.
Many lawsuits stem from injuries suffered when the rider put his leg through the open door space- either unintentionally or as a protective reflex when the vehicle tipped. According to plaintiffs, scores of injuries would have been avoided if Yamaha had equipped the Rhino with leg restraints, such as the short half-doors it eventually offered as a retrofit.
The company did not have to look far for examples of where the doors might have helped. Ike Miyachi, the vice president who suffered an injured foot when the prototype for the Rhino tipped, said in a September, 2006, deposition, that he stuck out his leg in an attempt to brace the vehicle as it tipped on its side.
In 2005, the president of Yamaha France was injured when he got a leg outside a Rhino, court records show. The French executive, Jean-Claude Olivier, then ordered the installation of diagonal bars in the openings near the floor to keep riders' legs inside. When officials in Japan learned about the fix, they ordered the bars removed.
In blaming accidents on Rhino drivers, Yamaha does not spare its own. In a statement to CBS News, Yamaha said Olivier suffered "a medium ankle sprain'' because he "performed an aggressive maneuver causing a rollover.'' As for removal of the diagonal bars installed by its French unit, the statement said company engineers feared they might become a tripping hazard or be used as footrests-putting feet outside the cabin.
Records show that Yamaha had begun investigating the use of leg protection by early 2006 -- but didn't offer the half doors until August 2007. The retrofit offer covered 2004-07 Rhinos. Doors became standard on the 2008 model.
In deposition testimony, senior Yamaha engineers said they had considered using doors in the first place-then gave a surprising explanation for deciding not to. Doors would create such a feeling of safety, they said, that riders might not wear helmets or seat belts. In a deposition in May, 2008, Takanori Suzuki, former project leader for the Rhino, said even now the only reason to include doors is that "occupants are intentionally sticking their legs out in situations involving aggressive driving and abrupt maneuvers.''
A couple of times over the last two years, Yamaha sent letters to Rhino owners expanding on safety warnings. But the product safety commission is investigating whether Yamaha made timely disclosures to the agency of possible safety risks.
Company representatives did brief commission staff, including at a meeting in August, 2006. But in January, a few weeks before Yamaha suspended sales of the Rhinos and notified owners of the necessary safety improvements, the agency issued a subpoena to Yamaha for a large volume of records.
Agency officials have declined to discuss the reason for the subpoena. But current and former product safety officials, speaking on condition of anonymity, said the commission usually relies on self-reporting by companies, and that subpoenas are rare. The sources said the action showed the agency thought Yamaha's disclosures may have been incomplete. The agency can levy financial penalties on companies found to have withheld information about possible product defects.
Yamaha says it has cooperated fully-at the same time arguing there were no defects to report.
"The company's been very upfront with the commission,'' Yamaha lawyer David Murray said in an interview. "But … we fundamentally do not agree that there is any sort of design problem with this product, and we've made that clear in each of our conversations with the commission.''
With additional reporting by CBS News' Armen Keteyian and Michael Rey
Thanks for reading CBS NEWS.
Create your free account or log in
for more features.