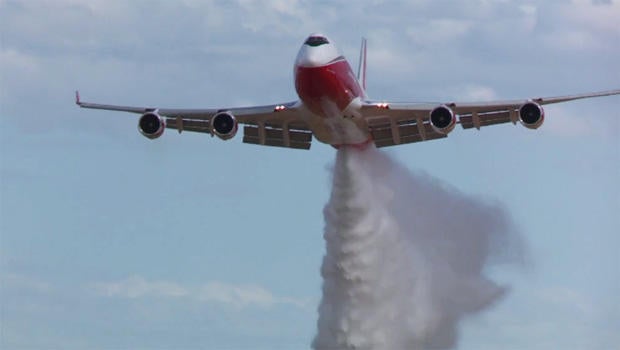 World's largest firefighting aircraft grounded by U.S. gov't
Update: California activated the SuperTanker to fight its first U.S. wildfire in August 2017.
---
More than 50 large wildfires are scorching land this morning across the western U.S. But a new firefighting tool is sitting idle in an airport hangar in California because the U.S. Forest Service refuses to let it fly.
The converted Boeing 747 jet, nicknamed the SuperTanker, can drop almost twice as much fire retardant as the largest airtanker currently in service.
"We're the very largest in the world -- there's nobody out there that comes close," said Jim Wheeler. His company, Global SuperTanker, turned a 747-400 series passenger jet -- one of the biggest in the sky -- into the world's largest fire extinguisher.
"We can drop a line of retardant about three kilometers long, about a mile-and-a-half," Wheeler told CBS News correspondent Mark Strassmann, as the plane performed a test run in Colorado last fall.
But in this country, it's virtually worthless unless the U.S. Forest Service gives it permission to fight fires -- something the agency has yet to do, even though the plane was certified by the FAA last September, and has since fought fires in Chile and Israel.
"The frustration factor is exceptionally high," Wheeler said. "It's very hard to watch property burn and lives lost, and we can't get in and help."
In May, the Forest Service issued a request for new airtankers, but said it would only give contracts to planes with a dispensing capacity of between 3,000 and 5,000 gallons. The supertanker can drop more than 19,000 gallons of water or retardant at a time.
Wheeler said, "It begs the question: if your house is on fire, are you going to call the smallest, slowest fire truck?"
Some firefighter advocacy groups suggest the Forest Service might be trying to control its budget, causing delays for the plane, which could cost as much as $250,000 a day to operate. The Forest Service says it can't comment on the dispute because Wheeler filed an official protest last month.
According to Wheeler, the aircraft can be filled in less than 30 minutes. But it's not just the speed and size that make the Supertaker powerful; its pressurized tank system atomizes the water when it's released, rather than just dumping it, like a bucket. "It doesn't break down tree limbs, it won't crush cars or buildings," Wheeler said.
And a firefighter or a stranded resident who happens to be under this big dump of water will be be fine. "You'll get wet, but won't be killed," Wheeler said.
Strassmann asked, "Why hasn't someone done this until now?"
"There's a lot of cost involved in doing this, a lot of testing and a lot of paperwork, and I think that scares most people," Wheeler replied.
California's fire agency currently has an agreement to use the plane, but can't deploy it until the Forest Service gives its approval. It's an expensive aircraft, but at a time of ever-growing wildfires threatening lives and property, Wheeler feels his service is a bargain. "You're not going to put out a 4,000-acre or larger fire with buckets and helicopters. It's just physically impossible," he said.
Thanks for reading CBS NEWS.
Create your free account or log in
for more features.