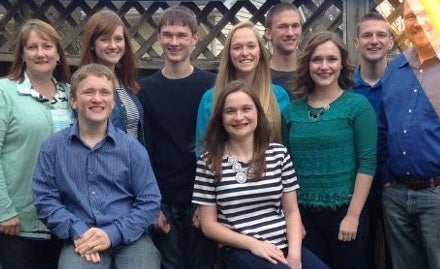 World's first surviving septuplets graduate from Iowa high school
CARLISLE, Iowa -- The world's first surviving septuplets have graduated from their Iowa high school.
Alexis, Brandon, Joel, Kelsey, Kenny, Natalie and Nathan McCaughey all crossed the stage Sunday as part of Carlisle High School's class of 2016.
The McCaughey siblings, who live in Carlisle in central Iowa, gained international fame for their births in 1997. They were on the cover of national magazines and featured on network television shows.
The septuplets were born Nov. 19, 1997, ranging in weight from 2 pounds, 5 ounces to 3 pounds, 4 ounces. Their mother had taken a fertility drug.
The septuplets also have an older sister named Mikayla.
CBS affiliate KCCI reports that two of the seven siblings plan to enroll at Hannibal-LaGrange University in Missouri, where their parents were told they would receive a free education.
In November, KCCI spoke with the septuplets on their plans for the future.
Brandon said then he be the first to leave home. He has enlisted into the Army.
"I'll be going June 1 for 14 weeks of basic and AIR and then my job is the infantry so I'll probably be gone most of the time because I'm going active duty for that," said Brandon.
That decision has hit his siblings hard, especially Kenny Jr.
"I'm definitely going to miss everybody being so close to everyone. It's going to be hard just to see us all go, especially my brother Brandon going into the military. Him and I were the closest. I'm going to miss him a lot," said Kenny Jr. to KCCI.
Kenny plans to go into the construction trade.
Kelsey is in all state choir and wants to pursue a career in music.
"After graduation, I don't know where I'm going. All I know is that I want to go into music, musical theater -- anything around there," said Kelsey to KCCI.
Nathan and Alexis have had numerous surgeries over the years for cerebral palsy. They have graduated from crawling to crutches and now walkers and braces.
"Me and Lexi are completely done with surgeries and checkups and unless we need something, we're completely done with it," said Nathan.
"This was my first year getting into the high school cheerleading squad so that was a really big moment for me," added Alexis.
They all told KCCI in November that leaving each other will be hard.
The children all give credit to their parents and strong faith for growing up as normal as possible and for being so close.
Thanks for reading CBS NEWS.
Create your free account or log in
for more features.