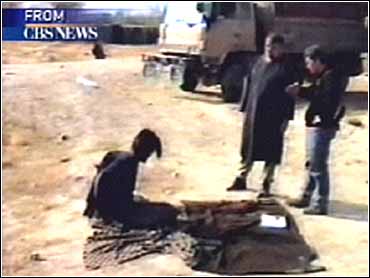 Shortly before last month's prison revolt in Afghanistan, an Afghan cameraman videotaped CIA officer Johnny "Mike" Spann questioning John Walker — an American convert to Islam who was allegedly captured while fighting for the Taliban in northern Afghanistan.
In the video, obtained exclusively by CBS News and ABC News, Walker sits, his arms tied, head down, refusing to answer. Soon after the questioning, Taliban prisoners began the uprising that left Spann dead, the first American combat casualty in Afghanistan.
Spann, 32, was killed Nov. 25 after he questioned Walker, 20, of northern California, and other enemy captives who were imprisoned in the northern Afghanistan fortress of Kala Jangi, near Mazar-e-Sharif. The prisoners were taken as the northern alliance, under cover of punishing U.S. airstrikes, finally overran the city of Kunduz, which had been the last Taliban stronghold in the north of the country.
---
Video: A Fateful Meeting:
Hours before his death, CIA man Johnny "Mike" Spann interrogated American Taliban prisoner John Walker at Mazar-e-Sharif.
Mark Phillips reports
-or-
Watch the raw footage
---

The videotape showed Spann and another CIA agent, known only as Dave, talking with Walker.

The tape indicated Dave spoke menacingly to Walker while Spann tried to break his resistance by explaining that the terror attacks on the United States Sept. 11 had also taken the lives of many Muslims.

"They (the hijackers) killed other Muslims. There were several hundred other Muslims killed in the bombing. Are you going to talk to us?" Spann asked.

In the video, Walker sat, his arms tied, head down and he remained silent and uncooperative throughout, despite efforts by Spann and Dave to get his attention. A little later Spann and Dave discuss their captive's fate.

Shortly after the questioning, the Taliban prisoners rushed their guards, took their weapons, and the rebellion began. Spann was killed almost immediately and by the time the rebellion was put down almost all the other prisoners would be dead. Walker hid for days deep inside the prison's cellar with about 80 other Taliban holdouts until he was recaptured.

White House spokesman Ari Fleischer said on Friday the U.S. has made no decision about the fate of Walker

"The determinations are still pending. An investigation and review of the facts that's being conducted by the Department of Defense."

Fleischer said it was important to ascertain the facts and "if the facts indicate that he knowingly and deliberately was involved ithe Taliban, I think that would be a very serious situation."
Walker, who was known in Afghanistan as Abdul Hamid, converted from Catholicism to Islam at the age of 16 and traveled to Afghanistan via Yemen and Pakistan.
He has said he received combat training in northern Afghanistan from forces supporting al0Qaida leader Osama bin Laden. Walker's father has pleaded for the U.S. military to show mercy following reports that his son said he supported the Sept. 11 attacks on the United States.
The U.S. government could find it difficult to successfully bring criminal charges against Americans fighting for the Taliban.
A treason case against Walker "would be a tricky thing to prosecute because the Constitution requires two eyewitnesses to the act of treason," University of North Carolina law professor Eric Muller said. "I would think somebody in the Justice Department will have to take a very careful look at this."
Also, President Bush's military tribunals are limited to foreign nationals, not U.S. citizens.
Another possible avenue would be to charge American Taliban fighters with seditious conspiracy, which has a lower standard of proof. That's one of the charges that radical Islamic cleric Omar Abdel-Rahman, who plotted to blow up New York City landmarks, was convicted on in 1995. One of Abdel-Rahman's sons was captured while fighting for the Taliban in Afghanistan.
©MMI CBS Worldwide Inc. All Rights Reserved. This material may not be published, broadcast, rewritten, or redistributed. The Associated Press and Reuters Limited contributed to this report
Thanks for reading CBS NEWS.
Create your free account or log in
for more features.