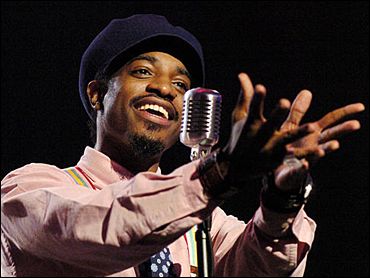 World's Best Dressed An 'OutKast'
Andre 3000 is the world's best-dressed man, according to Esquire magazine.
"He's a complete individual," Nick Sullivan, Esquire's fashion director, said Tuesday. "But that's really the point."
Andre 3000 is the usually over-the-top dressed half of the Atlanta hip-hip duo, OutKast. Some of the 30-year-old's fashion outings include: a lime green jacket at the 2004 Grammy Awards, candy apple red fur for the VH1 Big in 2003 ceremony and a pink-on-pink ensemble for the 2003 MTV Video Music Awards.
"He's probably worn his most outrageous when he's in a video or on stage," said Sullivan, who said Esquire's list is more about personal style than a celebrity's stylist's style. "What we photographed him in is very much what he wanted to wear."
Andre 3000 sports several different and subtle looks in the magazine's spread including a double-breasted suede trench coat by Michael Kors, a cashmere sweater by the Ralph Lauren Purple Label and corduroy trousers by AndreBenjamin, the rapper's own clothing line.
Sources of his fashion inspiration include clothes from period flicks such as "Legends of the Fall" and "The Great Gatsby" and the "old men" in his neighborhood.
"They're kind of like a uniform, which I've always been into," he says in the September issue of Esquire. "To me, that's real style, anything that feels comfortable and expresses your personality and makes you stand a little taller."
Although the magazine has compiled best-dressed lists in the past, this year's list is the first worldwide affair. Other best-dressed men include "Today" co-anchor Matt Lauer, Prince Felipe of Spain, Afghanistan President Hamid Karzai and San Francisco mayor Gavin Newsom.
The list was compiled through a set of criteria by a panel of fashion experts and Esquire editors.

Thanks for reading CBS NEWS.
Create your free account or log in
for more features.