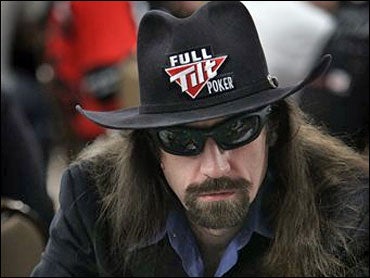 World Series Of Poker Or Bust
Ken Adams writes about poker for CBSNews.com.

---

Last year at the World Series of Poker in Las Vegas, a television reporter stuck a microphone in the face of former world champion Chris "Jesus" Ferguson and asked, "How do you like your chances this year, Chris?"

Ferguson, a serious, thoughtful man who holds a Ph.D. in computer science and game theory and is not given to off-the-cuff one-liner responses, thought for a minute and said, "With 8,773 entrants we are all playing the lottery. I'd like to think that I hold a few more lottery tickets than some players, but we are all playing the lottery."

I am now preparing to enter this year's lottery. The field is smaller this year, thanks to congressional legislation that led several of the biggest online poker sites to pull out of the U.S. market, dramatically reducing the number of online qualifiers (who accounted for 75 percent of last year's record field). Still, more than 5,000 players will be competing for the gold bracelet and bragging rights that will be bestowed on the winner of the 10-day competition.

In preparing to enter that lottery, I have been reviewing the online reports of the past two days of play. They broke the field into four "flights." The first group played Friday, another on Saturday, and so forth. On Tuesday the survivors will come together and continue the quest for glory.

Reading those accounts was a sobering reminder that you can play the best poker of your life and still lose if the poker gods are cruel to you.

On the first day of play, former two-time World Champions Doyle Brunson and Johnny Chan were eliminated. On the second day, former champs Erik Seidel and Scotty Nguyen bit the dust. No amateur like me expects to play better than Doyle. Johnny, Erik and Scotty. Good play alone is not enough to guarantee surviving the carnage of Day One when two thirds of the field will be knocked out.

Here are a few examples from the second day of play:

Television star Ray Romano got all his chips in the pot with the best possible starting hand — AA. He lost.
Kethy Liebert, the most successful professional woman player in tournament poker, was in solid chip position after the dinner break nine hours into Day One. Then she lost most of her chips when her opponent made a gut shot straight on the last card, catching one of only four cards in the deck that would cost Kathy the pot.
Saturday Night Live star Norm MacDonald had more than doubled his initial stack of chips by the dinner break. I hope he enjoyed dinner because he must have suffered indigestion when his KK — a 70 percent favorite to win — lost to A-4 after the break, costing him most of his chips.
Montel Williams got all his chips in the middle with AA and had to feel good when his opponent turned over 8-8, making the television star an 80 percent favorite. An 8 on the flop ruined his day.

These accounts are a sobering reminder that all I can do is play my best game and hope that I won't get unlucky — not that I needed the reminder.

When I arrived I signed up for a "supersatellite" — a tournament in which several hundred people each pay $500 to try to win a seat in the $10,000 championship event. More than 600 of us played. The top 30 finishers would win a seat. I had barely gotten settled in my chair when I picked up J-8 in the big blind. Had anyone raised I would have folded the hand. But no one did.

Instead, seven players put in 50 chips to see the flop. Since I had already put up 50 chips in the blind, I got to see the flop for free. It came J-8-4 with two diamonds. I bet and the player on my left raised. I just called, waiting to see if a diamond came on fourth street. The 10 of hearts was dealt. I made a big bet, looking to take down the pot right there and avoid the risk of a diamond being dealt on the last card. My opponent moved all in with K-J. I called, and was a huge favorite to double my stack.

He could only win if one of 5 cards came on the river (one of 3 remaining kings and 2 tens). A king came on the river and just like that I was eliminated before I had even taken my water bottle out of my backpack. When the cards conspire against you, there is nothing you can do.

But I have several secret weapons to keep that from happening: my lucky card protector, which I will put on top of my cards each hand to keep them from being accidentally fouled. My lucky watch — a gift from my law partners. Pictures of my family. My lucky shirt. And so forth.

Am I superstitious? Of course not. As one famous gambler said, "It's unlucky to be superstitious."

For each of the past two years I have survived Day One. So I know it can be done.
By Ken Adams
Thanks for reading CBS NEWS.
Create your free account or log in
for more features.