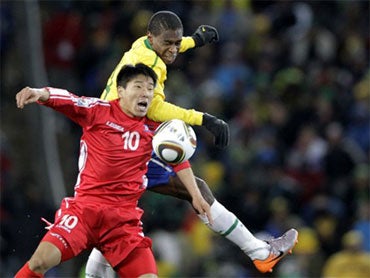 World Cup: Brazil Spooked by North Korea Before Winning 2-1
For 54 minutes, world leaders were quaking in their loafers.
For 54 minutes, North Korea's Kim Jong Il threatened the world.
The world of football, at least.
The North Korean leader, who claimed he shot 38-under par the first time he played golf, is said to pick his nation's soccer team.
Special Section: World Cup 2010
His representative in the coaching area, Kim Jong Hun, says his leader transmits tactics just by facing South Africa and emitting his thought waves in its direction.
And yet the Brazilian team, ranked number 1 in the world by footballing minds and hearts, seemed to think that these mind games could not affect their performance in their first game of World Cup 2010.
They seemed to believe that that they could merely walk the ball through the North Korean defense like overzealous daddies playing with their 7-year-olds.
But it may well be that the DPRK has DVRs. Or at least VCRs.
Before the game, Kim Jong Hun made like Attila when a South Korean reporter had referred to his team as "North Korea."
His, you see, is supposedly the only Korea. The Democratic People's Republic of Korea.
Naturally, one might suggest that Kim has a colorful view of democracy.
Yet North Korea's players were collectively not afraid to hold their fingers over Brazilian buttons and push them.
They followed some of the most glorious soccer players in the world around as if they were snoops who didn't mind being seen.
While players such as Kaka, Elano and Robinho were intent on being the first onto tonight's ESPN highlight reel, the North Koreans stared then down as if to say: "OK. What else you got?"
The more Brazil tried to take a walk down the middle, the more the North Koreans wondered why there were, for example, no left-wingers to face.
An English fan at the game held up a sign that said: "Kim Jong Il thinks I'm at work." Yet for long periods of the first half, the North Koreans didn't have to work too hard.
In the end, it took a goal of courage and fortune to break the North Korean spell. Was Brazil's Maicon intending to drive in a hard cross?
Or had he spotted North Korea's goalkeeper, Ri, leaving his near post unguarded?
It was most likely the former. And one can only imagine Kim Jong Il's head rearing backwards and a curse emitting beneath his glasses as his best laid plan had suddenly been interfered with.
That is, if he could see the game at all.
South Korea controls the transmission of the World Cup for the whole of Korea. And authorities had declared, given the high tensions between the two countries, that the North would not receive so much as a minute of the action.
After its goal, Brazil pressed. But North Korea's fans in the Ellis Park stadium drove their team on, their support being heard loud above the vuvuzelas.
But wait. North Korea allowed thirty or forty fans to follow its team? North Korea allows it people to wander these capitalist streets and perhaps attempt to defect?
Perhaps not. According to ESPN commentator, Martin Tyler, the word is that these are Chinese actors who have been hired to resemble and dissemble North Korean fans.
Nice work if you can get it.
It took Brazil 71 minutes to score a truly Brazilian goal. Robinho slid the ball vertically to Elano who did the rest with calm. Elation was even seen on the face of the dour Brazilian coach, Dunga.
It is possible that the Brazilian President, Lula, had emitted powerful thoughts waves to his team, impelling them to glory.
However, Kim Jong Il did not give up.
Knowing that his star striker, Jong Tae Sae, had promised his nation that he would score in every game, his Leader sent more waves.
However, perhaps he got his players mixed up. For it was left-back, Ji Yun-Nam, who controlled the ball perfectly and smashed it past Julio Cesar with just a couple of minutes to go.
It was good, but it wasn't enough.
When it comes to world politics, the mind games never end. It's the same with world football.
Portugal and the Ivory Coast, the other two teams in this group, should be very mindful of that fact.
---
Chris Matyszczyk is an award-winning creative director who advises major corporations on content creation and marketing, and an avid sports fan. He is also the author of the popular CNET blog Technically Incorrect.
See also:
Pictures: Opening rounds of the World Cup
World Cup: Germany and Ghana Buzz the U.S. team
World Cup: U.S. Lets England Put Egg on Its Own Face
South Africa Shows the World How Soccer Is Celebrated
Thanks for reading CBS NEWS.
Create your free account or log in
for more features.