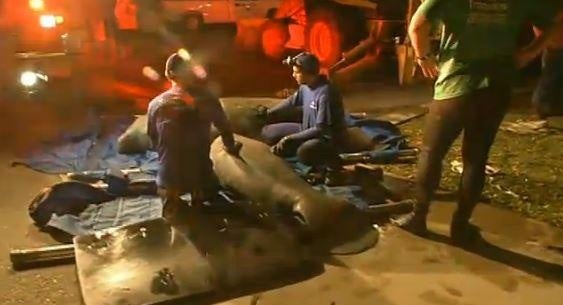 Trapped manatees rescued from drainage pipe
SATELLITE BEACH, Fla. - Rescue workers and animal experts lifted 19 manatees from the Satellite Beach storm drain system in an operation that lasted from Monday afternoon into early Tuesday.
The workers used earth-moving equipment -- and a gentle touch.
All the rescued manatees were released back into the wild.
Officials said some 11 others apparently got out on their own.
Florida Fish and Wildlife Conservation Commission marine biologist Ann Spellman said she was acting on a hunch when she called city workers and asked them to check the drainage pipes Monday.
"They called by 3 p.m. to say they were there," said Spellman, watching as one of the manatees was released into a nearby pond.
Some of the manatees had scrapes and bruises after coming in contact with the concrete storm infrastructure. A calf and mother were among the first lifted out of the drain system.
Spellman said they likely followed one another from the nearby Indian River Lagoon.
Workers hoisted a smaller calf into the back of a truck. A large backhoe was used to lift the mammals. Emergency lights from fire trucks provided light for rescue workers.
Dozens of onlookers cheered as the massive animal was lifted clear with an earth-moving machine.
BREAKING: Manatee rescue underway in Satellite Beach. I'm told more than a dozen trapped in drainage pipe. pic.twitter.com/WK4oMv3Tee

-- Justin Warmoth (@JustinWarmoth) February 23, 2015
The animals are known to congregate in beachside canals when the water temperature in the lagoon plunges. Central Florida's recent cold snap drove water temperatures down to near-dangerous levels for the warm-water loving creatures.
"It's been cold lately and these canals are all filled with manatees,'' Satellite Beach Fire Chief Don Hughes said. "I wouldn't even begin to venture a guess as to how they got into the drainage pipes. They will go wherever there's warm water."
Local police and fire agencies worked with SeaWorld and Florida Fish and Wildlife Conservation Commission in the rescue operation.
Hughes praised the quick response to free the creatures, some of which weigh several hundred pounds.
Florida manatees are listed as an endangered species by the U.S. Fish and Wildlife Service.
Thanks for reading CBS NEWS.
Create your free account or log in
for more features.