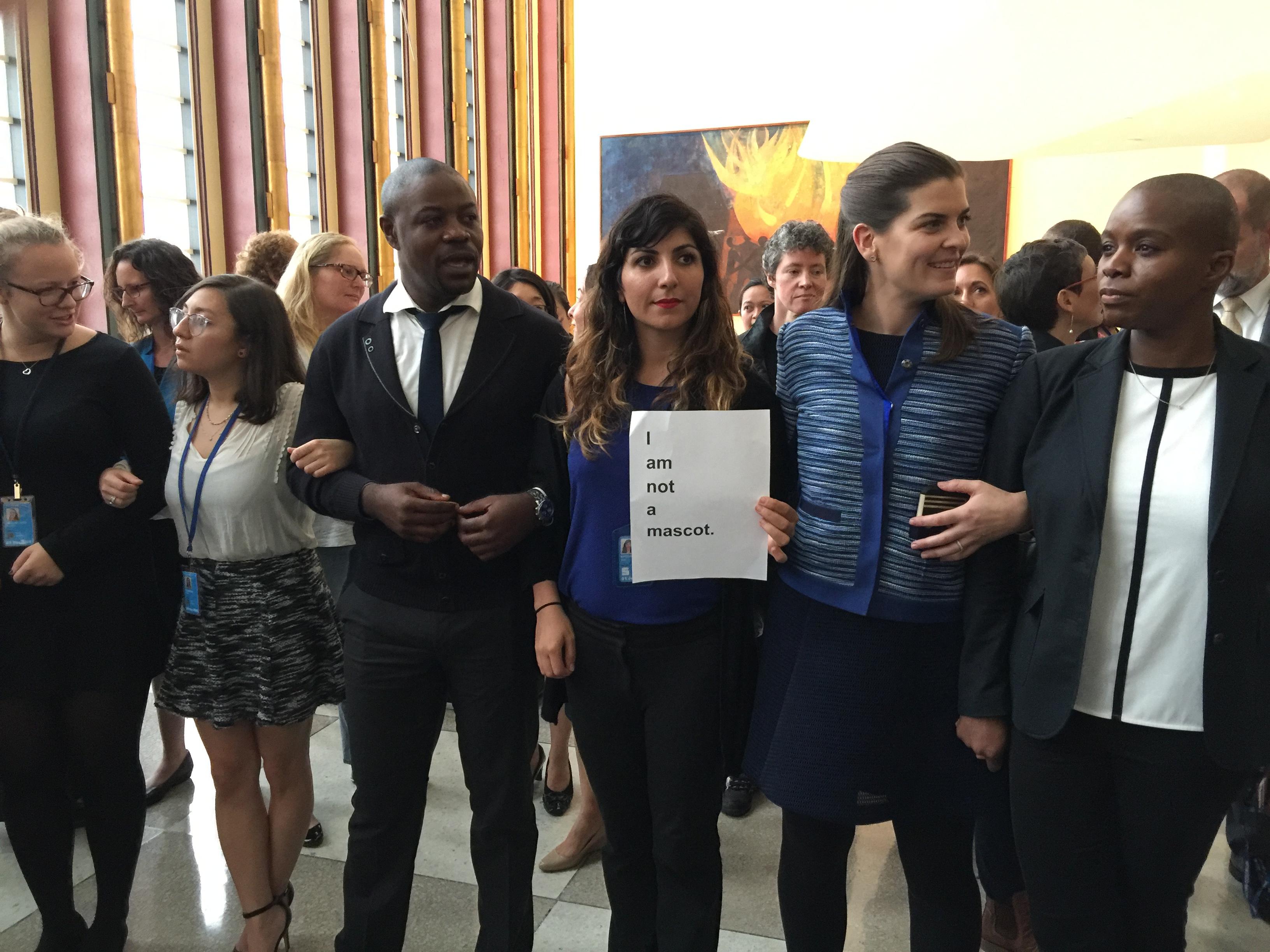 Wonder Woman's role in U.N. campaign sparks outcry
Wonder Woman, despite protection from a phalanx of PR handlers, may have met an indomitable force: the staff of the United Nations, who believe her scantily clad, va-va-voom image insults real superwomen around the world.
At 75, the World War II-vintage superheroine of the funnies and the screen was officially designated Friday as the U.N. honorary ambassador for the empowerment of women and girls during a ceremony attended by the real-life actresses Lynda Carter and Gal Gadot, who have portrayed her, as well as by a deputy secretary-general.
Moguls from DC Comics and Warner Bros., a partner with the CBS Corporation in running the CW Network, were on hand for the announcement. The ceremony launched a yearlong campaign on gender equality and women's empowerment, one of the U.N.'s new 15-year global goals.
Over 1,400 U.N. staffers and women's groups have signed petitions calling for a human ambassador, leaving the public-relations gurus wondering how they can save the day for a character who once inspired young girls to dare to strive.
On "CBS This Morning" Friday, Carter said that her character was not predatory or against men. Making a face and rolling her eyes, Carter responded to the criticism.
"It's ridiculous ... it's bull because they're nitpicking on something that has nothing to do with anything," Carter said. "They're just being silly ... get over yourself already."
A group of approximately 100 U.N. staff protested at U.N. headquarters with signs that read "I am not a mascot" and "Let's get real." Rachel Lecoq, a staff member, held a sign that read "Globally, women deserve a real Ambassador." She responded to Carter's comments.
"I would invite her to join some of my colleagues who work at the U.N. on the front lines who see first-hand all the suffering all the women all over the world are enduring right now," Lecoq said. "Women deserve a real woman to stand for these issues."
One fabled veteran feminist, Gloria Steinem, acknowledged that Wonder Woman had inspired her as a girl but remarked, "I'd rather see a feminist female secretary-general and a very big budget for U.N. Women," an organization that works for gender equality.
Princess Diana of Thermyscira, aka Wonder Woman, still has all the torque she was born with in 1941 comics: the Lasso of Truth, a projectile tiara and bulletproof bracelets crafted from Athena's shield. She has superhuman strength from the Goddess of Earth and super speed (for her day) - the ability to run as fast as 60 mph - from the God of Messengers.
Wonder Woman broke the comic book glass ceiling with her own series in 1942. In 1975, ABC launched the eponymous TV series starring Carter, and CBS picked up the show for several years.
Sponsors of the ambassadorial designation include U.N. Women, UNICEF, the U.N. Department of Public Information, Warner Bros. and DC Entertainment. Questions have arisen regarding the new ambassador's commitment given her competing duties to promote two films, "Wonder Woman" and an appearance in last summer's "Batman v Superman: Dawn of Justice."
Gadot, star of the upcoming Wonder Woman movie, recently tweeted the theme of the U.N. campaign: "Providing equal rights and opportunities will unleash the power and potential of women and girls everywhere."
Many critics of Wonder Woman's appointment were quick to add they have no gripes with the character's alter ego, Princess Diana, but with the choice of her character as a role model.
"I am all for symbolism," Steinem, the 82-year-old real-life icon of the women's movement, told CBS News, "and Wonder Woman was an important female hero in the 1940s when there were none, but we are now looking for women with real terrestrial power."
France's highest-ranking female Cabinet minister, Segolene Royal, told CBS News, "I don't know why they chose this character. The late Nobel Peace Prize winner Wangari Maathai would have been the right kind of role model for this campaign."
Shazia Rafi, former secretary-general of the Parliamentarians for Global Action, helped draft the petition to ask U.N. Secretary-General Ban Ki-moon to scuttle the appointment. She told CBS News that the comic character is a "muscular Barbie doll" and added, "There are enough credible living models, we don't need a mascot or a cartoon."
The U.N. staff petition calls Wonder Woman "a large breasted, white woman of impossible proportions, scantily clad in a shimmery, thigh-baring body suit with an American flag motif and knee high boots - the epitome of a 'pin-up' girl."
Rafi told CBS News the appointment trivialized the U.N. agenda.
Jean Krasno, director of the unsuccessful Campaign to Elect a Woman UN Secretary-General, said, Wonder Woman is "a sex object with a bustier and cleavage and a bikini and boots and wearing an American flag," which "completely flies in the face of U.N. multilateralism."
Although neither U.N. Women nor UNICEF would comment on the appointment, some senior U.N. senior officials stood up for the comic book heroine.
Cristina Gallach, under-secretary-general for communications and public information, said, "Think of all the wonders we can do!" insisting the U.N. takes gender equality seriously.
Also, Jeff Brez, chief of NGO relations and advocacy, said that over 330 U.N. staffers signed up to attend the ceremony with their children, and U.N. spokesman Stephane Dujarric said that the choice of Wonder Woman was simply meant to reach younger audiences.
Thanks for reading CBS NEWS.
Create your free account or log in
for more features.