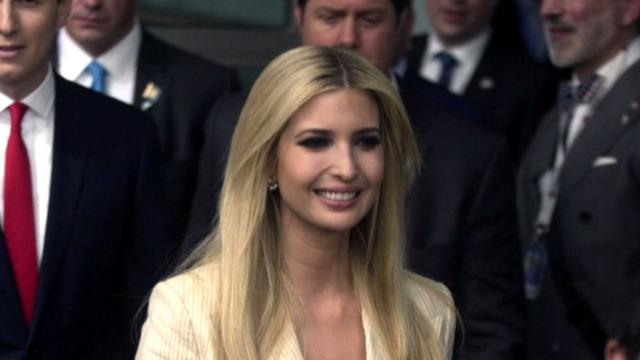 Women weigh in on women in politics and on Ivanka Trump
By Jennifer De Pinto, Fred Backus, Kabir Khanna and Anthony Salvanto
A record number of women are running for Congress this year, but there's a partisan divide on whether things would be better with more women in office.
Most Democratic women (76 percent) say more women in office would improve things. Far fewer independents (39 percent) and Republicans agree (25 percent). The partisan splits on this are similar among women ages 18 to 35.
Younger women say the main reason they think things would improve is that it would create more diversity in politics (45 percent), followed by having more issues being raised that they care about (33 percent).
Women ages 36 and over are twice as likely as younger women to say women are good at negotiating and more would get done.
Why Would More Women in Office Make Things Better…?
(Among women who say it would make things better)
18-35 36+
Create more diversity in politics 45% 34%
More issues raised they care about 33 30
More would get done 16 30
Politics would be more civil 6 6
Eighteen percent of younger women – the highest percentage of any age group – would consider running for office themselves.
Women: Would Consider Running for Political Office
18-35 18%
36-49 13%
50-64 9%
65+ 4%
The #MeToo Movement and Feminism
Half of women ages 18 to 35 feel the #MeToo movement and the attention on sexual misconduct will make things better for women in the long term. Older women are more likely to say the movement won't change much.
Younger women are more likely than older women to say they would back a candidate who supports the #MeToo movement. Forty-five percent of younger women say they'd be more likely -- a figure that drops to 29 percent among women older than 35. Most women over 35 say it wouldn't matter in their vote.
Women age 18-35 (46 percent) are more likely than women over age 35 (34 percent) to consider themselves feminists. Views of feminism are highly related to partisanship among both younger and older women.
Women Ages 18-35: Consider Yourself a Feminist
Total 46%
Democrats 63%
Independents 48%
Republicans 29%
Democratic (69%) and independent (58%) younger women tend to associate the word "feminist" with political, economic and social equality among the sexes; fewer Republican women (39%) in this age group do.They are more likely than Democrats and independents to associate the term with blaming men for women's challenges.
Ivanka Trump
Ivanka Trump is viewed more unfavorably than favorably by younger women. Many, however, are undecided about her. Opinions of Ms. Trump break down along party lines. Republican women are more likely to have a favorable view of her. Older women's views of Ivanka Trump divide along party lines as well.
Six in 10 women ages 18-35 don't think the President's daughter and senior advisor has had much influence on him. Those with a favorable view of Ms. Trump do think her influence on the President has been positive.
---
The CBS News-Refinery29 survey is conducted by YouGov using a nationally representative sample of 2,093 U.S. women adults interviewed online between July 26-30, 2018. The final sample included an oversample of 842 women aged 18-35. This sample was weighted according to age, race, and education based on the American Community Survey, conducted by the U.S. Bureau of the Census, as well as 2016 Presidential vote. The margin of for the entire sample is approximately 3.0%. The margin of error for the subsample of women ages 18-35 is approximately 4.2%.approximately 3.0%. The margin of error for the subsample of women ages 18-35 is approximately 4.2%.
Thanks for reading CBS NEWS.
Create your free account or log in
for more features.