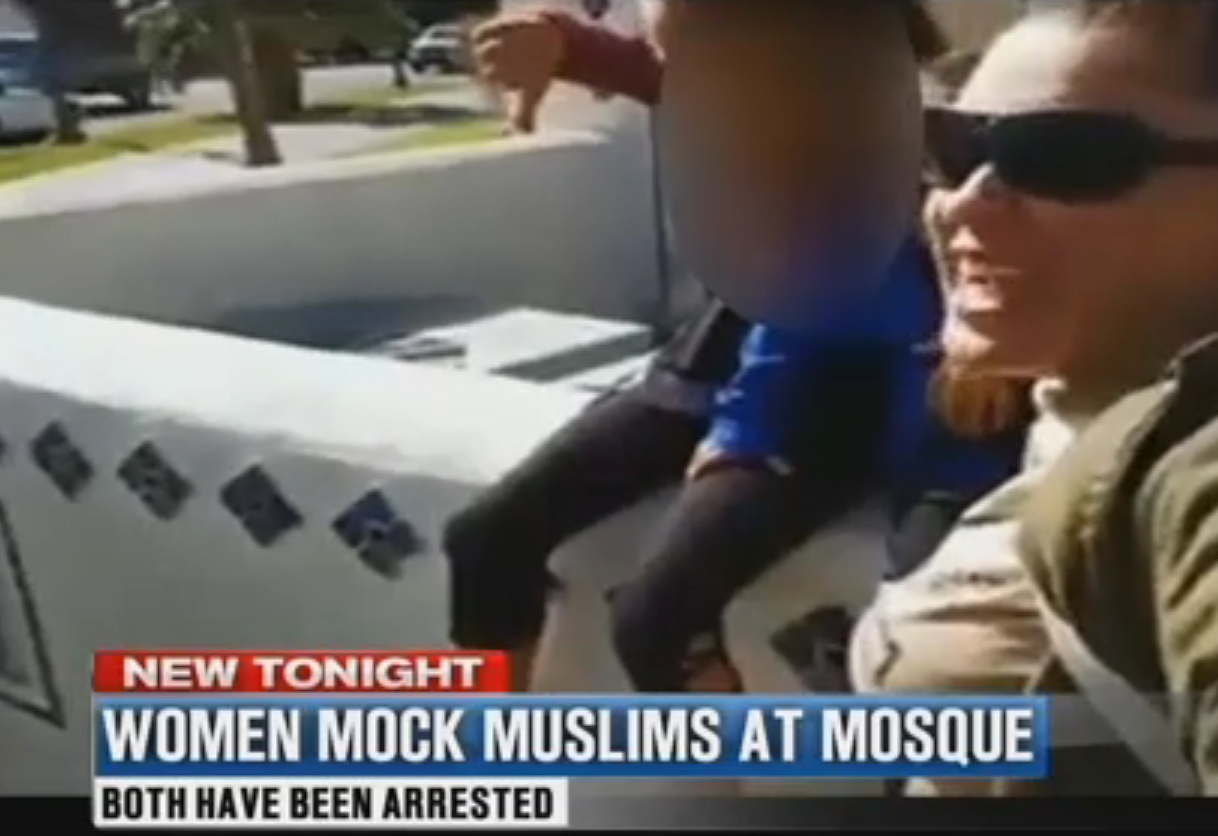 Women arrested after recording hate-filled video at mosque with their kids
PHOENIX — Two women known for uttering anti-Muslim vitriol at Phoenix-area political events were arrested Thursday after they filmed themselves and their children spouting hate speech while removing flyers and pamphlets from a local mosque. Tempe police spokeswoman Lily Duran said Tahnee Gonzales and Elizabeth Dauenhauer were taken into custody around 3 p.m.
Both were booked into Tempe City Jail on suspicion of third-degree burglary for entering the Islamic Community Center of Tempe and removing various items.
Islamic Community Center officials filed a police report after learning of the video last week. Before the arrests, Imam Ahmad Alakoum said they would push for hate crime charges.
"You could tell from the video it is hate speech and a hate crime in my opinion was being perpetrated from the beginning," Alakoum said.
Duran said in an email that if convicted, the women will likely face stiffer penalties because the incident appears to be a hate crime.
In the roughly 20-minute Facebook Live video, one woman films as the other, along with three children, walk around the property. They approach the gate where there is a "no trespassing" sign and a sign prohibiting firearms. One of the women is heard asking one of the children to take her gun back to their car. They then walk past the entrance and immediately begin removing posters, brochures and other materials.
Throughout the video, the women continuously rant against Islam and Muslims as "devil-Satan worshippers" who "hate America." At one point, one of the kids climbs onto the back of a van the mosque uses for funeral processions. One of the women tells him to get down because "Muslims have been on there."
Gonzales did not immediately return a voicemail seeking comment. A phone number for Dauenhauer was not immediately available.
Worshippers at the Islamic Community Center are used to harassment, Alakoum said. Someone rants or desecrates a copy of the Quran from the sidewalk, where it's public property, almost weekly. He advises community members to simply not engage. But seeing the children in this video join with the adults was especially stinging.
"I was disturbed and heartbroken seeing those kids being dragged behind their mothers and being given firsthand lessons on hate," Alakoum said.
Gonzales' Facebook page shows a series of videos of her and Dauenhauer sharing xenophobic sentiments or yelling them in public. Gonzales, of Yuma, is accused of harassing Democratic U.S. Senate candidate Deedra Abboud. A former Christian who converted to Islam, Abboud is running for retiring Arizona Sen. Jeff Flake's seat.
Abboud posted a video on Facebook on Wednesday of a woman calling her a "sellout" as she was walking in downtown Phoenix. She identified Gonzales as the woman talking and said that both women had been removed from the conservative-leaning group Patriot Movement AZ.
The group confirmed as much in a Facebook post, saying the women "conducted themselves in a manner inconsistent and offensive to the ideas and beliefs of Patriot Movement AZ."
In the meantime, the mosque video has stirred an outpouring of sympathy for the center. Alakoum said they have received calls and messages from people, both Muslim and non-Muslims.
"The level of support from the community is way, way much more than the hate and bigotry we see."
Thanks for reading CBS NEWS.
Create your free account or log in
for more features.