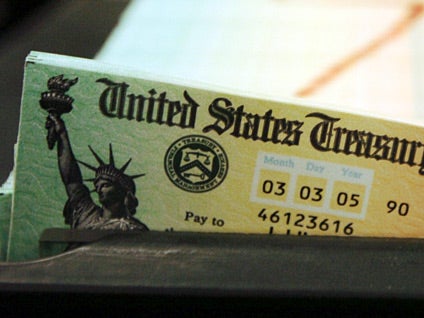 Woman who cashed dead man's checks for decades faces prison
SHREVEPORT, La. -- A 78-year-old Louisiana woman faces up to 10 years in prison for cashing Social Security checks mistakenly sent to a dead man for nearly three decades.
The U.S. Attorney's Office says Rose Marie Jackson Allen of Shreveport will be sentenced Sept. 8. She pleaded guilty Wednesday to theft of government property. Court records show she shared a post office box with a Thomas Jackson, whose 1986 death was not discovered until last year. She collected more than $200,000 in illegal benefits.
Her relationship to Jackson, who died at age 71, isn't revealed in court records. Documents say she endorsed the checks with Jackson's name and her own, regularly cashing them at a neighborhood grocery and liquor store.
A "factual basis" filed by prosecutors says Thomas Jackson had been collecting Social Security disability benefits since 1971. His death went undiscovered by the Social Security Administration, possibly because his Social Security number was missing from the death certificate.
"The Social Security Administration was not aware of Thomas Jackson's death, and Rose Jackson did not alert the office to the truth during that time," said a statement from U.S. Attorney Stephanie Finley.
The payments continued to the same post office box until January 2015, stopping only after a Social Security Administration Audit found that the Veterans Administration had reported a death date for Jackson of Feb. 13, 1986, the factual basis said.
Rose Allen's total illegal take: $206,891
When she is sentenced in September, she also will face $250,000 in fines and restitution, Finley's statement said.
Thanks for reading CBS NEWS.
Create your free account or log in
for more features.