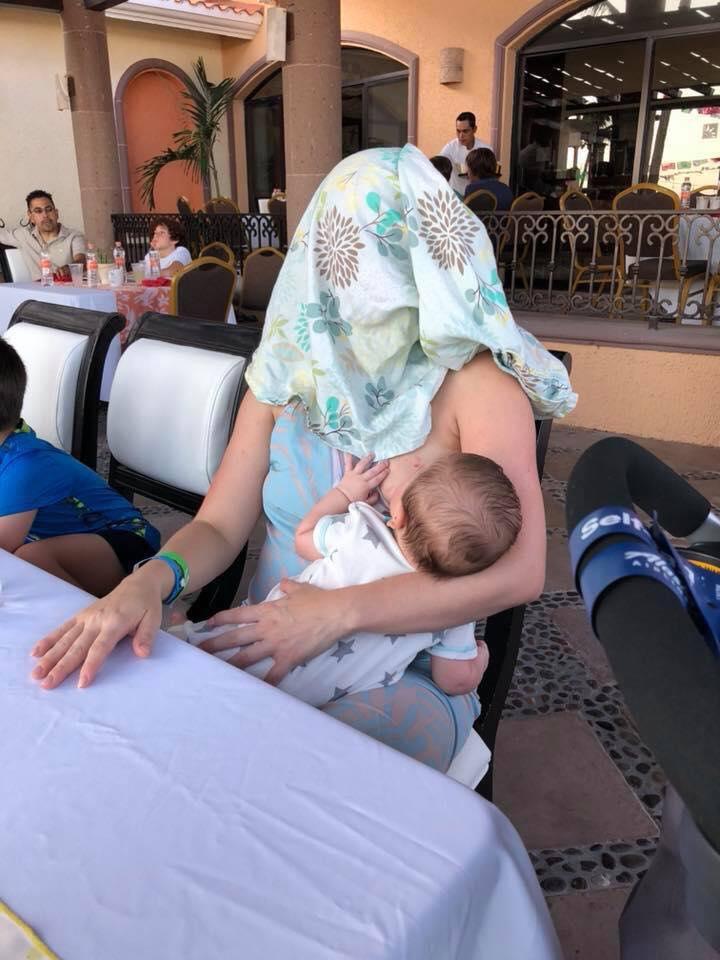 Woman told to "cover up" while breastfeeding responds, and the photo has gone viral
A woman from Hawaii shared a photo of a breastfeeding mother on Facebook and it has gone viral. Carol Lockwood writes on
Facebook that the woman "was told to 'cover up' while feeding her baby, so she did!"
In the photo, the woman is literally covering up – with a blanket on her head. The photo Lockwood posted appears to have been taken in a restaurant.
"Please share! With permission, I've made this post public — I'm SO over people shaming women for nursing," wrote Lockwood, who said she doesn't know the woman, but that she is her friend's daughter-in-law. Her post has been shared over 200 times and received 18,000 comments since she posted it on July 31. Many of the commenters were supportive of the woman, who has been identified as Melanie Libson Dudley, according to Yahoo Lifestyle.
Dudley was breast feeding her 4-month-old while on vacation in Mexico when the photo was taken, Yahoo Lifestyle reports. She is a stay-at-home mom from Austin, Texas, who also has four-year-old twins.
"I was on vacation in Cabo San Lucas with my entire family and a man asked me to cover myself," Dudley told Yahoo. "I'm usually discreet, but we were seated in the back of the restaurant."
Last year, a mom from Washington state also took a literal approach to covering up when she was asked to do so while breastfeeding at a McDonald's. A photo of Nicolle Blackman went viral when she also threw a blanket over head while feeding her baby in public.
Just last month, two Minnesota women were confronted for breastfeeding in public and said they planned on filing a discrimination lawsuit. Their story prompted dozens of other moms to launch their own, special protest outside the pool in support of public breastfeeding.
Thanks for reading CBS NEWS.
Create your free account or log in
for more features.