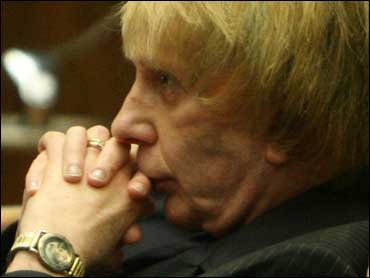 Woman Says Phil Spector Turned "Demonic"
A second woman has testified that Phil Spector threatened her with a gun, saying the music producer suddenly turned "demonic" after a party 18 years ago and tried to rape her.
Prosecutors called Dianne Ogden, a music talent coordinator, to support its case that Spector's pattern of threatening women with guns led to the killing of actress Lana Clarkson, who was shot at Spector's suburban Alhambra mansion on Feb. 3, 2003.
Ogden testified Monday that Spector seemed to undergo a personality change as she tried to leave another Spector mansion in Pasadena after a party in 1989.
"He was screaming at me, the F-word," she said. "He wasn't my Phil, not the man I loved. It wasn't him. He was demonic. It scared the hell out of me."
Spector sat stone faced, as Ogden described the terror-filled night at his home, reports The Early Show national correspondent Hattie Kauffman. She said he first approached her with a rifle, then picked up a pistol and "he put it all over me, yelling things."
"I said please put the gun down. And he goes 'no'," she said. "He said he was going to, like, blow my brains out, you know, by gunpoint! That was not romantic to me!"
---

Photos: Phil Spector

---
Ogden pointed to various parts of her face to indicate where the gun was pointed.

"It was like he was taken over by something. It wasn't Phillip."

At one point, she said, Spector ordered her up to his bedroom.

"Did he try to be intimate?" asked Deputy District Attorney Pat Dixon.

"Yes he did," she said. "He did it by gunpoint. He wanted to rape me."

Ogden said Spector tried to have sex with her and it was "icky."

"I had never had a sexual relationship with him," she said.

"Did you that night?" asked Dixon.

"He tried," she said.

The next morning, the witness said, she awoke to Spector singing in the shower "like nothing had happened."

In the midst of her testimony, Ogden interrupted the prosecutor to make clear that she was only testifying because she had been subpoenaed.

On the stand, Ogden said that over the years she would hear from Spector occasionally and he would send her birthday cards and roses.

She said she broke off contact after she went to his house again for a gathering with two old friends and when she got up to leave, "Phillip from behind me said, 'You're not going anywhere.' He said, 'I have an Uzi with me and I'm going to kill you.'

"I said, 'Phillip don't do this to me again. You've been drinking.' "

Ogden said he ran after her with the Uzi in his hand but she jumped into her car and gunned the engine.

"I went flying out of there," she said.

"He was running after me with the Uzi. He was yelling the whole time," she said.

She testified she never previously told her story to law enforcement but did tell Paul Shaffer, music director on "The Late Show with David Letterman." It was not made clear how the story reached prosecutors.

The defense contends Lana Clarkson was holding the gun that killed her, and that the women coming forward now are just seeking publicity. On cross examination, defense attorney Bruce Cutler came out swinging. He asked why Ogden finally decided to talk about her experience with Spector.

"Because there was a dead girl, and it was under similar circumstances," she said.

"You formed an opinion!" Cutler yelled and pointed at Ogden. "You formed an opinion!"

Prosecutors objected to Cutler's thunderous tones and Superior Court Judge Larry Paul Fidler admonished him repeatedly against yelling and pointing at the witness and making statements instead of asking questions.

"Excuse me, Mr. Cutler," he said. "First of all, you will not yell and point at a witness in my courtroom, ever!"

The conflict continued and at one point Cutler told Ogden "something just goes off in me. It has nothing to do with you." He added, "You're a nice lady."

Prosecutors are laying out Spector's history of attacking women. Earlier, jurors had heard from former girlfriend Dorothy Melvin.

"He got up and he back-handed me with the pistol again and said I told you to take your f--ing clothes off ..."

On Monday, jurors got to hear Spector himself — in a phone message he left for Melvin after that incident.

"Be careful what you say to me because nothing you say to me is worth your life. Goodbye Dorothy," the message said.

Like Ogden, Melvin refused to file charges.

"I still cared about him, though," Melvin said. "So I forgave him, you know. I did."

Prosecutors are proceeding on a theory of "implied malice," alleging Spector did not intend to kill Clarkson but caused her death by reckless behavior and taking an extreme risk. Defense attorneys said the evidence will show that Clarkson fired the gun herself.

Spector rose to fame in the 1960s and '70s, changing rock music with what became known as the "Wall of Sound" recording technique. Clarkson, who was a hostess at the House of Blues when she met Spector, was best known for a 1980s role in Roger Corman's "Barbarian Queen."

The Spector murder trial will resume Wednesday in Los Angeles.
Thanks for reading CBS NEWS.
Create your free account or log in
for more features.