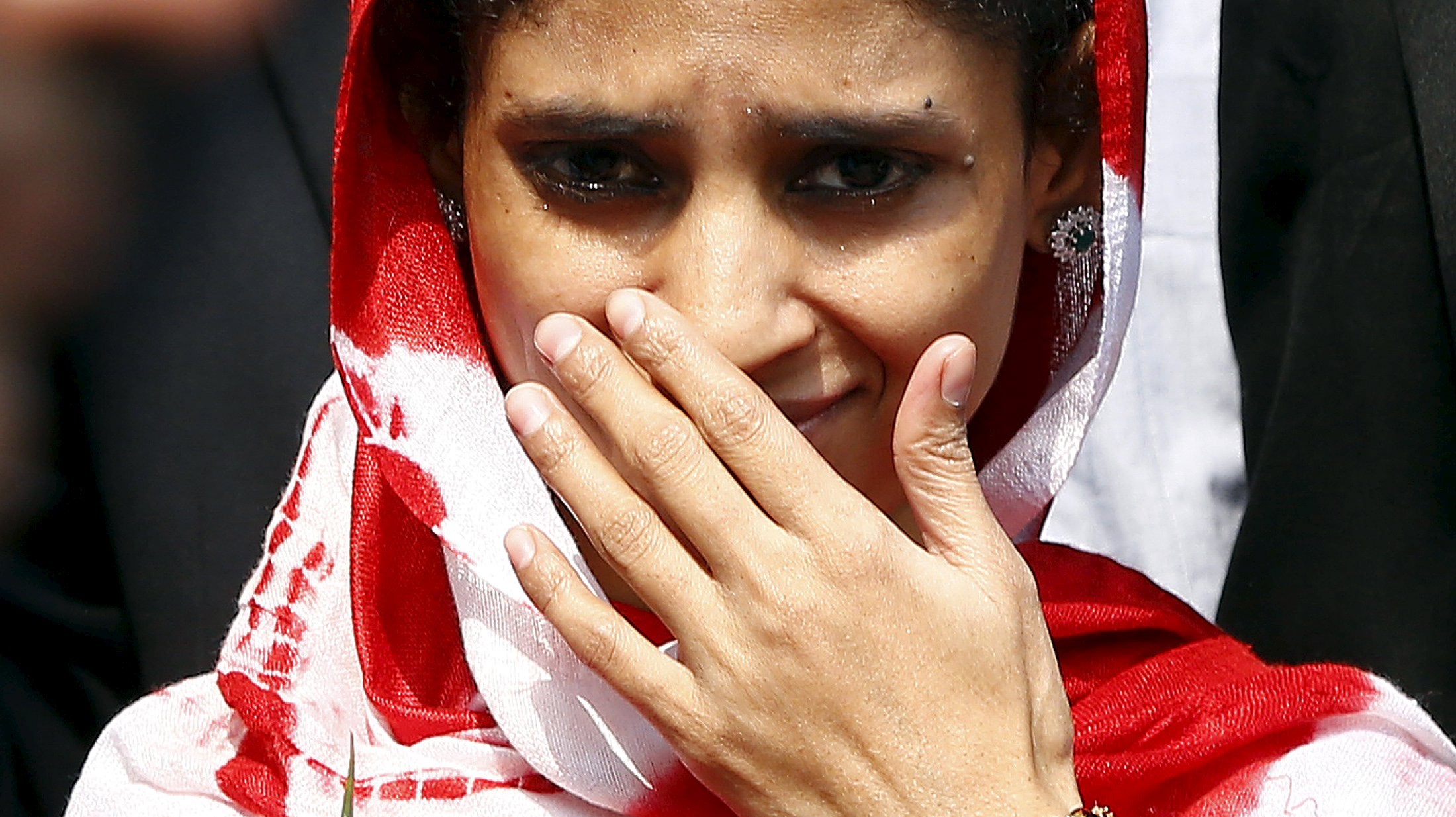 Deaf, mute woman back home 12 years after straying across border
NEW DELHI -- Twelve years ago, a deaf and mute 11-year-old girl crossed the Indian border into Pakistan. On Monday, finally, she flew home to a warm and emotional welcome.
Wearing a red tunic, her head loosely covered with a matching scarf, the girl - now a 23-year-old woman who had been given the name Geeta - waved to the scores of people who had gathered at the New Delhi airport to greet her. She was carrying a big bouquet of flowers given to her by Indian officials. It was a rare happy moment between hostile neighbors whose officials are often indifferent to the lives of innocent civilians.
"I am very happy. In Pakistan, I used to often feel sad," she told reporters through a sign language interpreter. She has resolved to stay in India and work, she said at the news conference.
More than a decade ago, Geeta was found by Pakistan border troops, alone and weeping, near the border. Accounts of how she arrived differ, with some saying she had accidentally crossed an unmarked section of the border and others saying she'd been a passenger on a cross-border train.
Since she could not explain where she had come from, she was presumed to be Pakistani. The army handed the girl to a well-known Pakistani charity that ran a number of homes for orphans. The Edhi Foundation named her Geeta, but not knowing about her family, years passed without much effort to locate them.
Earlier in 2015, Indian and Pakistani officials realized that Geeta was Indian, though details about how they made that discovery have not been announced.
Her plight was highlighted by the media in India and Pakistan after the July release of a Bollywood film, "Bajrangi Bhaijan." In the film, Salman Khan, one of Bollywood's biggest stars, overcomes all odds to reunite a mute girl with her family in Pakistan after she was separated from them during a trip to India.
The similarities between the film and Geeta's story helped accelerate action. In August, India declared that Geeta was an Indian citizen and efforts to trace her family were renewed.
Vikas Swarup, spokesman of the ministry of external affairs, said Indian officials narrowed the search to three families who claimed they were Geeta's kin. The ministry then sent photographs of them to Pakistan.
"About two weeks ago, Geeta identified her family after seeing some pictures provided to us by Indian diplomats," the charity's spokesman, Faisal Edhi, told The Associated Press in Islamabad. "She was very happy over it."
It was a rare friendly moment in the traditionally hostile relations between the South Asian neighbors. Since independence from Britain in 1947, India and Pakistan have fought three wars. Years of bitter acrimony have reduced even normal interaction between the two countries.
In New Delhi, Geeta and the families were undergoing DNA tests to ensure she was reunited with her own parents, Indian External Affairs Minister Sushma Swaraj said at a news conference where Geeta was present.
"It doesn't matter if we find her parents or not, she is adaughter of India and we will take care of her," Swaraj told reporters, according to Reuters.
Earlier Monday, when Geeta was introduced to Janardhan Mahato, a man who claimed to be her father, and his wife, Geeta said she did not recognize them.
"Geeta met the Mahato couple today, but she could not recognize them. We will now wait for the results of the DNA test," Swaraj told reporters.
Geeta would live at a home for people with disabilities in the central Indian city of Indore, before she decides what to do next.
Thanks for reading CBS NEWS.
Create your free account or log in
for more features.