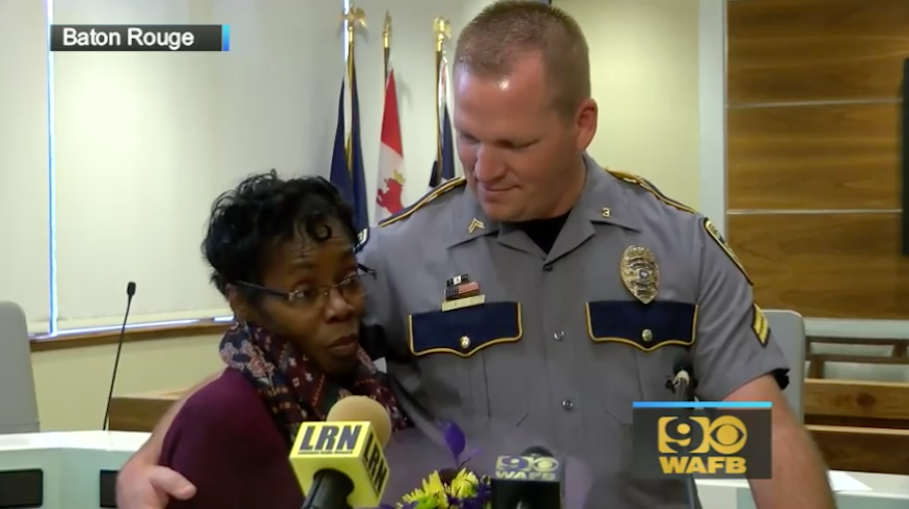 Woman jumps on back of man attacking Baton Rouge police officer, cops say
Baton Rouge police are thanking a woman for having an officer's back — literally — when a traffic stop suddenly became dangerous Sunday morning.
Vickie Williams-Tillman was on her way to run some errands when she noticed a police officer on the side of a road engaged in a heated conversation with a man outside of his car.
Police said that as Officer Billy Amie tried to secure the man in handcuffs, the driver became aggressive.
Williams-Tillman, 56, began to brake and rolled down her car window to ask the officer if he needed help. Before he could answer, she saw the suspect leap toward the officer.
Without hesitating, the woman dialed 911. But when police say the suspect took the officer's baton and began to repeatedly hit the officer in the head with it, Williams-Tillman couldn't just sit back and wait.
Instead, she jumped out of her vehicle and onto the suspect's back.
"Risking her own safety she jumped out of her vehicle and onto the back of the 28-year old assailant," the Baton Rouge Police Department said in a statement. "Ms. Williams-Tillman was able to help hold off the assailant until other officers arrived."
Baton Rouge Police Chief Carl Dabadie said he was relieved when he heard both the officer and Williams-Tillman were safe.
"I can't think of probably very many people on one hand that would not have just rode by, or maybe made a phone call to 911," Dabadie said during a news conference Monday, CBS affiliate WAFB reported. "But Ms. Tillman went above and beyond."
Williams-Tillman said she wasn't concerned about her safety at the time, she was solely focused on helping the officer.
"I'm just glad that he's here," an emotional Williams-Tillman said during the news conference. "I'm just so happy, lost of words. I'm just so glad of the turnout. I know God led me in that direction when I left my home."
"This is a true hero," Amie said, pointing at Williams-Tillman as he wrapped his arms around her.
Amie was treated at a local hospital and released Sunday.
The suspect has been identified as 28-year-old Thomas Bennett, of Albany, Louisiana. According to The Advocate, Bennett was detained after the second officer to arrive at the scene hit him with a stun gun, and was booked into Parish Prison on counts of aggravated battery, disarming a police officer, battery on a police officer, resisting an officer with violence, possession of cocaine and possession of drug paraphernalia.
The Baton Rouge Police Department also thanked Williams-Tillman for her heroic act in a Facebook post Sunday. The post was shared by more than 1,100 people and received hundreds of comments, commending the woman for her bravery.
"Thank you Vickie for looking out for the officer," one Facebook user wrote. "You are a true hero!"
"This is what courage looks like--stepping outside of minding your own business and stepping in," another added. "Ms. Williams-Tillman could have just rolled on by, but she stepped up and stepped out of her comfort zone. Thank you for your selflessness!"
The department couldn't agree more.
"I can't tell you...how much courage and how much bravery that took for you to get out of your car," Dabadie told Williams-Tillman. "We are indebted to you...And we're going to see if we can recruit her."
Thanks for reading CBS NEWS.
Create your free account or log in
for more features.