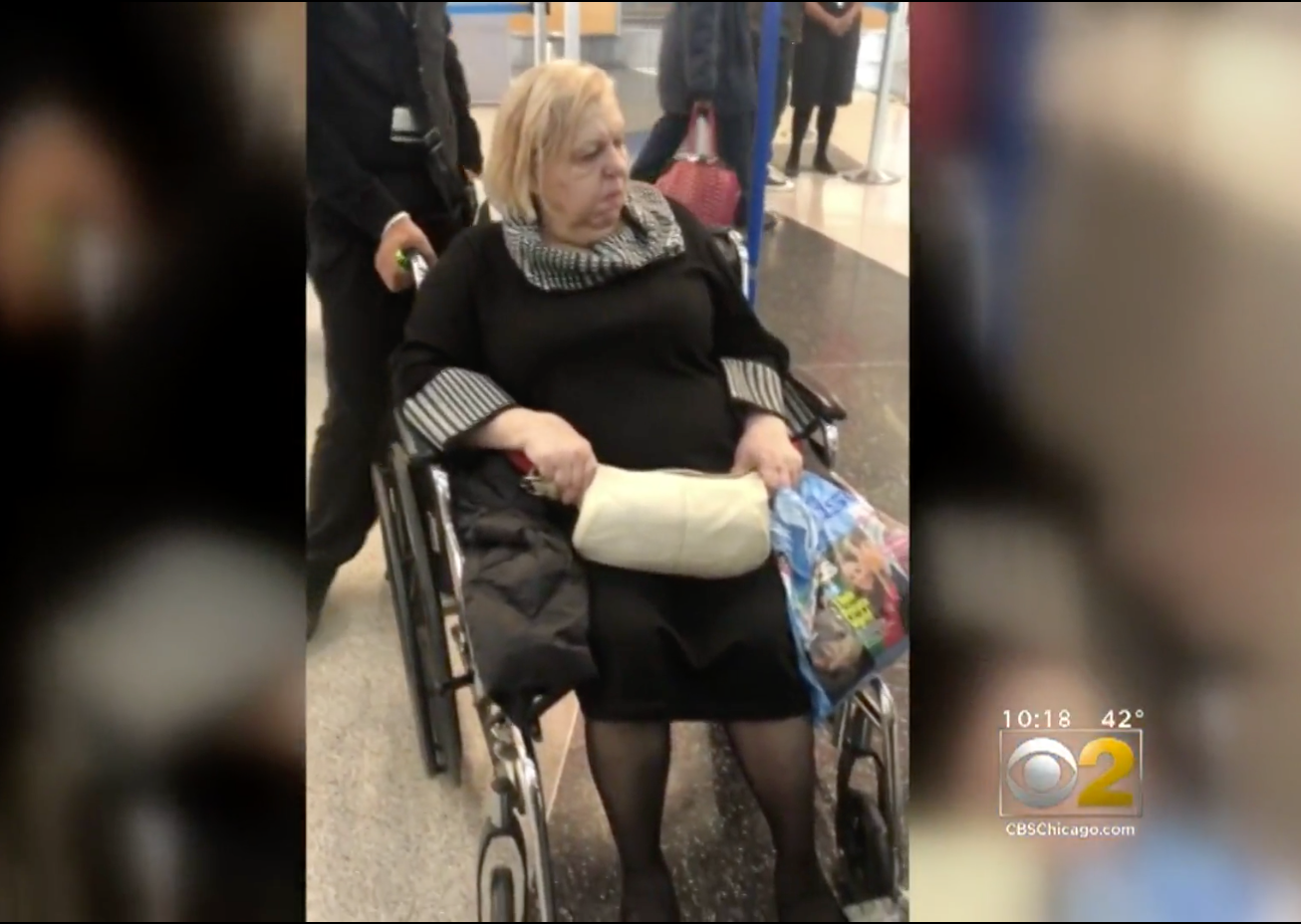 Family says woman left alone in wheelchair at Chicago airport after flight canceled
A Detroit family pressed American Airlines and Chicago's O'Hare airport for answers on Monday after saying a woman was left overnight in a wheelchair at O'Hare following the cancelation of her flight home. Olimpia Warsaw has Parkinson's disease and diabetes and uses a wheelchair because she has trouble walking.
She traveled from Detroit to Chicago for her ex-husband's funeral, and right away things went wrong, her family says. Her luggage was lost and she ended up missing part of the service as a result.
But relatives say it was an even worse travel nightmare on her way back home. Family members told CBS Chicago that an airport porter left her alone in her wheelchair overnight after her flight was canceled.
American Airlines told CBS News it was conducting an investigation into the incident, but noted that security video appeared to conflict with the family's claims. The airline said the video shows Warsaw walking outside at O'Hare twice to smoke on Friday night, and then being picked up by family members after being left alone for just 75 minutes. Her flight had been scheduled to depart at about 10 p.m, and according to the Chicago Tribute she was picked up at 1:30 a.m.
American Airlines apologized to the family on Monday and said it was investigating the porter involved, who is not an airline employee. CBS Chicago reported that the family was still exhausted from the incident, but was more content after speaking with an airline representative.
"We have launched an investigation with our Chicago team and the vendor we utilize that provides wheelchair services at O'Hare. While this investigation is still underway, we are already developing a process with our vendor to ensure this does not happen again," AA said, noting that it had also refunded Warsaw's ticket.
Her son Claude Coltea said he and his mom went to the airport together after his father's funeral last week. "I walked with her all the way to her gate," he told the station. "I confirmed with the gate agent that the flight was on time. Everything was OK. She said, 'Yup, all's fine. We'll take good care of your mom.'" Coltea then went to his gate for a flight leaving shortly after his mother's flight was supposed to depart.
But Warsaw's flight was canceled.
Coltea said American Airlines assigned a porter to take Warsaw back to the front of the airport. She was offered a hotel room as her flight was canceled, but Coltea said the airline wasn't willing to take her there. Warsaw has trouble communicating and couldn't arrange her own transportation to the hotel.
According to Warsaw's family, instead of helping, the porter told her his shift was over and he couldn't do anything, and then he just left her there.
"She actually had to find a random passenger to help her out just to go to the bathroom because the porters had already left for the night," Warsaw's other son, Julian Coltea, told CBS Chicago.
When she didn't arrive in Detroit, Warsaw's family began calling American Airlines.
Hours later, security eventually helped the family connect with Warsaw. Images taken shortly after she was discovered show her alone in her wheelchair, still dressed for her ex-husband's funeral.
Warsaw's son said his mother was let down by both the airline and the porter. "All we wanted was someone to pause and say, 'You know what, can we just make sure this human being is safe and then we can all go home,'" Claude Coltea said. "Not one person did that."
His brother, Julian, agreed. "I really think they need to revisit their policies for dealing with the elderly, for dealing with the disabled," he said.
Thanks for reading CBS NEWS.
Create your free account or log in
for more features.