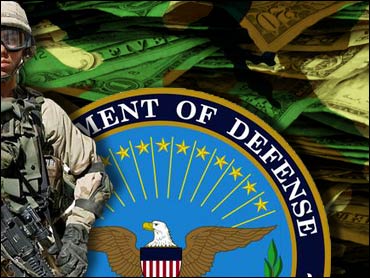 Woman Defrauds Defense Dept Out Of $20M
An owner of a defunct company accused of bilking the Defense Department out of more than $20 million, including charging nearly $1 million to ship two 19-cent washers, pleaded guilty Thursday to federal wire fraud and money laundering.
Charlene Corley owned plumbing and hardware equipment supply company C&D Distributors LLC with her sister, Darlene Wooten, who committed suicide last fall, reports CBS News correspondent Sharyl Attkisson.
Corley faces as many as 20 years in prison for each of the counts she pleaded guilty to — conspiracy to commit wire fraud and conspiracy to commit money laundering. In addition, she owes as much as $750,000 in fines, said Assistant U.S. Attorney Kevin McDonald.
The company has repaid the government $4 million, and the government has seized an additional $7 million in cash and other assets, including beach houses and other land, he said.
From 1997 to 2006, Corley and Wooten exploited an automated shipping payment system designed to speed shipments bound for U.S. forces overseas by submitting huge bills to ship inexpensive items, prosecutors said.
Prosecutors said among the fraudulent charges were ones for $998,798 to ship two 19-cent lock washers, $492,097 to ship an $11 threaded plug, and $499,569 to ship 10 cotter pins worth $1.99 each.
The investigation revealed the company had sometimes double-billed for supplies and charged even when the government denied its services, said Army Lt. Col. Brian Maka, a Pentagon spokesman. The billing of the washers was one of the most egregious charges, he said.
"A 19-cent lock washer you could put an envelope in the mail and mail it with a 14-cent stamp," Maka said.
McDonald said the payment system has been changed.
But Winslow Wheeler, of the Center for Defense information, says the case demonstrates just how big of a mess the Pentagon's auditing system still is, reports Attkisson. In the 1980s, Wheeler worked for Congress tracking the scandal where the Pentagon was found paying $400 for a hammer.
"Nobody fixed the fundamental problem. As a matter of fact, it's worse," said Wheeler.
"Its intent was a good one, and it was to get items directly to the troops wherever they might be as quickly as possible without running into the red tape" of manually approving costs, he said. "This particular contractor bilked the system by taking advantage of the process."
Corley's lawyer, Greg Harris, said Wooten handled bidding and shipping for the company and was directly responsible for the fraud. Wooten committed suicide in October 2006 after being contacted by authorities about the case, according to prosecutors. Before doing so, she wrote a $4 million check to the Defense Department, McDonald said.
Harris said that over the past five or six years the company submitted more than 10,000 bids to the government and that the federal investigation found between "100 and 125 invoices that were paid and that were associated with this fraud." Money from the fraud also went into salaries and growing the business, he said.
Harris said his client has been assisting the government in identifying, locating and liquidating assets associated with the fraud. Corley is free on a $250,000 unsecured bond. Her sentencing date has not been set, Harris said.
The Defense Department is now investigating cases of fraudulent charges by other contractors, Maka said, although he could not specify how many.
"We're going to do whatever it takes to retake the money that's stolen from us," he said.
Thanks for reading CBS NEWS.
Create your free account or log in
for more features.