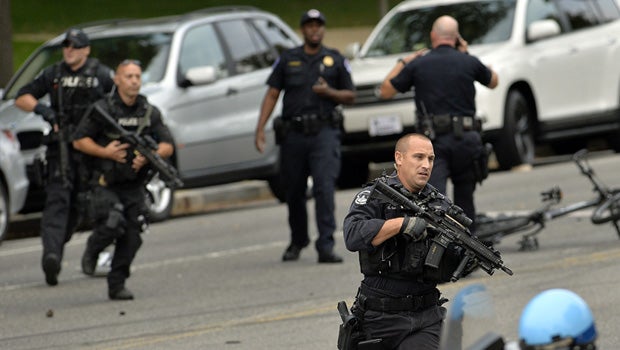 Woman dead after chaotic Capitol car chase
Updated at 9:43 p.m.
A woman who struck a security barrier with her car near the White House took police on a high-speed chase through Washington, D.C., ending with officers opening fire and shooting her to death near the U.S. Capitol earlier Thursday afternoon.
CBS News' Bob Orr reports that at around 2 p.m., a black Infiniti coupe struck a barrier at 15th and E Sts. NW, one block from the White House. Officials don't know if she deliberately rammed the barrier or simply sideswiped it. The driver, a woman, then sped off, driving erratically east on Pennsylvania Ave. NW, toward the Capitol, with Secret Service officers in pursuit. A federal official tells CBS News that the pursuit was high-speed through busy city streets, and that the woman was weaving in and out of traffic and running red lights.
According to CBS News, multiple police sources have identified the woman as Miriam Carey and they are executing a search warrant at a residence in Stamford, CT.
"The car was trying to get away. But it was going over the median and over the curb," Matthew Coursen, who was on his way to a legislative office building when the Infiniti sped by him, told the Associated Press. "The car got boxed in and that's when I saw an officer of some kind draw his weapon and fire shots into the car."
Coursen watched the shooting from his cab window.
"I thought to myself, 'The car is getting blocked in. The car is going to surrender,'" he said. "Now the cop has his weapon out. The car kept trying to get away. Then he fired shots."
At 1st St. and Constitution Ave., NW, on Capitol Hill, she hit a police cruiser with a policeman inside. That officer was injured and his injuries are not life threatening, according to the U.S. Capitol Police. Another Secret Service officer was also injured, though Washington, D.C. police chief Cathy Lanier said his injuries are not serious.
Shortly thereafter, at 2nd St. and Maryland Ave., NE, she jumped a curb and stopped her vehicle, leaving a child behind in the car and attempted to flee the scene, according to the federal official. Multiple officers then fired multiple gunshots; the woman was hit by gunfire and died, Orr reports.
CBS News does not have a confirmed identification of the child.
U.S. Capitol Police Chief Kim Dine told reporters that there is no information to indicate the incident was an act of terrorism or anything other than an isolated incident.
The U.S. Capitol was put on lockdown after the gunshots fired and the area was put on high alert. Those inside the Capitol were told to shelter in place until the order was lifted close to 3 p.m.
Just prior to the lockdown, the U.S. House passed legislation aimed at reopening parts of the federal government that have been affected by the shutdown.
All federal employees, including Capitol Police and Secret Service, are unpaid during the shutdown and won't receive paychecks until the shutdown has ended. Federal employees deemed essential during the shutdown - those currently working - will automatically receive back pay; non-essential workers who are currently on furlough will only receive back pay if Congress approves that spending.
Thanks for reading CBS NEWS.
Create your free account or log in
for more features.