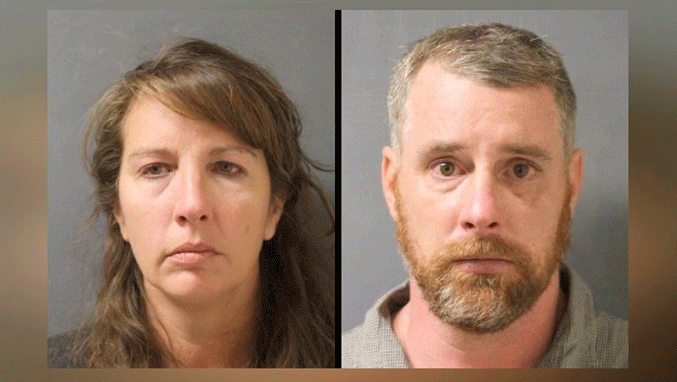 Witness: Deputy's husband wouldn't let go of Denny's victim as he turned purple
HOUSTON – A waitress who witnessed the altercation in a Denny's parking lot that led to the death of a man says she and her manager begged the suspect to stop choking the victim after he turned purple.
CBS affiliate KHOU reports that Melissa Trammel saw Terry Thompson holding John Hernandez, 24, in a chokehold and that it almost 45 minutes for police to arrive on the scene.
"I don't know how it began, but I do know that the Thompson dude would not let go of Hernandez," Trammel said. "We kept asking him to please let go, let go. And they did not let go. He kept holding him in a choke hold, holding him and just never would let him go after turning blue. He was turning purple. We begged this man, me and my manager begged for him to stop. But he did not stop."
The medical examiner ruled Hernandez, 24, died from strangulation and chest compression.
Thompson and his wife, Deputy Chauna Thompson, are both charged with murder in Hernandez's May 28 death outside a Denny's restaurant in Sheldon, an unincorporated community 17 miles northeast of Houston. They surrendered to authorities late Thursday after a grand jury that day handed up separate murder indictments against them. KHOU reports that they are both free on bond.
Authorities allege Terry Thompson confronted an intoxicated Hernandez after seeing him urinate in public. Chauna Thompson, who was off-duty, arrived later to help her husband subdue and restrain Hernandez.
KHOU reports that some witnesses said Hernandez was drunk and not able to defend himself against the much larger Thompson.
Trammel told the station that she wanted to help but, "As a Denny's employee, we're not allowed to touch him. You know, we could get sued for touching him. In my right mind, I wanted to do so much, but I knew working for Denny's, that we could be in a lot of trouble if any of us got involved, so we called. It took 43 minutes for the police to get there."
Trammel said that six or seven people were calling 911 during the altercation, which she says occurred right in front of Hernandez's three-year-old daughter.
"We were telling them to hurry. Hurry. You know, the man is turning blue, I mean purple. He could not breathe. He could not breathe. He was kicking for his life. Struggling. You know, at first I thought it was legitimate, he was just going to hold him down. Whatever. When I had seen the man turning purple there was no let up. And he looked me in my face and said he is not getting off him."
Cellphone video recorded by an unidentified bystander has been released by the bystander's attorney and posted on local media websites. The footage shows a man who appears to be Terry Thompson lying on top of Hernandez. Jack Carroll, the attorney for the person who recorded the video, has said the man restraining Hernandez used an illegal chokehold.
A medical examiner ruled that Hernandez died of lack of oxygen to the brain caused by strangulation and chest compression.
"It's a very sad video because you're watching a man basically being killed," Attorney Jack Carroll said. "He was kicking his legs in a helpless fashion, and you can hear him gargling or gurgling, 'Stop, stop.'"
Trammel told the station that she was waiting on the Hernandez family and was bringing them cream for Hernandez's coffee when his wife ran outside after him. Trammel said Hernandez was drunk. She said his wife kept telling him to "give me the keys" and that he may have gone outside to urinate instead of using the bathroom. But, she said, he was "no problem with us Denny's employees."
When asked whether Deputy Chauna Thompson tried to get her husband to let go of Hernandez, Trammel said, "No. She was yelling at the man herself."
Chauna Thompson remains on administrative leave indefinitely, and her employment status will not be decided until after the internal investigation, Harris County Sheriff Ed Gonzalez said Thursday.
Greg Cagle, an attorney for Chauna Thompson, said Friday that Hernandez attacked the deputy's husband and it was reasonable for Terry Thompson to hold down Hernandez as a result of being attacked. Cagle said the indictments of the Thompsons were politically motivated by the district attorney's office.
Attorney Scot Courtney, who is representing Terry Thompson, said there wasn't enough evidence to warrant a murder indictment against his client, and that Terry Thompson did not intend to cause Hernandez's death. He also criticized the district attorney's office for putting the case before a grand jury so quickly.
Relatives of Hernandez said they are pleased the Thompsons were indicted, but that they won't stop putting pressure on authorities to bring justice in the case.
Despite the indictments, the criminal investigation continues with the assistance of the Texas Rangers and the U.S. Justice Department, Ogg said.
Hernandez was Latino and the Thompsons are white. Authorities have said they are investigating whether race was a factor in the incident.
Thanks for reading CBS NEWS.
Create your free account or log in
for more features.