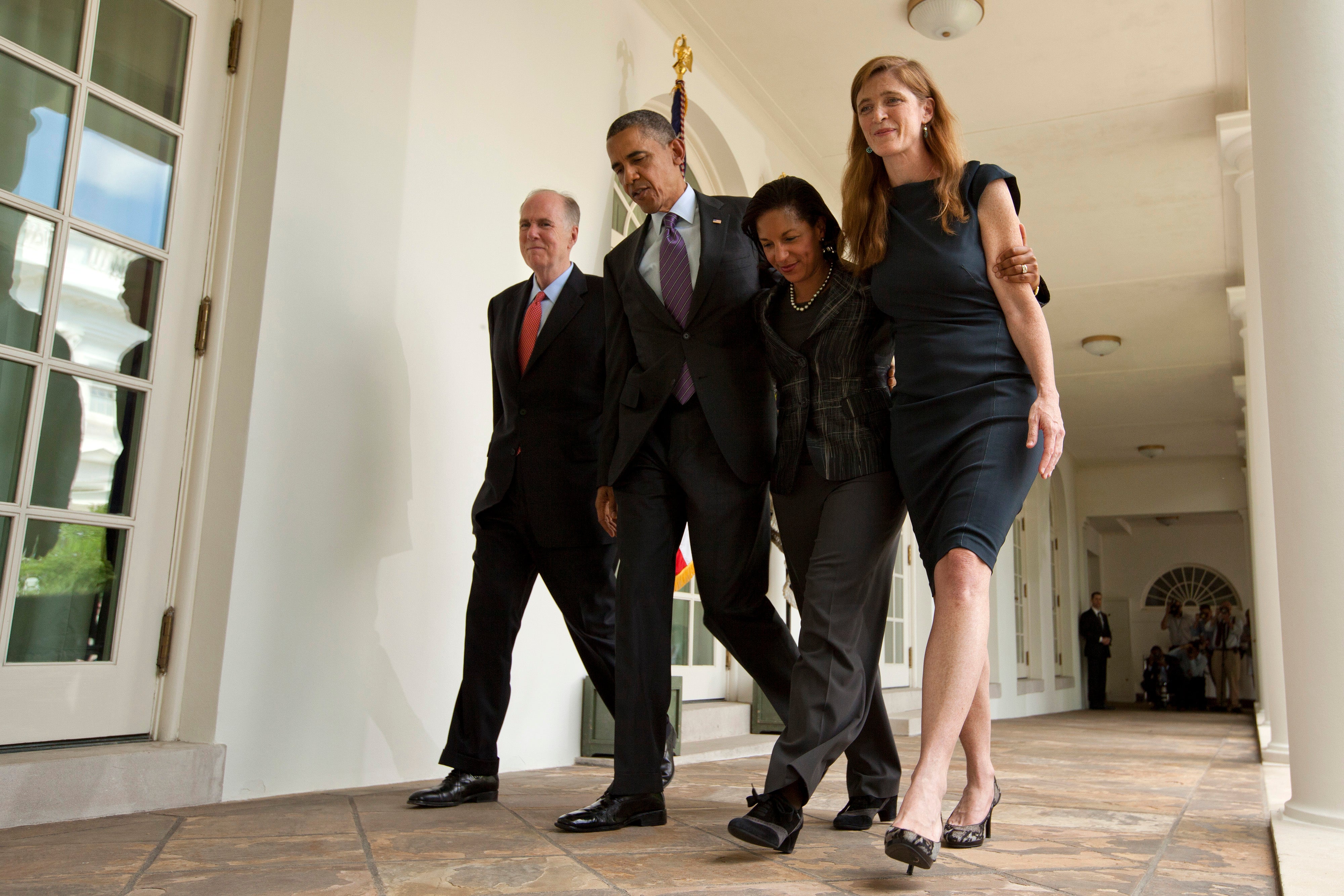 With national security picks, Obama rounds out 2nd term "dream team"
With the appointment of Susan Rice and Samantha Power to two key national security posts, President Obama on Wednesday put the finishing touches on his second-term team of top-tier advisers, rounding out the bunch with two longtime Obama loyalists who appear to be deeply in step with his foreign policy vision.
Mr. Obama, announcing the picks in the Rose Garden Wednesday, didn't cause much shock among Washington insiders: Rice was rumored to be up for the job, which is being vacated by Tom Donilon; and Power was "at the top of the list" to replace Rice, according to Rick Inderfurth, a longtime diplomat who has served within both the National Security Council and the United Nations, and is now a senior adviser at the Center for Strategic and International Studies.
"Everyone knew that Tom Donilon would be leaving and that Susan Rice would be arriving. He's now got another very close confidante - Samantha Power - going to the United Nations. This was the team that he envisioned for his second term," Inderfurth told CBSNews.com. "He's now got his dream team."
Rice and Power are both long-serving members of the Obama team: Rice has been with him since the 2008 presidential campaign, after which he named her U.S. ambassador to the U.N.; Power also joined Mr. Obama's 2008 campaign - though she resigned after it was reported she called then-candidate Hillary Clinton "a monster" - and currently serves on the National Security Council.
"This is the least surprising appointment of Obama's second term," Inderfurth said, of Mr. Obama's selection of Rice to lead his national security team. He, like others, pointed out that the so-called "team of rivals" the president cultivated during his first term has become more of a "band of brothers - and now sisters."
"I think that President Obama has always relied heavily on an inner circle," said Charles Kupchan, formerly the director for European affairs at the NSC and now a fellow at the Council on Foreign Relations. "I think that in the first term he had other boxes that he needed to check [politically speaking]... I think in the second term he doesn't need to check all of those boxes, and so he is able to fill positions with some of his loyal foot soldiers in a way that he couldn't before."
Perhaps as a consequence of his existing relationships with Power and Rice, national security experts don't expect a major policy shift as a result of their new roles in the administration. After all, Rice has long been one of Mr. Obama's top confidantes on national security and foreign policy issues, and the president himself has taken a hands-on approach to the issue from the get-go.
"I don't think this marks a considerable shift in policy or in emphasis," Kupchan said. "Foreign policy has been run by an inner circle -- of which Susan Rice has been a part -- from the beginning... Plus, the president himself is as involved in shaping foreign policy as any modern president. As a consequence, the shuffling in and out of different advisers tends not to have a huge influence on policy."
Still, Rice will likely face a learning curve when she steps into her new role, Kupchan argues, if only because "when you're the ambassador at the U.N. you're sort of at the helm. And when you come into the position of national security adviser there's a new dimension to it that is quite managerial, and that requires working the system in a way that's quite challenging."
So far, however, there's little sign that Rice's appointment (which does not require Senate confirmation) will be met with significant pushback. Even Republicans who helped to derail her bid to become secretary of state have largely backed off or thawed in their resistance, with Sens. John McCain, R-Ariz., and Kelly Ayotte, R-N.H., posting Tweets registering their general objections to Rice but noting they'd do their best to work with her. And even those who continue to beat the Benghazi drum against Rice, like Sen. Rand Paul, R-Ky., have no power to impede her from taking office. Meanwhile, Rice's advocates are fierce in their support for her.
"I think she has the perfect chops for this assignment," said former Rep. Jane Harman, D-Calif., who now serves as director, president and CEO of the Wilson Center, a think tank that focuses on foreign policy. "I've known Susan for two decades and have found her to be a real strategic thinker -- especially about Africa... I think those skill sets are in huge demand right now."
In a press briefing Wednesday, White House Press Secretary Jay Carney mounted a strong defense of Rice's leadership skills.
"She is extremely smart. She is extremely experienced. And she is extremely tough," he told reporters. "And she has been a principal on the president's foreign policy team throughout his presidency and as a foreign policy adviser prior to that."
And while Rice has taken some heat in the past for her reportedly blunt approach, her characteristic straightforwardness could serve her well at the NSC.
"I think that the issue of swinging elbows and having a tough personality can be an asset in the sense of, who have been some of the nation's most successful national security advisers? I'd put [Henry] Kissinger and [Zbigniew] Brzezinski at the top of that list. And neither of those two is a wallflower," he pointed out. "I think being strong willed and resolute is an asset as long as you know how to work the system and when necessary serve as an arbiter among competing systems."
Mr. Obama clearly agrees. While announcing his decision on Wednesday, the president returned to a favorite analogy - basketball - when lauding Rice's qualifications.
"She is fearless; she is tough. She has a great tennis game and a pretty good basketball game," he said, chuckling. "Her brother is here, who I play with occasionally, and it runs in the family -- throwing the occasional elbow -- but hitting the big shot."
Thanks for reading CBS NEWS.
Create your free account or log in
for more features.