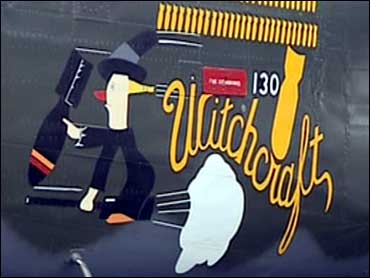 'Witchcraft' Flies Again For Vets
All veterans have memories of war, but as CBS News correspondent Mika Brzezinski reports, the memories the 467th Bomb Group brought back from World War Two are unique. They are preserved in living color in vivid images shot by Lt. Colonel James Mahoney during the height of the war.
The men of the 467th flew B-24 Liberators – then-brand new bombers that flew farther and with bigger payloads than anything else.
Many of these big planes were lost before the end of the war, and some 19,000 American airmen were killed during heavy bombing raids in the European theater.
But one of those bombers always made it home – a B-24 called 'Witchcraft' completed a record-breaking 130 missions.
"It was just unbelievable luck," said Robert DeKerf, one of the Witchcraft's flight engineers. "We can't believe it that no one got injured and it flew that many missions."
The men of the 467th still gather together to remember their days in the service, but the plane that they loved is gone. The Witchcraft survived less than six months after its last mission.
"After the war, two of the ground crew flew back home on it," said Witchcraft mechanic Ray Betcher. "And then they sent it to Altus, Oklahoma, and it was scrapped."
At this year's reunion in San Diego, though, the 'Witch' was back. Another B-24 Liberator – fully restored to flying condition – has been renamed for its famous predecessor.
The new Witchcraft is one in a collection of vintage war planes owned by a non-profit foundation – a "Museum With Wings" for most visitors. For the men of the 47th, it's a time machine.
"This bomb bay, I used to walk up to it and duck like that," Betcher said with a laugh crouching beside the historic plane. "Now I have to get down on my hands and knees."
The laughs come easily to the veterans all these years later.
"We did all the work and the B-17 got all the credit," joked B-24 pilot Ralph Davis.
The old fly-boy bravado comes back too.
"I flew 38 missions in that tail turret," remembered Mort Schechter of his days as a tail gunner, "and I'm still here!"
But, once inside the renovated Witchcraft, everything else comes back as well.
"I was always scared," Schechter adds.
The 467th has always had more memorabilia than most veterans thanks to the foresight of their deputy commander, James Mahoney.
Shortly before his death, he narrated a movie made with all that film he shot during the war. He remembers across the distance of years their home base in northern England, the aerial battles over Europe and the young men he helped lead.
Sixty years later, the men of the 467th – their numbers dwindling – watch a plane called Witchcraft take off one more time.
As the big bombers engines rev up, the fly boys from long ago prove maybe they still are just that.
"Now listen to that sweet sound," Ralph Davis said. "It's like riding a bicycle, you never forget."
Thanks for reading CBS NEWS.
Create your free account or log in
for more features.