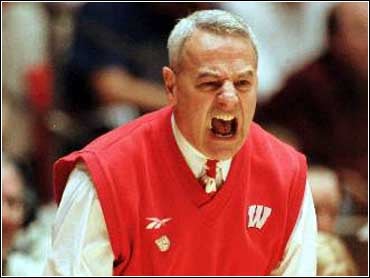 Wisconsin's Bennett Steps Down
Rebuilding basketball programs for 36 years finally got the best of Dick Bennett.
The defensive tactician who guided Wisconsin to an NCAA Final Four appearance this year is retiring because of burnout.
"I just simply was drained. I just simply could not keep up and it began to bother me," Bennett said Thursday at a tearful news conference flanked by his wife, Anne, and athletic director Pat Richter. "I don't want to go out cynical."
The 57-year-old Bennett said his health was fine.
Assistant Brad Soderberg, who played for Bennett at Wisconsin-Stevens Point in the early 1980s, was hired as acting coach for the remainder of the season. His first game is Saturday against Xavier.
"This is a tough day for me because I'm so close to coach," Soderberg said. "I just think it's a sad day for basketball in Wisconsin."
Soderberg, who was head coach at South Dakota State from 1993-95 before joining the Wisconsin staff when Bennett became the coach, said he tried to talk his boss out of retiring. "But as he told me, he just ran out of gas," he said.
The Badgers (2-1) are ranked 23rd and have high hopes for a Big Ten title run when Maurice Linton and Travon Davis return to the team after serving eight-game NCAA suspensions for receiving extra benefits.
Bennett came to Wisconsin in 1995 after twice being passed over for the Badgers' job. Before that, he spent nine years at Wisconsin-Stevens Point and 10 seasons at Wisconsin-Green Bay.
"I have been blessed to be able to do the thing I've always wanted to do, in the state I always wanted to do it and I ended up at the place I always wanted to be," Bennett said.
In April, the Badgers lost to Michigan State 53-41 in the NCAA tournament semifinals, the team's first NCAA Final Four appearance in 59 years. Afterward, Bennett spent a week mulling retirement but decided to return.
"I got caught up like everyone else in the euphoria of the Final Four," Bennett said, "and thought maybe I could just roll along ..."
But Bennett said he began to notice he wasn't paying attention to details and knew then it was time to say good-bye to the game he loved.
Before the Badgers made their unexpected run to the Final Four, Bennett was the subject of harsh criticism in Wisconsin for his antiquated style of coaching and his perceived shortcomings in recruiting. Unlike many coaches, Bennett admits he hears criticism and is hurt by it.
In truth, Bennett made the Badgers respectble after decades of ineptitude. In his five years, Wisconsin went to the NCAA tournament three times after just three visits in the previous 97 years. His last two teams are the two winningest in school history.
Bennett was among the college game's most respected tacticians for his defensive system that puts premiums on team play and execution. He finished with a career record of 453-258, including a 93-69 mark in Madison.
Bennett had four years remaining on a contract that included a base salary of more than $150,000 and another $210,000 in income from shoe, TV and radio deals.
Bennett's last two teams each won a school-record 22 games. No Wisconsin team had won more than 20 games before Bennett's tenure.
He also has directed the Badgers to 24 victories over Top 25 opposition, including a 78-75 overtime victory against No. 13 Maryland on Wednesday night at the Bradley Center in Milwaukee.
In the locker room afterward, he gathered his team and told them he was calling it quits so he could spend time with family, friends and former players.
"He didn't say much. He just said, `Guys, I'm stepping back,'" senior Andy Kowske recounted. "We were all shocked. We all just gave coach a hug and said good luck."
Known throughout the coaching ranks as one of the game's pre-eminent defensive coaches, Bennett's Badgers led the Big Ten in scoring defense for four straight seasons. He has lived in Wisconsin since childhood, and he spent 11 years coaching high school basketball in the state before moving to Stevens Point in 1976.
Two of his children followed him into coaching. A daughter, Kathi, is the Indiana women's basketball coach. His son, Tony, is Wisconsin's assistant coach.
Senior Mike Kelley said it will take time to absorb Bennett's departure.
"It's hard for all of us," Kelley said. "This is the guy who brought us in here and gave us a shot at greatness. And we achieved that last year."
Bennett succeeded without superstars, always uniting a roster of roll players into a cohesive unit that could play with the best teams in the country.
"Everyone here realizes we're not the most talented bunch of kids," senior Mark Vershaw said. "For us to have done what we did, it just shows what a great teacher he was."
©2000 The Associated Press. All Rights Reserved. This material may not be published, broadcast, rewritten, or redistributed
Thanks for reading CBS NEWS.
Create your free account or log in
for more features.