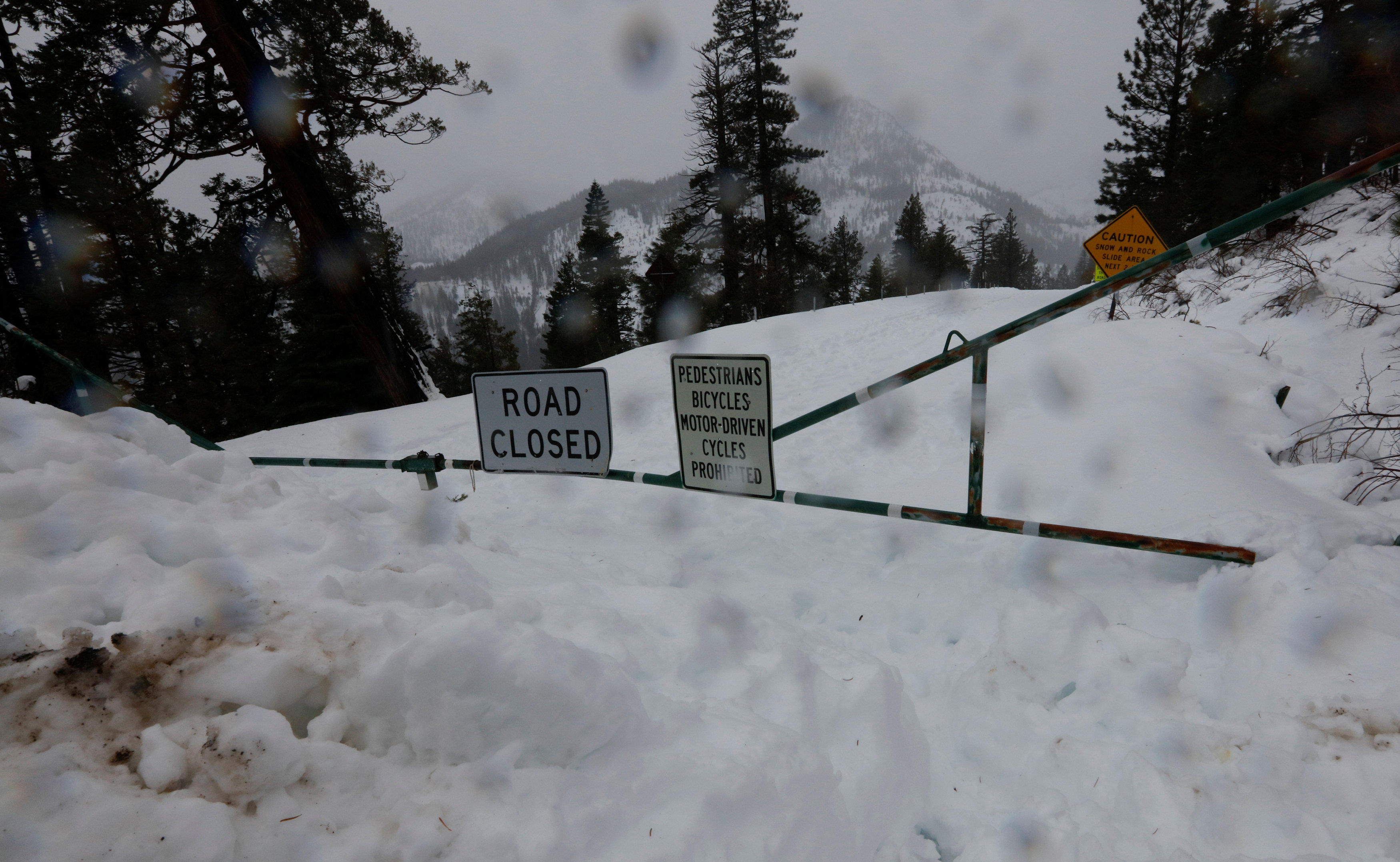 Severe winter storms pound both coasts
Snow and sleet fell on the East Coast from Mississippi to New England, while a winter storm caused flooding in northern Nevada and California and another rare snowstorm is expected to hit Portland, Oregon.
While snow and sleet worked its way up the East Coast, blizzard conditions were expected in New England, making travel treacherous throughout the region. There was a crash involving 20 vehicles on southbound side of Connecticut's I-91 in Middletown near exit 21 around 1 p.m., CBS affiliate WFSB reports. The crash involved three tractor-trailers and tanker. There were no serious injuries.
Forecasters were expecting up to a foot of snow in Boston, but Cape Cod and other parts of the south Massachusetts coast were in line for up to 2 feet of wind-driven snow and police implored residents to stay home and off the roads.
Winter storm warnings were in effect for Long Island and parts of coastal New Jersey on Saturday morning, CBS New York reports. By noon, the National Weather Service expanded the warnings to include Brooklyn and Queens. The remaining boroughs and parts of central New Jersey were under a winter weather advisory.
According to CBS New York, the storm is expected to taper off by midnight Saturday, but not before leaving behind a slippery mess.
The National Weather Service said up to 12 inches of snow could fall on parts of eastern Long Island. The winter storm warning there will last until 1 a.m. Sunday for both Nassau and Suffolk counties.
The bad weather wasn't only on the East Coast -- northern California and Nevada were pounded by severe rain, wtih a flood warning in effect for the Reno area until Monday.
According to the National Weather Service in Reno, there is a Flood Warning in effect from approximately 1 p.m. on Sunday to approximately 11 p.m. Monday. Anticipated peak flooding times will be between 5-8 p.m. on Sunday in Reno, and 3-7 a.m. on Monday in Sparks, CBS affiliate KTVN reports.
On Saturday morning, a flash flood watch was issued for San Francisco, to remain in effect through Sunday evening, CBS San Francisco reports.
A woman was killed by a falling tree on a Northern California golf course as a storm packing gusty winds and steady rain began moving into the parched state Saturday.
Residents and officials cleared debris from drains and readied sand bags, preparing for the storm expected to arrive overnight and drench already saturated soil. Officials warned the heavy rain and snow could down trees and trigger flooding and mudslides.
Firefighters found the critically injured woman at the Canyon Lakes Golf Course in San Ramon. The woman, believed to be in her 50s, was taken to a hospital where she later died, San Ramon Valley Fire Battalion Chief Dan McNamara said.
It was extremely windy in San Ramon, where at least four other trees were toppled Saturday, McNamara said.
Yosemite National Park was empty Saturday. The iconic tourist spot was shut down to visitors because of flooding concerns, CBS San Francisco reports.
It's a rare sight. Twenty years ago, in January of 1997 the park shut down when severe storms turned Yosemite Valley into a lake and the Merced river burst its banks.
Hydrologists have been releasing water from reservoirs to make room for what could be massive runoff from the mountains and while the flooding isn't expected to be as bad this time around, park officials were not taking any chances.
At the luxury Post Ranch Inn in Big Sur, where clifftop rooms open to sweeping views of the Pacific Ocean, general manager Kevin Geanides said staff cleared debris from storm drains earlier in the week. On Saturday, guests packed into the restaurant with floor-to-ceiling windows or stayed in their cabins, enjoying the relative calm.
"All of our rooms have fireplaces going and our guests are just hunkered down," Geanides said. "When we have storms like this there is a certain romantic element and our guests take advantage of it."
Rain is expected to ramp up overnight and take aim at California's central coast and the San Francisco Bay Area. Gusty winds will continue through much of Sunday, the National Weather Service said.
One month after a rare winter storm brought Portland to a halt, snow fell once again in Oregon's largest city on Saturday, and freezing rain was forecast for later on.
Getting ready to hunker down for the latest storm, Portland residents stood in long lines at grocery stores Saturday to purchase food, beer, wine and other goods.
The National Weather Service said that by early afternoon 3 inches of snow had fallen on top of freezing rain in the Eugene area, about two hours south of Portland.
Ice totals from the storm could be significant, causing hazardous driving conditions and potentially bringing down tree limbs and power lines, CBS affiliate KOIN reports.
In the southeast, police investigated several fatal crashes as potentially storm-related, but some of the South's biggest cities - Atlanta, Charlotte and Raleigh - appeared to avoid the worst of the storm. Authorities praised residents for learning the lessons of past storms that resulted in icy gridlock, where thousands of people were stranded along the interstates. But officials warned that bitter cold would keep roads treacherous well after the snow and sleet stopped.
"If I tell you anything it would be stay home," North Carolina Gov. Roy Cooper said. "Do not go out and drive on the roads unless you absolutely have to."
Treacherous driving conditions are expected through most of the weekend, but officials said Saturday afternoon that there were no fatalities in North Carolina from the winter storm, CBS affiliate WNCN reports.
A Winter Storm Warning was canceled for all counties except Northampton as snow showers ended in most areas by mid-afternoon Saturday.
Most places around the Triangle picked up around 2 inches of snow and sleet, but Durham County saw several inches of snow
Much higher amounts were observed in areas north and west of the Raleigh-Durham-Chapel Hill Triangle, where some places picked up nearly a foot of snow.
Snowfall totals reached up to 10 inches in at least seven North Carolina locations, including Greensboro and High Point, Lewisville in Forsyth County, and Lenoir and Rhodhiss in Caldwell County, according to preliminary figures from the National Weather Service.
The storm lingered in northeastern North Carolina and southeastern Virginia, where blizzard conditions were reported. The weather was believed to be responsible for a 20-vehicle pileup on a Connecticut highway, although initial reports indicated there were no serious injuries.
A National Weather Service map showed the snowfall seemed to follow the Interstate 85 corridor through the state, with locations along and north of the highway receiving snow, and areas to the south getting rain and sleet.
A foot of snow fell in parts of eastern Virginia, according to the National Weather Service, and a blizzard warning was issued for the cities along the coast.
North Carolina reported more than 700 crashes, while Virginia State Police said they responded to 500 crashes. Parts of three interstates in Mississippi were gridlocked by icy conditions. Hundreds of flights were canceled, from Atlanta to airports farther north.
At least three deaths are being blamed on the weather. In Kentucky, a man was killed when his pickup truck went off a snow-slickened Kentucky road Thursday. In Georgia, a 20-year-old Georgia State University student was killed after his SUV crashed on Interstate 75 in Monroe County. Virginia State Police say slick roads caused a man's SUV to run off the road and overturn in a creek, killing him. Motorist deaths in North Carolina and Maryland as the storm blew in were also being investigated to see if they were caused by the weather.
A family spokesman says former Mississippi Gov. William Winter is in intensive care with a concussion after falling on the steep, icy driveway of his Jackson home.
University of Mississippi Medical Center spokeswoman Alana Bowman says the 93-year-old Winter was in serious condition Saturday.
Former Winter staff member Dick Molpus, speaking for the ex-governor's family, says a neurologist told them Winter is responding well and his prognosis for recovery is good.
North Carolina power outages peaked around 25,000, according to the governor, but power company figures indicate the number had dropped to several thousand by late Saturday.
In Cornelius, north of Charlotte, Matt Thomas said he used a ruler to measure nearly 6 inches of snow and sleet that had piled up on the back of his pickup truck. He planned to spend the weekend enjoying the snow and watching television. A plow passed through his neighborhood, but the road still looked slippery.
"The sleet started first, so there's definitely a layer of ice under the snow," he said by phone. "I'm staying home."
The unpredictable storm left some areas with much different outcomes than neighboring counties. Unofficial totals from the National Weather Service showed that much of Raleigh and Charlotte had 2 inches or less of precipitation - much of it sleet - while areas to the north of both cities got several inches of snow.
In Atlanta and parts of Georgia, people who were expecting a couple of inches of snow instead woke up to a thin coat of ice. The National Weather Service was issuing an advisory warning northern Georgia to brace for bitterly cold air and strong wind.
Thanks for reading CBS NEWS.
Create your free account or log in
for more features.