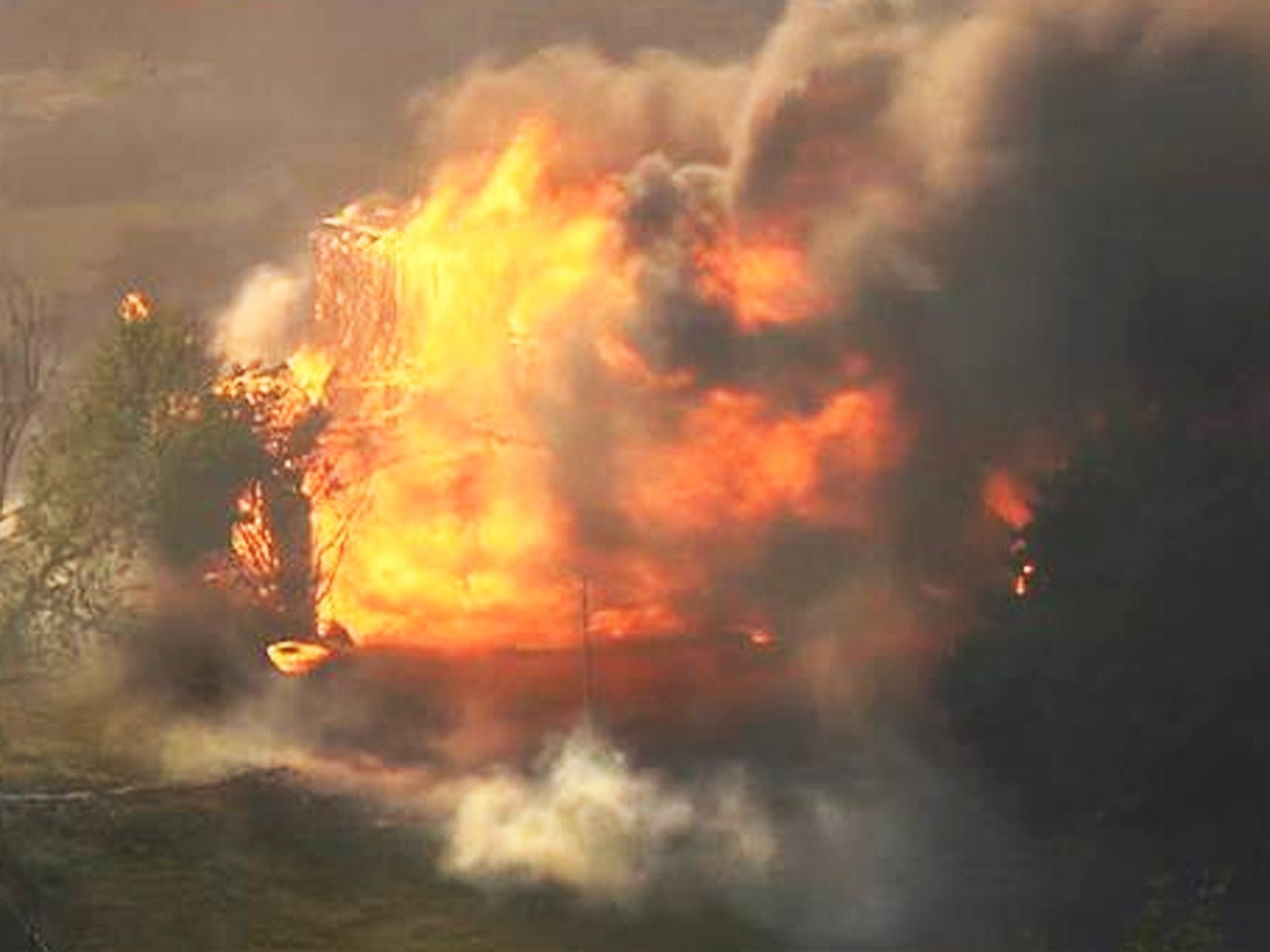 Wind-driven Okla. wildfire kills homeowner, destroys several houses
Firefighters in central Oklahoma are battling a deadly wildfire that has forced 1,000 people from their homes this morning, and has already claimed one life.
The fire has already destroyed at least twenty homes and other buildings.
In Guthrie, about an hour north of Oklahoma City, correspondent Anna Werner told "CBS This Morning" that numerous fire departments are at the scene trying to fight the flames that are burning out of control.
The fast-moving fire has already burned through several communities, including a trailer park, and is threatening more. Officials said this morning that the fire is 75 percent contained, but approximately 150 homes lie in the current fire path.
The American Red Cross set up a shelter for those affected by the fire at a church in Guthrie.
Guthrie Fire Department Chief Eric Harlow said the wildfire broke out Sunday when a controlled burn that began at about 4 p.m. got out of hand. He says that by 9 p.m., it had burned an estimated six square miles of land, as well as several homes.
Guthrie Fire Department Chief Eric Harlow said the fire broke out at around 5 p.m. southeast of an exit on I-35 and had burned an estimated 4 to 6 square miles of land as of 9 p.m.
Guthrie told CBS Affiliate KWTV that a 56-year-old homeowner who refused to leave during evacuations was later found dead in his home Sunday night after the blaze passed through that area.
It's one of several wildfires that burned in Oklahoma Sunday, fueled by high winds and dry conditions.
Temperatures later Monday were expected to hit 100 degrees, with winds gusting from the south at 33 mph. Tuesday's winds were expected to be higher still, enhancing the chance that the fire could spread more.
"It's not that big ... but the potential is there," said Capt. Stan May of the Oklahoma Incident Management Team. He said two Black Hawk UH-60 helicopters from the Army National Guard were being sent in to help put water on the fire, with a third on standby.
Rains last week had left emergency crews hopeful that the fire danger would be reduced, but Sunday's fire "managed to slip by us," May said.
Insurance Commissioner John Doak, who had planned to tour the area Monday, had to wait until the fire was more under control, spokeswoman Kesha Keith said.
Winds are expected to gust to 36 mph and reach 39 mph Wednesday, the National Weather Service said. The next chance of rain arrives Wednesday.
Controlled burning is often used to prevent larger fires from starting, but has frustrated fire officials due to its lack of oversight.
Thanks for reading CBS NEWS.
Create your free account or log in
for more features.