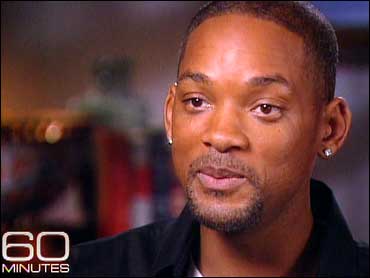 Will Smith: My Work Ethic Is "Sickening"
This segment was originally broadcast on Dec. 2, 2007. It was updated on June 26, 2008.
Of all the stories in Hollywood, there is not another one like Will Smith's. At age 39, he has already had three successful careers: Grammy award winning rapper, sitcom sensation, and finally one of the biggest movie stars on the planet.
With two Oscar nominations and almost four and a half billion dollars in box office receipts to his credit, a movie starring Will Smith is about as close as you get to having a sure thing, whether it's science fiction, romantic comedy, or a summer blockbuster, like his latest effort, "Hancock," which opens nationwide on July 2.
And as correspondent Steve Kroft first reported last December, there is an ease and enthusiasm about him that transcends race and cultural boundaries, and it is one of the reasons so many people like him.
---

Asked what he thinks his appeal is, Smith tells Kroft, "I love living, I think that's infectious. It's somethin' that you can't fake."

"And I think that the camera can feel that I'm happy doin' what I do. And it's somethin' that gets inside of people," he adds.

It is swagger with a smile, confidence with cool, and wit grounded in wisdom -- someone who knows who he is, and where he is going. And it has made him one of the most popular and powerful actors in Hollywood.

Why does he think he has been so successful?

"I've never really viewed myself as particularly talented. I've viewed myself as slightly above average in talent. And where I excel is ridiculous, sickening, work ethic. You know, while the other guy's sleeping? I'm working. While the other guy's eatin'? I'm working. While the other guy's making love, I mean, I'm making love, too. But I'm working really hard at it," he tells Kroft, laughing.

That he makes it look just the opposite is testament to his personality and his skill as an actor. He likes the fact that you never see him sweat unless you are supposed to, or notice the emotional capital expended as a homeless father with a hungry son, or the commitment it took to become Muhammad Ali.

---

Photos: Multi-talented Mr. Smith
Photos: Smith Family Album
Photos: A New York "Legend"

---

Or the sheer challenge of his last film "I Am Legend," in which he was required to hold the screen, all by himself, for over an hour, as the survivor of biological outbreak that has wiped out most of the world. And he managed to pull it off.

The instincts and the work ethic come from his middle class upbringing in Philadelphia. His mother was a school administrator, his father owned a refrigeration company.

One summer, his dad tore down a brick wall in the front of his business and told 12-year-old Will and his 9-year-old brother to rebuild it, a job they said was impossible. It took them a year and a half, but they did it.

"And he said, 'Now, don't you ever tell me there's somethin' that you can't do.' And walked right through that door, went inside. And me and my brother stood here and looked. And said, 'Daddy crazy as hell, ain't he?'" Smith recalls, laughing.

The wall is still there, and so is the lesson he learned from building it. "I just put my head down and lay the first brick," Smith explains.

Later that afternoon, outside the Philadelphia house where he grew up, Smith and Kroft ran into his father. Asked what kind of kid Will Smith was, if he was trouble, his father told Kroft, "Not at all. Not at all."

"Listen, anytime you're willin' to choke your kids, there ain't gonna be no trouble," Smith joked, laughing.

It was part of a tour that included what he called the best cheese steak in Philly, and a trip to his alma mater, Overbrook High, the same school that produced basketball legend Wilt Chamberlain.

A few minutes, later Smith and Kroft were besieged. As Smith tells it, he was a B-student who should have been making A's. But the teachers were so charmed they called him "the prince."

Smith has a natural tendency to draw everyone into a spotlight that began shining on him before he ever left Overbrook High, like Charlie Mack, his old friend, and Jeff Townes, his partner in a teen rap duo called "DJ Jazzy Jeff and the Fresh Prince."

There was something mesmerizing about the Fresh Prince and the videos that helped move the music from the streets into the mainstream. They won the first Grammy ever awarded for rap, providing the show business platform that would eventually launch Will Smith into the stratosphere.

But not without some turbulence: at age 18, he was earning more money than he knew what to do with, and he spent it just like a teenager.

"I had a hit single on the radio for 30 days before I graduated from high school. And that's dangerous," Smith says, laughing. "You don't want to have a hit record on the radio when you're in high school."

"Dangerous in what way?" Kroft asks.

"It just seemed easy," Smith explains.

That's when he was 18.

"The tide turned somewhat at 19. The IRS came and took all my stuff," Smith says, laughing. "They were talkin' about I didn't send them no money, you know. And I mean, I didn't but I just didn't think it didn't need to be such a big issue."

How much did they want?

"I think -- I was-- it said 2.8 or something like that," Smith recalls.

"How much did you have?" Kroft asks.

"I had $2.83," Smith says, laughing.

"So, you went through five, six million dollars?" Kroft asks.

"Probably, yeah," Smith admits.

Asked if he had fun, Smith tells Kroft, "Oh, I had a really, really good time. It was the best blown money ever."

But it didn't take long for another opportunity to present itself. After moving to Los Angeles, Smith caught the attention of music mogul Quincy Jones, who thought NBC could build a TV show around the rapper.

"And no one ever thought to ask me if I could act," Smith says, laughing.

Smith says he didn't even have to perform at an audition. "The first time that I performed as an actor was the first day on the set of 'The Fresh Prince of Bel-Air,'" he recalls.

"NBC must have been desperate," Kroft remarks.

"Yeah," Smith says, laughing.

The idea was simple enough: an inner city kid goes to live with his rich relatives in Bel-Air, Calif. It was an instant hit, and what Smith lacked in experience, he made up for with hard work.

"You can look at the first six episodes of The Fresh Prince and I was so just hell bent on not failing that I memorized the entire script. And you can see in certain shots they tried to cut around it as much as they can, but I am mouthing the other actor's lines," Smith explains, laughing.

"It took six episodes for someone to tell me to stop doin' it. So then the next six episodes look like, 'Ah, come on, Uncle Phil,'" Smith says, laughing. "So I got it together, though. From midway through the first season I got it together."

For the first three years of the show show's six year run, the IRS would take 70 percent of Smith's paycheck. By the time he got back to even with Uncle Sam, he was already plotting on his next career.

By virtue of his persistence and the sheer force of his personality, he was able to convince the producers of the highbrow drama "Six Degrees Of Separation" that he could handle the lead role of gay street hustler who wormed his way into lives of New York intellectuals by posing as Sidney Portier's son.

Instead of falling on his face, the performance was hailed as extraordinary and one of the year's best. And the critical acclaim was soon followed by box office success by stealing the largest grossing film of 1996, as Captain Steven Hiller in "Independence Day."

"It was one of those moments where I just realized my life was changed forever," Smith recalls.

How did it change?

"You know, it was so bizarre. So bizarre, 'cause the Fresh Prince of Bel-Air is on, and people scream, 'Will! Will! Will!' And on Monday morning, when the box office receipts for 'Independence Day' came out, I was Mr. Smith. 'Good morning, Mr. Smith. Congratulations.' Who the hell's Mr. Smith?" Smith explains, laughing.

A year later, he brought the same sense of style to "Men In Black. It was another huge blockbuster, and as it turned out, all part of Will Smith's plan.

He's been in a lot of movies with special effects and Smith says that's calculated. When he came to Los Angeles to become an actor, he and his manager did some simple research about the movie business.

"And we got the top ten movies of all time, and we realized that ten out of ten were special effects movies," Smith explains. "Nine out of ten were special effects movies with creatures. And eight out of ten were special effects movies with creatures and a love story. So 'Independence Day' and 'Men In Black' were really no-brainers."

There have been a few turkeys along the way, like "Wild Wild West," which was universally panned and still grossed $250 million.

That ability to sell tickets has placed him in the elite company of a handful of actors who can command over $20 million a picture. He lives in a spectacular 200-acre compound outside Los Angeles, far away from the paparazzi, with his wife and two children; daughter Willow and son Jayden have both acted in his films.

His wife is actress Jada Pinkett-Smith, who was a good friend until they became romantically involved.

"When did you two figure out that you two were going to end up together?" Kroft asks Pinkett-Smith.

"Oh, you don't want to know that story. I don't think 60 Minutes is ready for that one," she jokes.

She is every bit his match, in what is widely considered to be one of best marriages in Hollywood. She says when he makes up his mind to do something, it always happens. And he says he to wants to do something big that will change the world for the better.

He has no idea what it s right now, but he has the fame, the money and the platform to do it.

"And you see yourself as a joyful spirit?" Kroft asks.

"Absolutely," Smith says. "I have a great time with my life, and I wanna share it."

Produced By John Hamlin and Albert Kahwaty
Thanks for reading CBS NEWS.
Create your free account or log in
for more features.