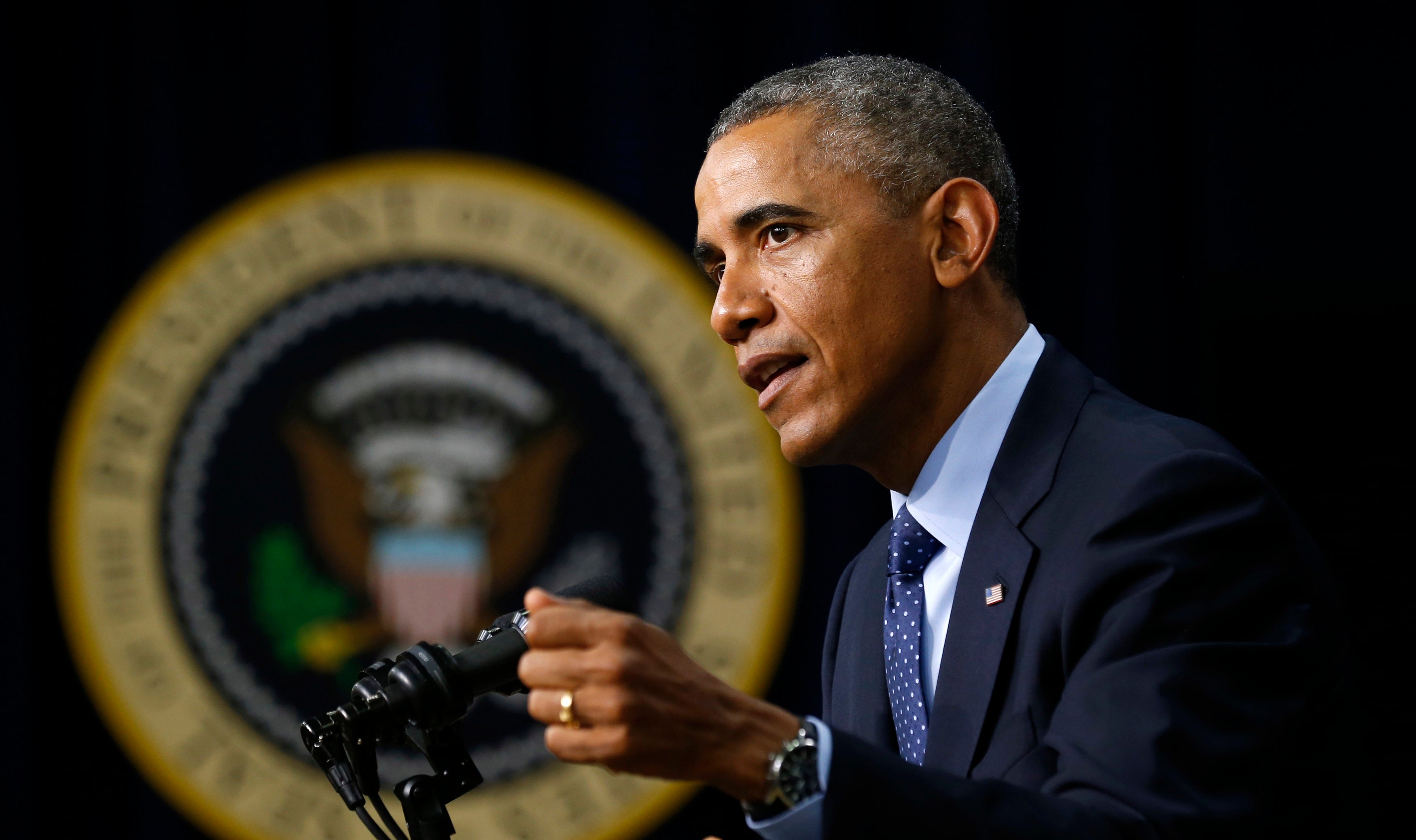 Will Obama be a driving force for midterm voters?
By Sarah Dutton, Jennifer De Pinto, Anthony Salvanto and Fred Backus
Although he is not on the ballot this year, President Obama remains a motivating force for some voters, and voters are more apt to say theirs will be a vote against Mr. Obama rather than a vote for him, according to a new CBS News poll. More than half of Republicans, who overwhelmingly disapprove of the president, will be voting against the president. Just before the midterm elections in President George W. Bush's second term, similar percentages of voters claimed he was a factor in their vote choice.
The 2014 Elections
With just under a month until Election Day, Republicans maintain their lead in the generic ballot contest for the House vote. If the election were held today, Republicans hold a six point lead among likely voters in a national vote for their House representative (46 percent to 40 percent) - similar to results last month, when the Republicans had a seven point lead. Partisans are each strongly supporting their party's candidate; Republicans have a sizable lead among independents.
And registered voters show a preference for Republicans to take control of the Senate this year. Forty-seven percent of voters say they want the Republican Party to win the Senate, while 42 percent want the Democrats to win.
Thirty-seven percent of voters say they are more enthusiastic about voting this year than in past elections, while 48 percent are less so. And with less than a month to go before Election Day, Republicans (45 percent) remain more enthusiastic about voting than Democrats (37 percent).
Attention to the midterm election campaign has risen since last month: 30 percent of voters now say they are paying a lot of attention to the campaign, up from 24 percent in September. Still, this is lower than four years ago: in October 2010, 35 percent of voters were paying a lot of attention to the campaign. More Republicans (37 percent) are paying a lot of attention than Democrats (28 percent).
Political Parties: Strengths and Weaknesses
Voters give the Democratic Party a lead over the Republican Party on caring about the needs and problems of people like themselves. That's true among both men and women, and voters of all ages.
But when it comes to which party will do a better job handling important issues, the Republicans lead by wide margins, especially on terrorism - as they did in September. The Republican Party has a nine point lead over the Democratic Party on handling the economy, voters' top issue.
Voters choose the economy (34 percent) as the most important issue in deciding their vote this year. Health care comes in second (17 percent), closely followed by terrorism (16 percent). Thirteen percent name immigration. Both Republicans and Democrats choose the economy as the top issue.
The Economy
Evaluations of the economy remain poor; 55 percent say it is in bad shape, similar to last month. Just 29 percent say it is improving. There are large partisan differences in these evaluations: 69 percent of Republicans say the economy is bad, and 32 percent think it is getting worse. Democrats are much more positive - 63 percent say it is good, and 45 percent see it as improving.
Confidence in the Secret Service
Americans show some confidence in one arm of the federal government, the Secret Service - but not a lot. In the wake of revelations about the failure of the Secret Service to prevent security breaches, two-thirds of Americans say they are somewhat confident in the agency's ability to protect Mr. Obama and his family from harm, but just 30 percent say they are very confident.
There is little partisan difference on this: Republicans, Democrats, and independents are all somewhat - but not very - confident in the Secret Service.
Direction of the Country
Sixty-five percent of Americans think the country is off on the wrong track; just 29 percent think it is headed in the right direction.
Congress: Low Approval Ratings Persist
A month ahead of the midterm elections, Congress' job approval rating remains low: just 15 percent approve and four in five disapprove.
The Protests in Hong Kong
Most Americans are not following news about the anti-government protests in Hong Kong very closely. More than six in 10 say they have not read much about the protests against the Chinese government's plan to vet candidates in the 2017 elections in Hong Kong. Just one in 10 says they have heard or read a lot about the story.
Americans are not very optimistic that the protests will bring concessions from the central government. While 25 percent of Americans think the protests will result in compromise from China and more democracy for Hong Kong, more - 45 percent - think they will result in a crackdown and less democracy. Americans who have heard or read a lot about the story are even more pessimistic - 59 percent think the protests will result in a crackdown.
---------------------------------------------------------------
This poll was conducted by telephone October 3-6, 2014 among 1,260 adults nationwide, including 1,068 registered voters. The sample size for likely voters is 575. Not all likely voters are assigned the same probability of voting.
The error due to sampling for results based on the entire sample could be plus or minus three percentage points. The error for subgroups may be higher. For the samples of registered voters and likely voters, the error due to sampling could be plus or minus four percentage points.
Data collection was conducted on behalf of CBS News and The New York Times by SSRS of Media, Pennsylvania. Phone numbers were dialed from samples of both standard land-line and cell phones. Interviews were conducted in English and Spanish. This poll release conforms to the Standards of Disclosure of the National Council on Public Polls
Thanks for reading CBS NEWS.
Create your free account or log in
for more features.