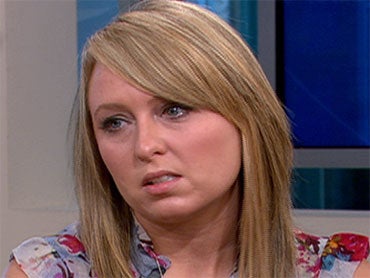 Wife Sues Cops After Husband Put in Coma
Christopher Harris remains in a coma with life-threatening skull fractures after a Seattle police officer threw the 29 year-old head-first into a concrete wall when they thought he was involved in a crime.
The entire May 10 event was caught on surveillance video tape.
A review by the sheriff's office found the deputy had done nothing illegal, and used a standard takedown procedure to stop Harris who they believed was a criminal suspect in an assault.
Harris' wife Sarah Jorgensen said on "The Early Show" Tuesday Harris was running away from police from a dark area into a well lit area because he didn't know who was chasing him.
However, police contend uniformed officers were chasing Harris and told him to stop, and when he didn't, the deputy took him down to the ground.
Now, Harris' family is suing King County, Wash. for $25 million.
Jorgensen appeared on the broadcast for an exclusive "Early Show" interview with her attorney, Sim Osborn.
Osborn said Harris had given up. "There are witnesses that said (he said), 'I didn't take anything, I didn't steal anything, and I don't have anything.' And he had his hands up in front of him, that's not a push, that's a hit like an NFL linebacker on the sideline. That's just absolutely unnecessary."
Jorgensen said her husband hasn't been given a positive prognosis from doctors.
She said, "All the doctors that we have spoken to and the neurologists are all told us that the injuries to his brain are going to be permanent brain damage, and that he will live that way and have to be taken care of 24 hours a day for the rest of his life."
She told "Early Show" co-anchor Harry Smith she's suing because she wants be able to bring her husband home to a familiar environment and make sure he gets the best care he deserves.
To watch more of "The Early Show" exclusive interview with Sarah Jorgensen and her attorney, click on the video below:
Watch CBS Videos Online
Thanks for reading CBS NEWS.
Create your free account or log in
for more features.