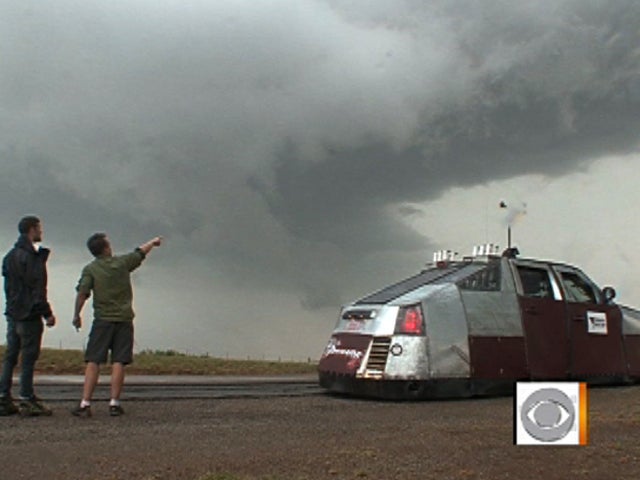 Why "storm chasers" do what they do -- and how
Hundreds of people have died in tornadoes this year -- and the season lasts at least another month.
But a unique brand of folks called "storm chasers" is looking to lower the number of victims with information and photos they're collecting out in the field on the trail of the killer storms.
Most of the footage the public sees of tornadoes is from "storm chaser" groups. In fact, some of the most dramatic images of the tornado that devastated Joplin, Mo., were captured by storm chasers.
And last week -- before the Joplin twister -- Early Show" Contributor Tyler McGill spent some time with Reed Timmer, who stars in the Discovery Channel reality show "Storm Chasers." McGill got a chance to see first-hand what these storms are like.
From April to June, Timmer and his team from TornadoVideos.net monitor radar and crisscross the country chasing weather systems to gather data about the towering storms.
Timmer told McGill, "I think you really have to be passionate and almost obsessed with tornadoes and meteorology to be a storm chaser and to do it for a living."
Most storm chasers film from afar, McGill noted, but Trimmer and his team put themselves directly into the path of oncoming storms, using their specifically outfitted half-ton car they christened "Dominator 2."
Trimmer said, "I've been going to school for the last 13 years trying to build a foundation to better understand tornadoes, and the final piece of the puzzle was this armored tank."
Seats in the vehicle are limited, but McGill was invited to join the storm chasers as they tracked systems in Oklahoma. He followed the "Dominator 2," a medical van, and the rest of their crew as they spent the day tracking twisters.
In Elk City, Okla., McGill said it would be the team's first chance of seeing a tornado.
McGill asked what the team looks for in the sky.
Trimmer replied, "Right now we've got a developing wall cloud. It's already rotating. And what'll happen is we have westerly winds here, so the circulation will tighten up to our north, and that's the formation of a wall cloud and the precursors to a tornado."
Near Gracemont, in western Oklahoma, Trimmer led the team straight toward a developing tornado
McGill said in the moment, "We're driving into the heart of the storm right now, look at the cattle going nuts. The animals are freaking out. Looks like they can sense something."
Using information from the National Weather Service, Trimmer and his team are able to follow and anticipate where the storm is headed. But these powerful weather systems can be incredibly unpredictable -- as McGill and the "Storm Chasers" found out.
At one point, Trimmer was explaining ground circulation, but at that moment, McGill heard the tornado was going to drop right where they stood.
He told the "Early Show" crew, "We gotta go, we gotta go."
Out of harm's way, McGill said, "Wow, the first tornado touched down just to our left."
McGill said Trimmer's work is providing valuable information about tornadoes. It's a dangerous, life-threatening profession that could SAVE lives in the future.
"It's very motivating to continue to call in those reports and continue our research to better understand these tornadoes to eventually increase warning lead times," Trimmer said. "If we could stop the tornadoes we would, but all we can do now is better understand them and call in those warnings to try to keep those people safe."

You can watch an encore of "Tornado Rampage 2011" tonight on Discovery Channel. Check your local listings.

Thanks for reading CBS NEWS.
Create your free account or log in
for more features.