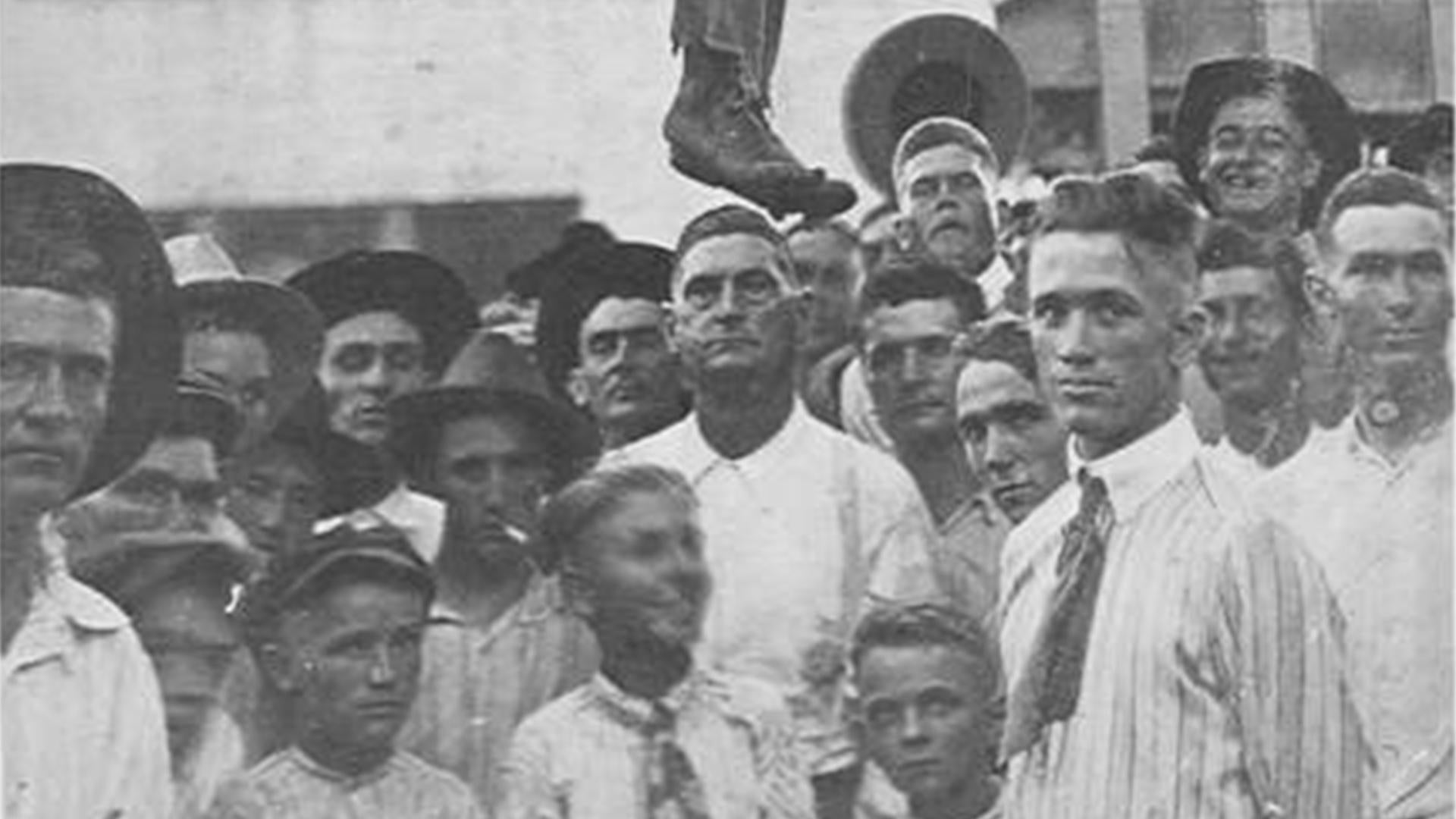 Why 60 Minutes aired photos of lynchings in report by Oprah
Update: The National Memorial for Peace and Justice, which honors more than 4,000 men, women and children who were lynched in America, opened to the public April 26, 2018. Below, our story on why 60 Minutes decided to air graphic photos of lynchings in its report about the memorial:
Wes Johnson was about 18 years old when he was murdered in a cotton field in southern Alabama. It was 1937, and according to newspaper reports at the time, a mob of men had dragged him from his jail cell before he could stand trial for the charge against him: assaulting a white woman. Today, only one photograph is known to exist of Johnson, a single picture to preserve his image for posterity—his lifeless body hanging from a tree.
Bryan Stevenson wants to honor the legacy of Johnson, and thousands like him, with a new memorial for victims of lynching in America. Stevenson is a lawyer and founder of the Equal Justice Initiative, a non-profit organization that investigates the lynchings of African Americans. To commemorate the victims whose cases they've examined, the organization recently bought six acres of land in Montgomery, Alabama and constructed a memorial.
This week on 60 Minutes, Oprah Winfrey gets an early look at the memorial, which will open to the public on April 26. The memorial contains 805 steel markers, one for each county where lynchings occurred for more than 70 years following the Civil War. The markers are suspended in air to evoke the horror of being hanged.
To tell that story on 60 Minutes, Winfrey and a team of producers felt it was important to show historical photos of lynchings, images that are likely to disturb many viewers. In an interview with 60 Minutes Overtime, Denise Schrier Cetta, the producer of the story, and Jeff Fager, the executive producer of the broadcast, explain their decision to air such upsetting photographs.
"I don't think the story exists without those photos," Fager says. News executives have a tendency to self-censor too much, he says, out of concern that viewers will be turned off. For him, the decision to show the photos was about reporting important facts about a little-known but important chapter of history.
"That's reality; that's what happened," he tells 60 Minutes Overtime's Ann Silvio in the video above. "Our story is about a part of history, really almost 80 years of American history, that isn't in the history books. We don't see these pictures. We don't talk about it."
One photograph that surprises Fager the most is an image of a crowd that showed up in Waco, Texas to watch the lynching of a man named Jesse Washington. The hanging tree stands in the center of the photograph, Washington's tortured body lies beneath it, and hundreds of well-dressed white people look on.
"I really thought most lynchings were in the cover of night and Klan outfits, and not that it was a part of life to that degree—that the town would turn out to watch it happen in broad daylight," says Fager, who feels that many viewers will learn a lot from the story.
Cetta says Jesse Washington's lynching was one of the more remarkable images in this story. In the crowd, one spectator can be seen holding up another man so he can get a better view. "There was a lot of community acceptance of these crimes," she says. "You can see that clearly in this photograph."
Mobs didn't just lynch men. Cetta came across a photo of a woman named Laura Nelson, who is seen hanging from a bridge; the people who lynched her also hanged her teenage son on the other side of the bridge.
"If a lynch mob gathered and they were looking for someone, and they couldn't find that person, sometimes they would turn and lynch a random black man they could get their hands on or a family member," Cetta says, explaining how random the violence was. "This is a very disturbing image because you don't think of women being lynched."
Cetta hopes the images of lynchings—the murdered men and women, the smiling onlookers—will be a teacher and strong deterrent for today's generation.
"I think if you look through history one thing that becomes obvious is that any group of people can be whipped into a frenzy or a fury, can do things that are abhorrent," she says. "And education is one way to make sure those things don't happen."
While reporting the story, the 60 Minutes team met James Johnson and Faye Walker Howell, two descendants of Wes Johnson. Both wanted the image of their relative to be seen.
"I think that seeing what actually happened will open up the eyes of the American people, the same thing that happened with the Emmett Till situation," James Johnson told Winfrey. "His mother wanted the world to see what hatred had done."
As the Equal Justice Initiative has found, lynching happened nationwide. Evidence exists of more than 4,000 lynchings in states throughout the country—not just in the South. In addition to the memorial, Stevenson is also opening a museum in Montgomery to teach visitors about what he calls "the ugly parts" of American history.
Outside the museum, he's included a sculpture depicting enslaved Africans.
"We wanted to literally make the connection to Africa, because that's where the story of the black experience in America begins, just the experience of being captured, chained, imprisoned," Stevenson says in the clip above.
Stevenson thinks understanding the history of slavery is vital for appreciating the hatred that persisted for decades after emancipation.
"These folks were promised freedom after emancipation," he says, "and what they got instead was terror, trauma, lynching."
The video at the top of the page was produced by Ann Silvio and Lisa Orlando. It was edited by Lisa Orlando with an assist from Will Croxton.
This report was originally published on April 8, 2018.
Thanks for reading CBS NEWS.
Create your free account or log in
for more features.