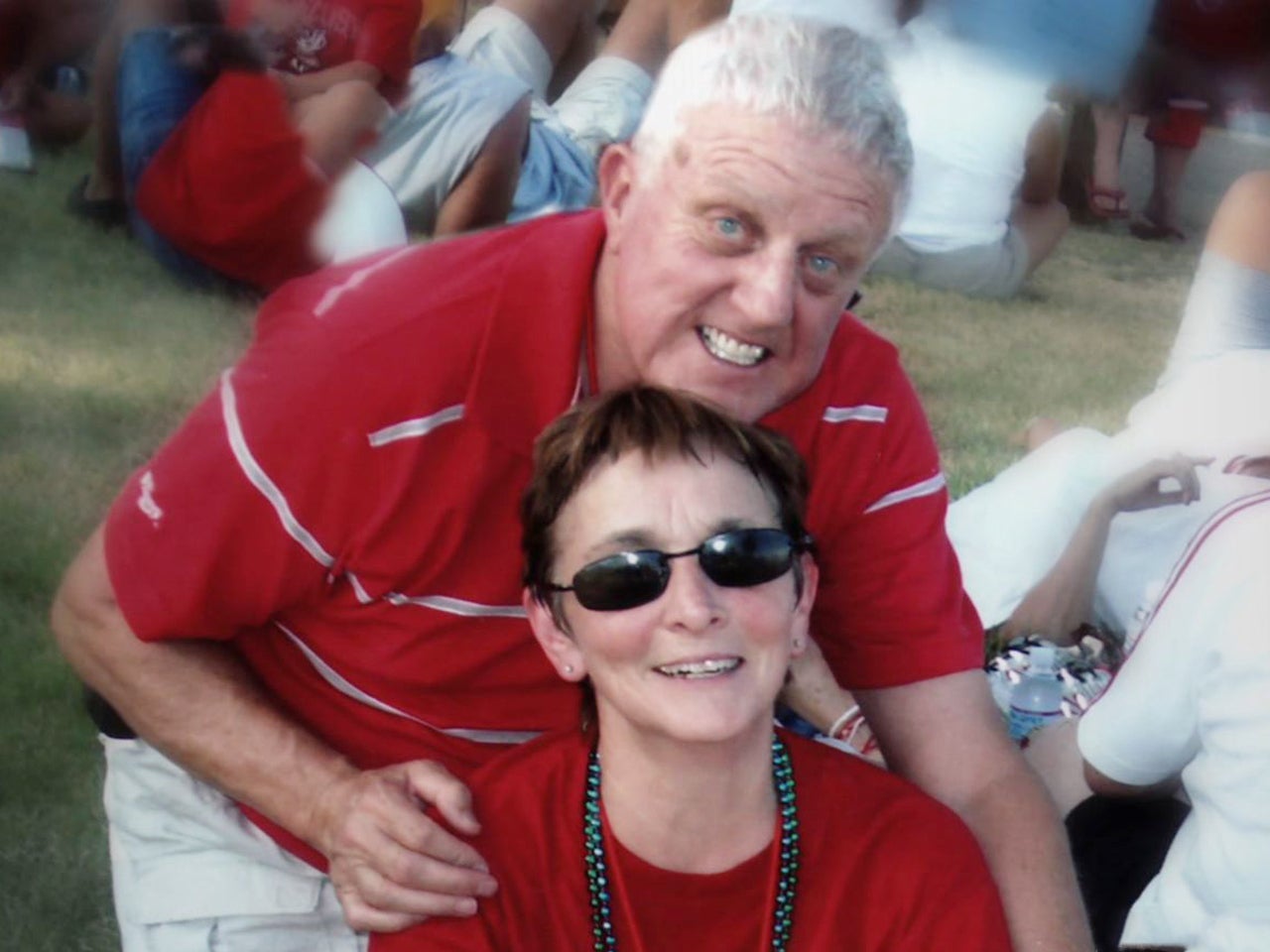 Who killed Dennis and Merna Koula?
Produced by Susan Mallie
[This story first aired on Feb. 9. It was updated on Aug.3]
(CBS) La Crosse, Wis. -- When lead investigator John Christophersen arrived at the Koula household on May 24, 2010, his mind was spinning.
"What in the heck could've happened in a situation where two people are dead? Because this is an affluent neighborhood and crime is very limited in this part of the county," he told "48 Hours" correspondent Peter Van Sant.
Standing outside the house was son Eric Koula, who had discovered the chilling death scene.
"I just didn't understand why, why they're like this at all. Just great people. You know they're (sob) now they're gone," Eric cried.
Christophersen, a special agent at the time with the Wisconsin Department of Justice, was assisting the La Crosse Sheriff's Department. He takes "48 Hours" step by step through the Koulas' four-bedroom home.
"And we're entering from the three car garage into the kitchen/mudroom area," Christophersen showed Van Sant. "I walk into the kitchen area, I notice an elderly male lying prone on the kitchen floor, face down, a pool of blood around him. He was shot the moment he walked in the door."
Dennis Koula was 68 years old. A wealthy businessman, he once owned a chain of pharmacies and a Ford dealership in town which he sold in 2006.
"Up until when we sold the dealership I worked with my dad six days a week, side by side," said Eric.
When asked to describe his relationship with his parents, Eric told Van Sant, "Oh, very close."
So close, in fact, Dennis gave Eric hundreds of thousands of dollars to start a career as a day trader, buying and selling stocks from a computer in his house. Cindy Cowell, Eric's younger sister, also received money from their dad, but it was just a pittance compared to her brother.
"My parents were very good people. They were hard workers," she said.
Cindy says her dad could have retired long ago, but he still worked part time.
"My dad often joked, 'It would be better for me to go to work at the pharmacy and get paid for it than stay home, because your mom will have me working for nothing,'" she recalled with a laugh.
Eric and Cindy, each married with families of their own, have been close since childhood; the bond with their parents was even closer.
They both lived within minutes of their mom and dad's house.
"One of the last conversations I had with my father, " Cindy said with a sniffle, "he told me that I could count on him. ... 'I'm always there for you. Love you, honey. Bye.'"
"And now we're going into the computer room where Merna is located,"
Christophersen said, continuing the tour of the crime scene. "Merna is slumped over the computer. Her left arm is still on the keypad. Her right arm is resting on her right knee."
"What is that suggestive of for you?" Van Sant asked.
"That she was not startled. She was comfortable sitting there. She died almost instantaneously and she did not know what was coming," said Christophersen.
Like her husband, Merna, 65, loved to work. She was a substitute teacher.
"She especially liked teaching junior high," Cindy said. "She was outgoing, fun-loving ... She loved Christmas because of the expression on everybody's faces when they opened presents."
"She would -- always wanna talk about ... anything goin' on in your life, talk about the kids," said Eric.
The morning of May 24, Merna was scheduled to work at nearby West Salem Middle School. When she didn't show, Eric received a call from a concerned school secretary.
"I called my mom's cell phone and there was no answer there," Eric said. "'Well, that's weird. I'll call my dad.' So I called my dad's phone. And he didn't answer."
Dennis should have been on his way to work at the pharmacy.
"'Oh, boy -- did they have a car accident?' Or, you know, 'What's goin' on?'" Eric wondered.
Eric's wife, Christine, was at home with him that morning.
"He said, 'Well, you know, it just doesn't -- it doesn't sound like them -- something's not right,'" Christine recalled. "He said, 'I'll run out there and see, you know, what's goin' on.'"
Eric hit the road. It's about a 10-minute drive to his parent's house.
"I drive up the road to the house. ... And I see my dad's truck out in front," Eric said. "And I look inside and I see my mom's Mountaineer in the garage."
Puzzled, Eric walks through the garage and enters the house.
"I opened the door and I see my dad on the floor," he said. "And I grab my dad's leg, shake him. He doesn't move, doesn't respond. Nobody's saying anything, anything back."
Hysterical, Eric dials 911:
911 operator: Ok, and your dad is not breathing?

Eric Koula: No.

911 operator: OK, alright. Is your father alive?
"I remember talking to the lady on the phone, asking various questions," said Eric.
911 operator: Is your mom there also?

Eric Koula: I, uh, MOM! (cries)

911 operator: Is your mom breathing?

Eric Koula: No (crying)
"And that's when I saw my mom in the computer room around the corner. And her head was down on the keyboard," Eric continued. "I miss them so much."
"Is this an ambush, these two killings?" Van Sant asked Christophersen.
"Possibly. It could've been. Or certainly somebody that they knew who came up behind them, lying in wait," he replied.
As Christophersen continues touring the crime scene, he's struck that so many valuables have been left untouched.
"I see electronics, I see a wallet that's undisturbed, I see a purse that is undisturbed, a computer sitting out," he said. "I see credit cards and cash in closets and in dresser drawers that are undisturbed. I see jewelry boxes that haven't been touched."
Something else catches his eye: the dresser drawers.
"An individual who's going to burglarize a place is going to open up the top drawer, shuffle through it, close the drawer and then look into the second drawer. If you look at this they're indicating that they go to the bottom drawer first, pull it out, shuffle through it then pull out the next drawer and so forth going up," Christophersen explained.
"Who does that?" Van Sant asked.
"Nobody that I know of," Christophersen replied. "And the kids, Eric and Cindy, go into the residence and they're telling us that there's nothing stolen from the residence."
"Who would have any motive to kill the Koulas?"
"At this point, we don't know. There's nobody that stands out."
Investigators would not have to speculate long. Just days after Dennis and Merna are found dead in their home, a neighbor, Steve Burgess, a president at a local bank, provides the first lead in the case.
"Steve Burgess came forward to the sheriff's department, stating that he had been receiving threats," Christophersen told Van Sant. "And they were distinctly death threats."
"Burgess is suggesting there may be a case of mistaken identity? That someone out to kill him killed the Koulas instead?" Van Sant asked.
"Yes," Christophersen replied.
But how could such a fatal mistake have been made? Easily -- if the killer used the internet.
"In fact, when you Google Earth, Steve Burgess' address ... the zoom into the house goes to the Koula's house, not to Steve Burgess' house," Van Sant pointed out.
"Yes," Christophersen said. "And now, we've got a lot of work to do because whoever committed this homicide certainly has a jump on us."
"It has all the markings of a hit, I've been told," said Eric.
Eric Koula and Cindy Cowell had been turned into orphans in the same instant.
"It's been said that you and your father were best friends. Is that true?" Peter Van Sant asked Eric.
"Yes, we were. I still can't believe they're gone," he replied in tears.
It's difficult to say which sibling took their deaths harder.
"Cindy was completely distraught. She was emotionally wrecked," said John Christophersen.
"For my parents to die the way they did is just it's the most bizarre twist of fate ... for two people who were so against violence to be brutally shot, it just boggles my mind," said Cindy.
Two people with no known enemies had been assassinated in their home.
"Where does this investigation begin?" Van Sant asked Christophersen.
"With family and friends," he replied. "We need to formulate a timeline to figure out exactly when Dennis and Merna died so we can put together the pieces of the puzzle."
A crucial piece of that puzzle came from Merna. When she was shot, her left hand came to rest on the computer keyboard.
"We had a forensic computer expert take a look at the computer that Merna was on, and her last keystroke on that computer was at 5:41pm on May 21st," said Christophersen.
Friday, May 21 -- three days before Eric discovered his parent's bodies. The cops kept that time of death a secret.
"So no matter what timeline individuals provide to us at this point for their alibi, we now have a precise time that we can relate to as to whether or not they could've committed the crime," said Christophersen.
Investigators pieced together Dennis and Merna's last day of life. Merna was doing research on the home computer. Dennis had left the pharmacy around 5 p.m. It takes about an hour to drive home.
"I believe she died first, and then Dennis," Christophersen said. "He was shot as he was coming in the door."
Christophersen says they were both shot once with a .22 caliber rifle. Investigators began chasing their first intriguing lead -- the death threats to that banker who lived up the road. They found the culprit who made the calls, but hit a dead end.
"The individual that we believe was responsible for those threats would not have been able to carry out the homicides, because they had a legitimate alibi at the time that Dennis and Merna were killed," he explained.
So deputies began looking at family members. As it happened, the day Eric's parents were murdered was his 16th wedding anniversary. That afternoon, Eric was helping his friend, Mike Genz, do some home improvement.
"We were doing a tile surround on a shower, which, you know, the walls," said Genz.
Asked how late he worked that day, Eric told Van Sant, "I left there about 5:30."
"When he left the job that day, where did he tell you he was going?" Van Sant asked Genz.
"He told me he had to go get a plant for his wife for their -- anniversary and then they were going to eat," he replied.
"When he came back from Mike's, then he had the hanging flower plant. He said, 'Well, I'll go jump in the shower. And then we can get going. Cause it's a little bit later,'" said Christine.
Christine and Eric headed to dinner and later celebrated with friends. Investigators also questioned Eric's son, Dexter, who was just 16 when his grandparents were killed.
"Was it scary?" Van Sant asked Dexter.
"A little bit, yeah," he replied. "It started getting-- a little heavy towards the end, where I was afraid I was gonna break down in front of them and I -- I don't know. I - it -- it was difficult."
Deputies then turned to Eric's sister, Cindy, who had an alibi for that day.
"My timestamp at work proved that I got done at 4:45," Cindy said. "I ran some errands and was videotaped on surveillance cameras at local stores, purchasing items. ... and arrived home with the only vehicle we had."
"Were you able to prove you were at home?" Van Sant asked Cindy's husband, Patrick Cowell.
"Yeah. They took the Xbox machine and timelined that I was on the video game machine at certain times," he said.
Then, while the family is in mourning, the case takes a shocking turn.
"Four days after the Koulas bodies are discovered, Eric Koula finds a note in his mailbox," said Christophersen.
"I went out to get the mail. Opened the mailbox, brought the note back in," said Eric.
"And he opened it up. And he saw the letters. And he was very upset," Christine told Van Sant.
"What did the letter say?"
"Fixed you," she replied.
"Fixed you."
"Yup..."
"And how did Eric react to that?"
"He was very upset," said Christine, who calls 911 right away.
"A deputy goes to Eric's residence to -- get the note from him. And Eric is distraught. He's stumbling, he's -- obviously upset," said Christophersen.
"'Fixed you' suggests that there's a killer out there who killed his parents to somehow get back at him? Is that the notion?" Van Sant asked the investigator.
"Yes. And also, is this just the start of the family being killed? The parents are now gone. Now are they looking at Eric?" said Christophersen.
"You're thinking, 'Could we be next?" Van Sant asked Eric.
"Yeah," he replied.
The investigation into Dennis and Merna's deaths takes on new urgency. Following protocol, deputies examine the bank records of all the family members. That's when they find something very strange in Eric's account.
"On Saturday, after his parents were killed, he had deposited a $50,000 check into his account," said Christophersen.
"$50,000?" said Van Sant.
"$50,000," confirmed Christophersen.
"And who had signed this check?"
"Dennis Koula," Christophersen replied.
This was the first investigators knew of any money Dennis had given his son.
"And I know it looked terrible. I had gotten this check from my dad several days ago. I went and cashed it on Saturday. And now they're dead. And my dad, you know, was the one guy that can back me up on this. And he's not here to do that. You know, I knew I'd have to eventually explain the check and talk about it. And I could. And I would," Eric told Van Sant.
Investigators wondered, if Eric failed to tell them about the check, what else wasn't he telling them? That's when they took a closer look at his entire story -- starting with that panic stricken 911 call.
"It doesn't stand out at first, but once you take the time to listen to the 911 call, you realize that Eric never asks for help for his parents," said Christophersen.
911 Operator: What's the address to the...?

Eric Koula: I was called this morning because my mom didn't come to work and they haven't been answering their phones this weekend so I came out to check on 'em.
"Normally it's, 'Oh, my God, get somebody over here right away. Help me, help me.' And he doesn't do that?" Van Sant asked.
"Yes. 'Why isn't anybody here yet? What can I do to help my parents?' And Eric did not display that at all during the call," said Christophersen.
But the biggest break was about to come.
"We take a closer look at his financial situation, and we discover Eric Koula is broke," Christophersen said. "He is flat broke.
In May 2010, Eric Koula faced the grim task of burying his beloved parents.
"The cemetery was a quarter mile from where we lived. I went there almost every day after they were buried, put the flowers on their grave. I just miss 'em," he said.
It was a dark time for Eric financially, as well. His parents had given him nearly $700,000 over the years to fund his career as a day trader.
"Back in 2007, 2008, you had hundreds of thousands of dollars in your bank account, correct?" Van Sant asked Eric.
"Yes, I did," he replied.
"And what happened to that money?"
"We went through ... one of the worst stock market episodes ... since the Great Depression. I lost it," Eric replied.
That stock market drop, combined with Eric's incompetence, left him broke and in more than $150,000 in debt to creditors, including the IRS. Eric turned to his father for help. Just one day before his parents were murdered, Eric says his father gave him a signed blank check.
Eric now admits he -- not his father -- filled that check out for $50,000.
"You know, for an outsider it looks terrible. The day after your parents are killed, you're depositing a check in your account for $50,000. It looks like you are cashing in on your parents' murders," Van Sant pointed out.
"It may appear like that, yes. But that's-- that's not the truth. That is not the truth," said Eric.
Investigators continue digging. They question some of Dennis' co-workers at the pharmacy, where he'd been just an hour before his death.
Helen Van Roo worked as a pharmacy tech alongside Dennis.
"... I was the last person to see him alive. Except for the person that shot him," she told Van Sant.
Van Roo knows firsthand how generous Dennis could be.
"When my husband lost his job, he told me, 'If you ever need something, let me know. I'll help out,'" she said. "He was like my dad. He treated me like a daughter..."
But Van Roo says there had recently been a change in Dennis' attitude toward his own children.
"I knew he was giving Cindy and her husband money for their mortgage. And he says, 'I got to put a stop to that...'" she explained.
Van Roo recalls a conversation she had with Dennis just days before his murder.
"He had told me that day that he was telling his kids that week that he was cutting off his kids," she told Van Sant.
"Do you think that he told Eric, 'Buddy, I'm sorry, I'm cutting you off?'"
"I think he did," Van Roo said. "The day prior to the murder."
...which was the same day Eric says he received the signed blank check from his father. Troubled by the coincidence, investigators decided to take a second look at Eric's alibi and where he was at the exact time his mother died at her computer.
"Where were you at 5:41 in the afternoon?" Van Sant asked Eric Koula.
"Either I was on route to Shopko or I was at Shopko," he replied.
Shopko is a general merchandise store and Eric says he was there looking for a plant -- an anniversary gift for his wife.
"I went to two Shopkos that day. And when I bought my plant at the second Shopko, I had a receipt that I had saved in case my wife didn't like the gift," he said.
The time stamp on that receipt reads 6:15 pm., but deputies could find no record of Eric going to the first Shopko. No evidence that he was shopping when his mother was murdered.
"Shopko has a security camera. And somehow that day you're invisible. You're not on that security camera. Why is that, how do you explain that?" Van Sant asked Eric.
"I was at that Shopko," he said.
"We see a lot of shoppers, a lot of purchases, but we don't see Eric," Christophersen pointed out. "We don't see him ... We don't see his truck, we see no sign of him."
"How significant is that?" Van Sant asked.
"It's significant in that it now opens up that period of his timeline where he has the opportunity to get to his parents' house and kill them," said Christophersen.
Eric Koula was now the target of the investigation, even though he didn't know it. For two months, authorities quietly gathered more evidence before bringing him in for questioning:
John Christophersen: And ah, how the heck have you been doing?

Eric Koula: I've been doing.

John Christophersen: We've looked at the video surveillance over and over and over again and we don't see you going to that Shopko.

Eric Koula:I was at the Shopko. ... I don't know what to say, I mean, but I know that videos don't lie but I know I was there.
Then Christophersen moves on to that $50,000 check:
Eric Koula: "He gave me the check.

John Christophersen: And you say he signed it, right?

Eric Koula: Yes.
Eric doesn't know a handwriting expert has determined that his father's signature is a forgery:
John Christophersen: We did know that you filled this out and we also know that your dad didn't sign this. It's a re-creation of his signature.
Eric now knows where this questioning is going:
Eric Koula: Look, John, I didn't hurt them.

John Christophersen: I know you wouldn't hurt them.

Eric Koula: I did not.

John Christophersen: And that's why you wanted to make sure that they went quickly.

Eric Koula: I did not do this.

John Christophersen: I know you didn't want to do it.

Eric Koula: I didn't do it. I told you I wasn't there, Geez.
Video: Eric Koula and the blank check
Eric is allowed to leave the interrogation room. But minutes later, his life changes forever. Deputies slapped on the cuffs in the parking lot; he's arrested on two counts of first-degree intentional homicide.
For Eric's wife, Christine, the idea that Eric could harm his parents is simply absurd.
"He has never hit or hurt another person in his life, ever," she said.
"I've never seen my father angry enough where he would strike anything or raise his voice to the point where you would consider it yelling or screaming," said Dexter.
It would take two years for Eric's case to wind its way to trial.
Investigators had uncovered that $50,000 check, Eric's large debts and a shaky alibi.
"I began putting thoughts together in my head ... that they have the right person, He did commit this crime. He did do this act of evil," said his sister, Cindy Cowell.
Finally, in June 2012, La Crosse County District Attorney Tim Gruenke begins the case against Eric Koula.
"And the truth is, the defendant is guilty of murdering his parents," Gruenke addressed the court.
"We wanted to lay out for the jury that Eric was a man of secrets. He's not who he appears to be. He's somebody who has a desperate financial motive for the crime," Gruenke told Van Sant.
Co-prosecutor Gary Freyberg says that desperation led Eric to kill the two people who had long financed his life.
"Why would he kill the goose that laid the golden egg for him?" Van Sant asked Freyberg.
"Well, I think it's because the goose was saying, 'No more eggs,'" he replied.
In a risky move, Eric takes the stand:
Gary Freyberg: You wanted to get at the money that you knew was going to be or should be yours someday, right?

Eric Koula: No.

Gary Freyberg: You wanted to speed up that inheritance process didn't you?

Eric Koula: No.
But after being confronted with indisputable evidence, Eric is forced to make a devastating admission that he, in fact, signed his father's name to that $50,000 check. He didn't tell investigators at the time because he thought it would look bad.
"I've signed my dad's signature on hundreds and hundreds of checks, from personal, paying bills at the house, to at the store when we had double signature checks, hundreds and hundreds of times," said Eric.
"I mean it's absolutely something Dennis would do to give him that check, to have him sign it himself and fill it in," said Christine.
But soon, shocking evidence is presented that could send Eric to prison for the rest of his life ... and it comes from Eric himself.
"You know, with dad, he was always there," Eric Koula told Peter Van Sant. "And we were often building something ... father-son time."
"You're getting emotional talking about your father. Why is that?"
"Cause I miss him a lot," Eric cried.
"Are these tears that we see crocodile tears?" Van Sant asked.
"No."
"Did you ... wait for your father to come home and when he entered the home, shoot him in the back of the head?"
"No, I did not," Eric replied. "I swear on their honor that I did not kill my mom and dad."
Video: Eric Koula maintains his innocence in he murder of his parents
It's been two years since Dennis and Merna Koula were found murdered in their home. Keith Belzer, one of Eric's defense attorneys, says this case should never have seen the inside of a courtroom.
"There's no evidence," Belzer explained. "There's no DNA. There's no fingerprints. There's no fiber evidence. There's no hair evidence. My gosh, the guy that whole afternoon was doing grouting of a bathroom. There's no grout. ... Not one thing links Eric Koula to those homicides."
Prosecutor Tim Gruenke admits his case is circumstantial.
"It's curious that we didn't find any of his DNA or fingerprints there. But the fact that we don't have it doesn't mean he wasn't there," he said.
"There's nothing there that says I was there because I wasn't there," said Eric.
But during the trial, the defense drops a bombshell. Remember that "Fixed you" note Eric found in his mailbox ,which he said pointed to the real killer?
"I wrote the note. And I put it in the mailbox," Eric admitted.
Eric says he planted the note after investigators questioned his 16-year-old son, Dexter.
"And I just wanted them to leave me and my family alone, and get who killed my mom and dad. I know what I did was really stupid. And I'm so sorry I did it," Eric tells the court.
But the prosecution says it's one more sign of Eric's guilt.
"I think he panicked and decided he needed to do something to get the focus off of him. And this is what he came up with," said Gruenke.
"The investigators say you lied and you manipulated. You did," noted Van Sant.
"Yes, I did lie. I lied about my father signing the check. And I lied about the note. That's correct. And I did not mean to manipulate," said Eric.
"He's a murderer and he's a liar," Gruenke told the court.
Jim Koby, Eric's lead defense attorney, says name calling is dominating the trial.
"The focus of the prosecution's case over and over and over is gonna be, 'Liar, liar, pants on fire' to get a guttural response from a jury, hoping that if a jury just buys into the -- the lies, they'll ignore the evidence, or lack thereof," he explained.
But the prosecution says it does have other evidence against Eric -- most notably, his growing financial crisis.
Forensic accountant Mary Jo Werner says Eric's assets had dwindled to nearly nothing:
Tim Gruenke: In May 2010, he had $1,342 left in his bank accounts.

Mary Jo Werner: Yes.
The prosecution then calls Dennis Koula's brother - Eric's uncle -- to the stand. Leroy Koula says, just days before the murders, Dennis told him he was cutting his kids off financially.
"He surprised me because he just said, ' I'm all done giving to the kids.' That's all he said," Leroy Koula testified.
But there is no hard evidence Dennis had actually told his son that he was cutting him off.
"I would never kill anybody for money, never," Eric told Peter Van Sant.
Leroy also says what the defense and Eric have claimed from the beginning: father and son were close:
Chris Dyer: You believed it to be the nature along the lines of best friends, isn't that right?

Leroy Koula: Yes, I guess so.
The defense says given that tight family bond, it would have been impossible for Eric to kill his parents and conduct himself normally just hours later.
Close friend Joe Breier met Eric and Christine for drinks the night of the murders.
"He was probably a little more jovial than usual because it was his anniversary and they were celebrating. But it was just Eric as usual," said Breier.
"If Eric had just come from his parents' house would he have been able to present himself like that to you do you believe?" Van Sant asked Christine.
"Absolutely not, there's no way," she replied, "because I know when there's something wrong."
The defense resurrects a theory investigators had rejected -- that Dennis and Merna were mistakenly murdered by a hired gunman who went to the wrong address.
Steve Burgess is the banker who lived just two houses from the Koulas.
He's the one who had received death threats:
Jim Koby: Did you receive threats such as 'your time is limited'?

Steve Burgess: Yes I did.

Jim Koby: Did you receive threats that 'your days are numbered'?

Steve Burgess: Yes.
"We don't know who killed Dennis and Merna Koula. What we know is that the crime scene certainly suggests somebody who was well-planned, who knew what they were doin'," said Keith Belzer.
Bolstering their hitman theory, the defense then calls forensic expert Max Scott. He specializes in reconstructing and investigating violent crime scenes.
"I think it's an organized scene," he testified.
Scott says the death scene at the Koula house is the work of a pro.
"I think it was well planned, rehearsed with experienced doers who knew how to do this type of thing. And most importantly, not leave any evidence," he said.
The prosecution finds the "hitman run amok" theory ridiculous.
"A professional killer wouldn't go upstairs and open up the drawers and make it look like a burglary, take the time to do that. It had to be somebody that was -- needed motive, and Eric certainly had motive," said Gruenke.
The defense attacks that alleged motive of financial desperation with Deb Thompson, a forensic accountant:
Jim Koby: They had enough money on hand to pay their June bills?

Deb Thompson: Correct.
"We had all of our bills paid. Our cars were paid off. We had a mortgage payment, we had other payments, but we were on top of everything, we were fine. I mean, we were tight, but we were doing OK," said Christine.
Jim Koby: What do we arrive at in terms of total assets?

Deb Thompson: $246,825.
The defense contends the fact that Eric deposited that $50,000 check the day after the murders is actually proof of his innocence.
"What sort of an idiot would put a check in the bank the morning after they killed their parents, knowing that bank records are easy to get?" Keith Belzer said with a laugh.
After 14 days spent listening to the testimony of 57 witnesses, the jury gets the case.
"I'm confident that he will be found innocent," Christine Koula said of her husband. "There's no doubt in my mind."
The jury in Eric Koula's case deliberates 20 hours over three days. As Eric braces for the verdict, he acknowledges he played a role in placing himself at the defense table.
"I'm not a killer, did not kill them," he said. "I did two dumb things, yes. I wrote that note. And I said that my father signed the check."
But will the jury see Eric's lies as dumb or devious?
Eric is found guilty of killing both his parents as well as an additional charge of forging his father's name on that $50,000 check.
"I just couldn't believe it. I don't know how they -- arrived at that. You know, hear, 'Guilty, guilty, guilty,' over and over and over from each of 'em ... and I'm like, 'I didn't do it. I didn't do it.' Just reverberates in your head," he said.
"And my heart just stopped for a second there," Cindy Cowell said.
"It's like, 'Wow!' Eight-million thoughts through your head. 'Mom and Dad are dead. Their killer's going to prison, was found guilty. Wait a second. That killer's my brother.'"
Eric's wife, Christine, was dumbfounded.
"Total injustice, absolutely total injustice," she said.
"Have you ever had a moment of doubt?" Van Sant asked.
"None, ever, ever, never, ever, ever, no," she replied.
"I want people to know that this evil, cruel man that they've heard about that killed his parents is not my father. And that he had nothing to do with this, never has, never will," said Eric's son, Dexter.
Video: Dexter Koula on standing by his father
"He didn't see my parents as parents. He saw them as an ATM machine. And when the ATM machine was out of cash on his debit card, he did the only thing he thought was what he could get away with," said Cindy.
Cindy Cowell also knows that one fateful last act by her mom helped convict her brother by punching a hole in Eric's alibi.
"The fact that when your mother died, she did touch that keyboard. And that told authorities the time of death, at 5:41," Van Sant noted.
"Your mother played a role in his conviction by hitting that key."
"Yeah. She did -- she did. She brought justice for her and Dad," Cindy said in tears.
Two months after the guilty verdict, Eric is back for sentencing. Cindy addresses the court.
"Your Honor, life is not fair. All I can ask for is justice," she said.
Eric also chooses to speak, seeking one last chance to be believed:
"I have been convicted of this crime, Your Honor, that I did not do. I did not kill my mom and dad. ... And I'm gonna go on and continue to fight for my innoc -- and prove that I am innocent to show people that I did not do this. I will not quit. Who is responsible for this is still out there."
Judge Scott Horne hands down Eric's sentence:
"You took the life of the two people who gave you life. And you'll spend the rest of your life incarcerated."
Eric is sentenced to life without the possibility of parole. Cindy Cowell has justice, but little peace.
"It's evil and it's still hard for me to believe that someone who once kissed me on my head when I was a baby could turn around and kill the mother and the father who were responsible for giving them life in the first place," she said.
Eric Koula received nothing from his half of his parents' estate. However, his two children are splitting his $740,000 part of the inheritance.
Thanks for reading CBS NEWS.
Create your free account or log in
for more features.