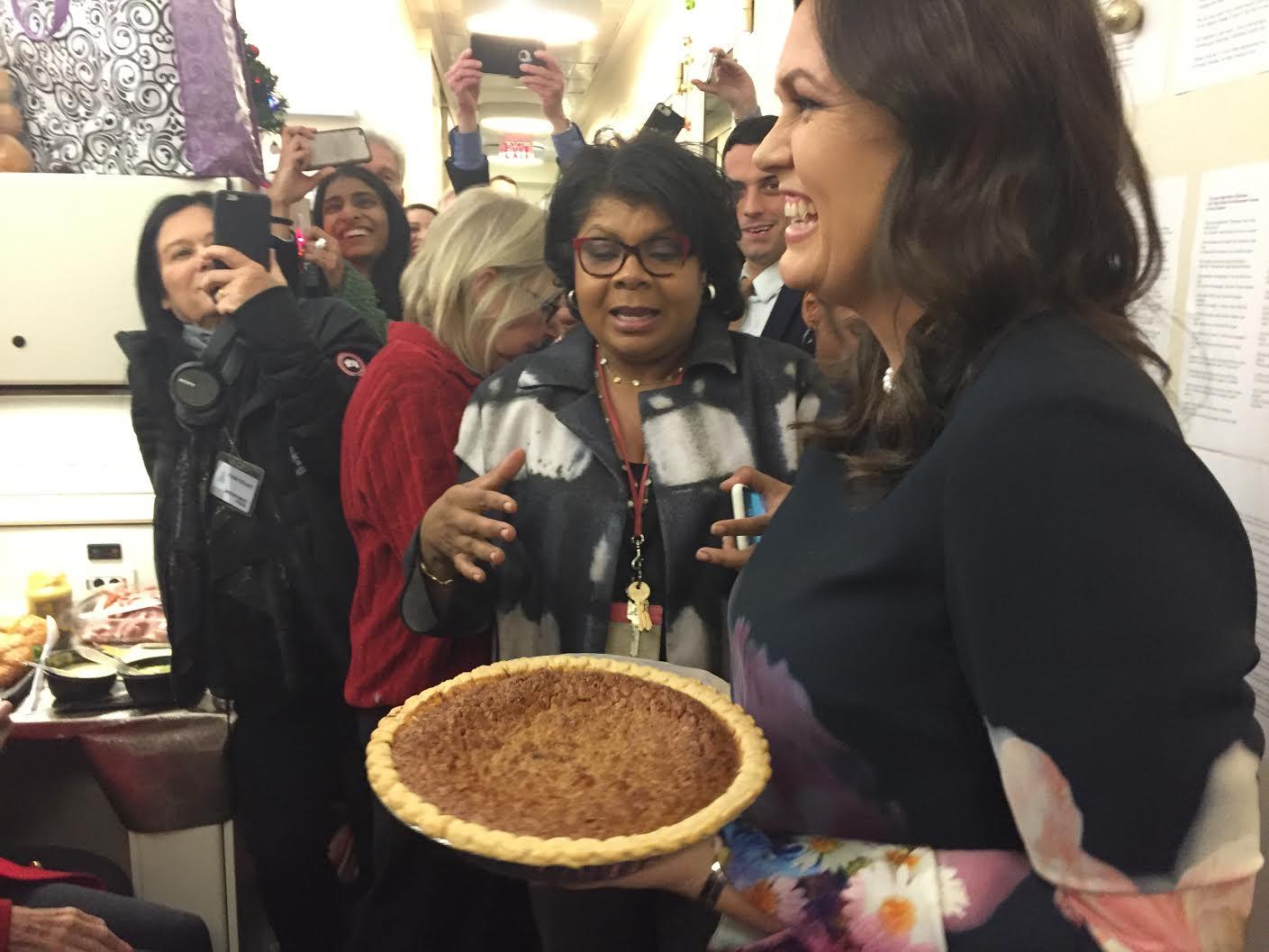 White House press secretary Sarah Sanders ends #PieGate
Thursday, White House Press Secretary Sarah Huckabee Sanders brought in pecan pies for the White House press corps, putting an end to what Twitter has deemed "#PieGate" and her running joke with reporter April Ryan of the American Urban Radio Network.
"I believe, not just for me, but for all of us, I believe these pies that you personally baked with those beautiful pecans that were on your table, wrapped in that beautiful -- and those beautiful pictures in your kitchen, I believe that this is our reset. Not just for me, but for all of us," Ryan said to Sarah Huckabee Sanders.
"It's true, I try to reach out to you guys every day but this is, I think a great time," Sanders said. "It's Christmas and it's a time to be generous and hospitable, which I try to do every day, but particularly for you today, for everybody."
#PieGate started on Thanksgiving when Sanders tweeted out a photo of a pie she said she made that the Twittersphere declared a "#fakepie."
"I dont cook much these days, but managed this Chocolate Pecan Pie for Thanksgiving at the family farm!" Sanders tweeted.
Ryan responded to the tweet asking for Sanders to prove that she actually baked the pie.
Wednesday night, Sanders followed up on her #PieGate promise to bake a pie for Ryan and the White House press corps.
Ryan joked that she needed more proof, adding that she wouldn't actually eat the confection.
So Sanders documented her baking.
Thursday, Sanders brought the pies in for the press to behold.
"Piegate is over! It's over! Ryan said, putting an end to the lighthearted Twitter war.
"Now you want to make a cookbook together? Since everybody else is trying to make a book off of stuff? Do you want to do one together" Ryan joked with Sanders.
CBS News' Jillian Hughes and Jacqueline Alemany contributed to this story.
Thanks for reading CBS NEWS.
Create your free account or log in
for more features.