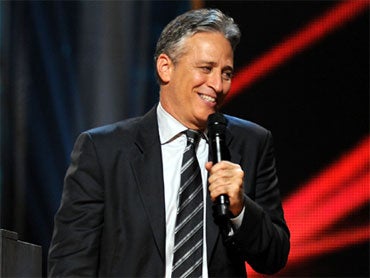 White House Lauds Jon Stewart for Pushing Passage of 9/11 Health Bill
During his press briefing Tuesday, White House Press Secretary Robert Gibbs told reporters that comedian Jon Stewart may well have helped breathe new life into the prospects for passage of a health care bill for 9/11 first responders.
Stewart last week devoted a nine-minute segment of his Comedy Central program, "The Daily Show," to lambasting Congressional opponents of the Zadroga bill, which would provide health care coverage to first responders at the September 11, 2001 attacks on NYC's World Trade Center.
Some subsequently credited Stewart with helping a long-stalled piece of legislation get a second life.
"If there's the ability for that to sort of break through in our political environment, there's a good chance that he can help do that," Gibbs told reporters on Tuesday. "I think he has put the awareness around this legislation. He's put that awareness into what you guys cover each day, and I think that's good."
Indeed, it was following Stewart's rant - during which he called the Republicans' opposition to the bill "an outrageous abdication of our responsibility to those who were most heroic on 9/11" - that the story began gaining increased traction in the media.
A number of Republican commentators, including former presidential candidate Mike Huckabee and MSNBC's Joe Scarborough, have since condemned those within the GOP who have failed to pledge their support for issue. Stewart - no stranger to political rhetoric despite the fact that his show is ultimately about comedy - has suggested that "the party that turned 9/11 into a catchphrase are now moving suspiciously into a convenient pre-9/11 mentality when it comes to this bill."
"This bill has long been a huge priority for us in New York, but Jon's attention to this helped turn it into the national issue it always should have been," Sen. Chuck Schumer, one of the bill's sponsors, said in a statement to ABC News.
But Congress is running out of time to pass the legislation - and some Senate Republicans have threatened to do everything they can to prevent it from reaching a vote.
In his briefing today, Gibbs said he was still holding out hope for passage with Stewart's help.
"I hope he can convince two Republicans to support taking care of those that took care of so many on that awful day in our history," Gibbs said.
---
Lucy Madison is a political reporter for CBSNews.com. You can read more of her posts here. Follow Hotsheet on Facebook and Twitter.
Thanks for reading CBS NEWS.
Create your free account or log in
for more features.