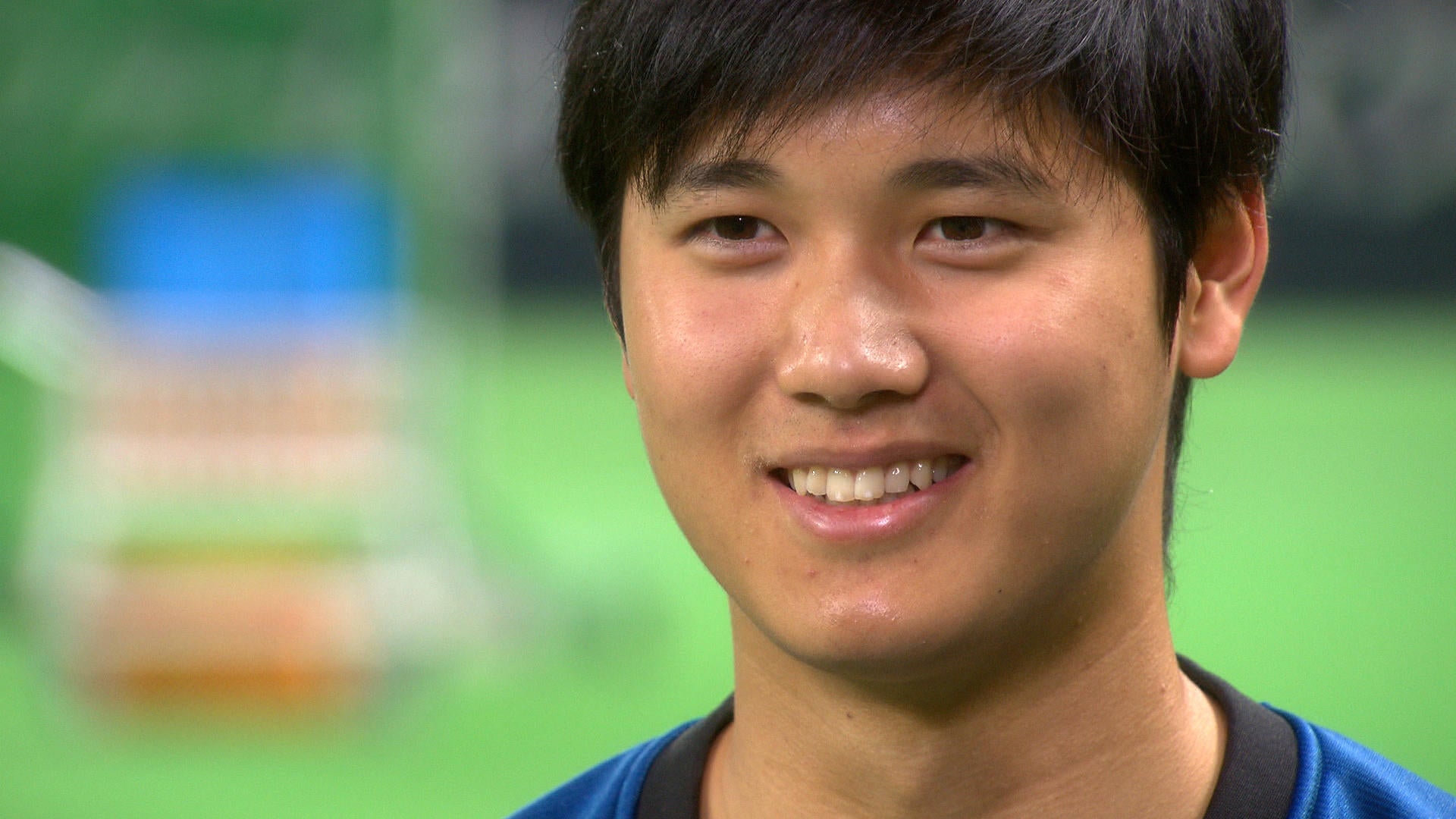 Which U.S. players does "Japan's Babe Ruth" want to go up against?
Shohei Ohtani, the best player in Japan, sees himself in some of the best players in Major League Baseball: Bryce Harper, the slugger, and Clayton Kershaw, the superstar left-handed pitcher. If Ohtani comes to Major League Baseball, he will be something Americans haven't seen for almost a hundred years: an all-star quality pitcher and hitter in the same player – just like Babe Ruth was. Just don't compare Ohtani to the Babe; the 22-year-old says that's a stretch, even for someone who can throw 100 mph and hit humongous homers. Ohtani appears in his first network television interview when he is profiled by Jon Wertheim on the next edition of 60 Minutes Sunday, April 9 at 7 p.m. ET/PT.
"I actually do see myself [in Harper and Kershaw]," says the right-handed pitching Ohtani. "And I actually try throwing lefty sometimes…Just thinking about facing him makes me really happy and excited. I could tell he's such a great pitcher through the TV screen," he says of the three-time Cy Young winning Kershaw. Asked how he would pitch to Harper, the National League's most valuable player in 2015, he says, "I would have to go with my best pitch, which is the fastball. I want to see how my best pitch fares against one of the best hitters," he tells Wertheim.
The 6-4 Ohtani has thrown a pitch 102.5 mph, the fastest ever in professional Japanese baseball, pitched a sub 2.00 ERA season, hits for average and in an exhibition game, blasted a ball into the Tokyo Dome roof that probably would have gone out of an open top stadium. In high school he was already throwing the ball faster than most MLB pitchers, recording one pitch at 99 mph.
"[Babe Ruth] is like a mythical character to me. Because it's such a long time ago and he was God to baseball. I shouldn't be compared to him."
Despite all this, the young, cool, Japanese all-star waves off comparisons to America's biggest baseball legend. "[Babe Ruth] is like a mythical character to me. Because it's such a long time ago and he was God to baseball. I shouldn't be compared to him."
Ohtani has always had his eye on MLB. In fact, when he was eligible to play in the pros at age 18, he went so far as to tell Japanese teams not to draft him, but the Hokkaido Nippon Ham Fighters in Sapporo did so anyway. They lured him with the prospect of allowing him to hit and pitch. He signed with them and the team won the championship; Ohtani was the league's MVP.
The Fighters have said they'll permit Ohtani to negotiate with Major League teams after this season, but a salary cap for foreign players under the age of 25 would set the maximum he could be paid by any MLB team at $6 million. Coming to the MLB before he turns 25 will mean making many millions of dollars less than he's worth in America's big leagues. Not a factor says Ohtani. "Personally, I don't care how much I get paid or how much less I get paid because of this," he says.
Thanks for reading CBS NEWS.
Create your free account or log in
for more features.