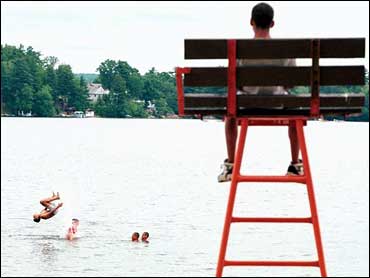 When "Lifeguard On-Duty" Doesn't Mean "Safe"
Just seeing a lifeguard instills a sense of security.
But having a lifeguard at water's edge -- doesn't always mean your pool is safe.
The statistics are sobering. On average, 10 people a day die from unintentional drowning. More than one in 5 drowning deaths involves a child 14 or younger. Some of those cases involve pools where life guards were on duty.
"Early Show" Consumer Correspondent Susan Koeppen told the story of Yoni Gottesman.
Much More Consumer News from Susan
E-mail Susan
Susan's Twitter page
Yoni was just 4 years old when his parents took him to summer camp.
His mother, Anat Gottesman, said, "I remember when I left him in the morning. He said, 'Mommy, I'm so happy. Bye bye. We'll see you later.'"
But that was the last they would see Yoni alive.
Anat said, "You think you can do everything for your child, and in his worst moment, you can't help him."
Yoni drowned in his very first day of camp. His drowning was caught on this surveillance video. In the video, Yoni can be seen struggling to swim to the edge of the pool. And finally, he is floating face-down in the water, even with two lifeguards just feet away. It took eight minutes before anyone noticed.
Gerry Dworkin, a consultant for Lifesaving Resources Inc., a private safety organization, told Koeppen, "We see time and time again where the lifeguard fails to recognize the problem and fail to intervene appropriately."
Dworkin says many people get a false sense of security when a life guard is on duty.
"We estimate that there are 100 plus drownings that occur at guarded facilities every year," he said.
So, "The Early Show" decided to check out lifeguards who were "on duty" at several different pools. The good news: we found plenty paying attention. But some were not as focused, such as a lifeguard at an indoor pool who was flipping through a magazine.
Dworkin said of the lifeguard looking at the magazine, "This should certainly not be allowed."
Another lifeguard was busy putting away swimming noodles.
Dworkin says, "The lifeguard should never turn her back to someone in the pool at any time."
The same lifeguard also did paperwork and sent text messages.
Dworkin told Koeppen, "In my opinion, the telephone has no place at the pool whatsoever."
Another lifeguard was spotted by "The Early Show" texting over and over again, even though the pool was filled with children.
Koeppen asked Dworkin, "On a scale from one to 10, one being pretty bad, 10 being good, how does this lifeguard rank?"
Dworkin replied, "Zero. I think you're better off not having a lifeguard and putting up a sign 'no lifeguard on duty' rather than have a lifeguard operating in this manner."
The Gottesman family thought their son was in good hands at a pool with life guards, but learned the hard way a lifeguard doesn't always equal safety."
Anat told "The Early Show," "We want to feel that yoni he didn't die in vain, that his death will serve a good purpose. And if we can save more kids life, that's what we want to do."
The Gottesmans successfully sued the camp where Yoni died and have now focused their efforts to raising awareness for pool safety. We've been tracking drowning deaths with lifeguards on duty over the past month and we have found several cases in Colorado, Ohio, and North Carolina, everywhere from a town pool to a country club.
Koeppen added on the broadcast that lifeguards should be scanning the pool constantly. In addition, lifeguards should be sitting in an elevated chair, poised and ready to act if an emergency occurs.
However, in the end, Koeppen said nothing can beat parental supervision.
Thanks for reading CBS NEWS.
Create your free account or log in
for more features.