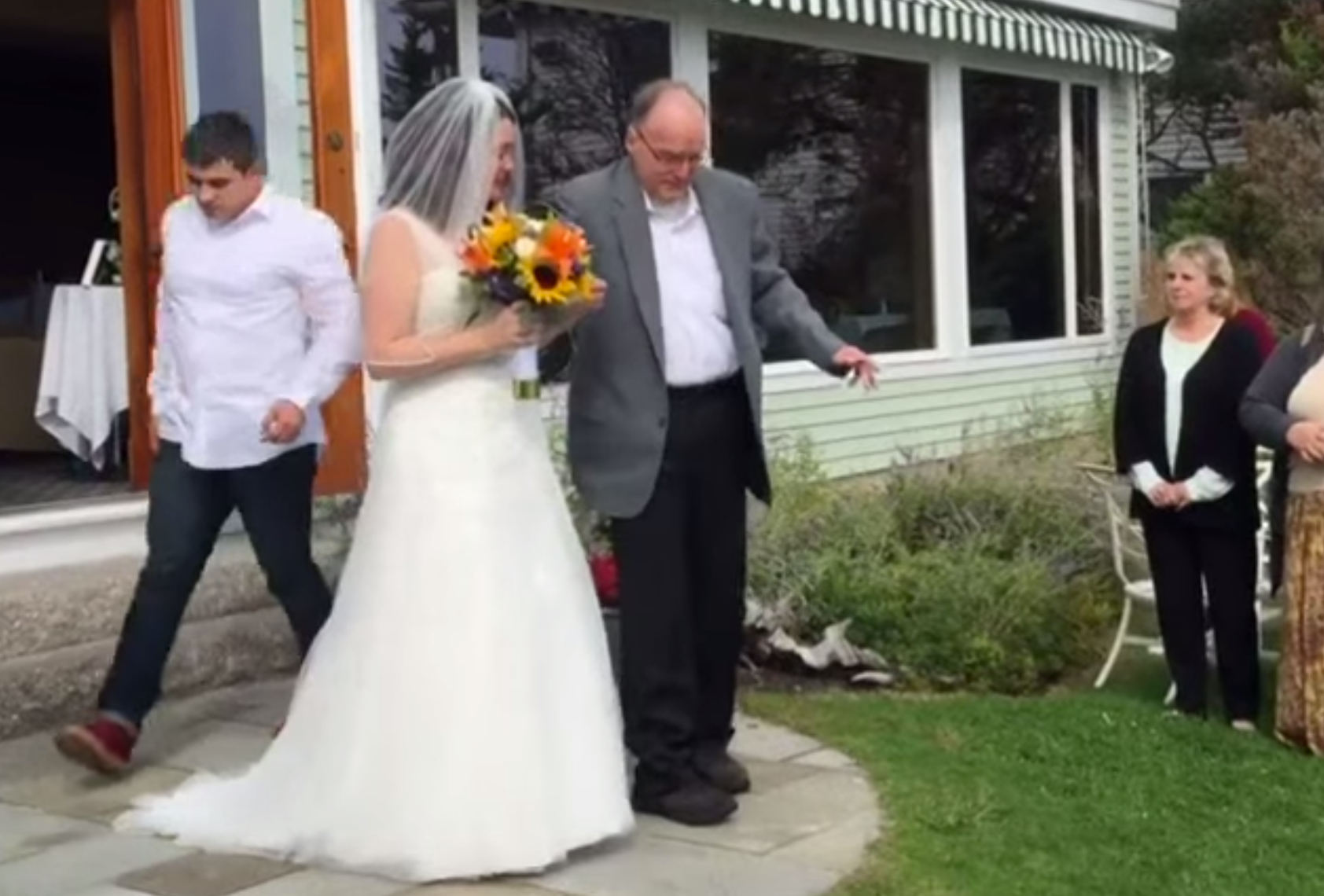 Wheelchair-bound dad walks daughter down aisle in big surprise
Just like every other little girl, Heather Duquette dreamed of having her dad walk her down the aisle on her wedding day.
But when that day was finally in sight and a date was set, she had to come to terms with the fact that her dream wasn't going to be a reality.
Ralph Duquette was diagnosed with leukemia three years ago on his 61st birthday. He underwent several rounds of chemotherapy, which left him with severe neuropathy -- nearly every part of his body is numb.
When his cancer was in remission, the father finally tried to take his first steps in the hospital. He fell. An injury from the fall led to blindness in one eye.
Despite his fear of falling, he was determined to give his daughter the wedding present she didn't ask for but had always wanted.
On Oct. 10, in Old Orchard Beach, Maine, he planned to be by his daughter's side -- and he was.
When Ralph saw his daughter walking toward the aisle, he pushed himself up, left his wheelchair and slowly began walking her down the aisle.
"It turned out being perfect," Duquette told CBS News. "The music came on; I held onto him for dear life."
The bride, who originally planned on walking herself down the aisle, was sobbing as "Marry Me" by Train played in the background.
With tears in her eyes, she looked at him and said, "'Are we really going to do this? He said, 'I'm here aren't I?'"
In addition to his role as father of the bride, Ralph was supposed to perform the ceremony.
When he kissed his only daughter "goodbye," he returned to his post at the altar.
"He is one for cracking jokes," Duquette said. "As he was performing the ceremony, he went on a tangent about the men in my life up to my wedding day -- it wasn't my first time being engaged. He found humor in long road it took."
Duquette, her mother, a maid of honor in the ceremony, and her soon-to-be husband were shocked.
"Not a single person knew, except for my dad," Duquette said. "He wanted to make sure it was a huge surprise; it was."
After the ceremony, Duquette and the entire wedding party found out Ralph had been going to physical therapy since February to learn how to walk on his own again.
During the wedding reception his brother, Robert Duquette, convinced him to push himself a little bit further.
He completed his second fatherly task of the night: the father-daughter dance.
"While we were dancing, I was like, 'Any more surprises?" Duquette asked, smiling. "He was like, 'I didn't even know about this.'"
Thanks for reading CBS NEWS.
Create your free account or log in
for more features.