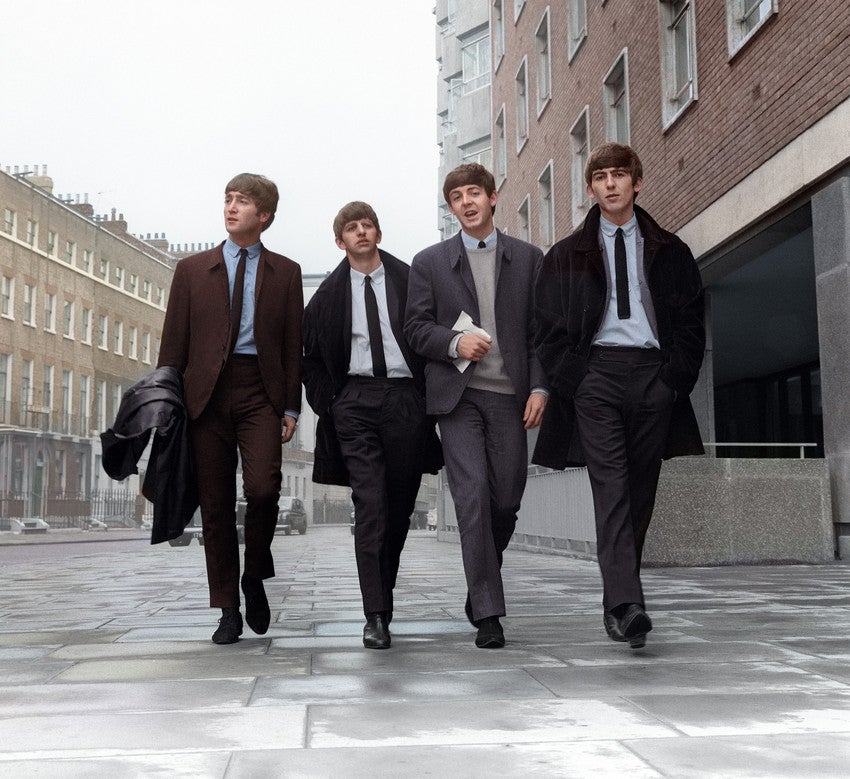 What's old is new again: The best 2013 album reissues
The last couple of months have seen the release of many notable reissues from some of music's most beloved and popular acts -- whether it's in the genre soul (Sly and the Family Stone), blues (Fleetwood Mac), folk rock (The Band) or '90s pop (Sarah McLachlan). And that's just for starters as the fall promises even more high-profile archival material by acts including the Fab Four and grunge rockers Nirvana. Here's a sampling of what's out now and what's to come in the months ahead.
ALREADY OUT
Elvis Presley
"Elvis at Stax"
RCA/Legacy
This 3-CD set collects the King of Rock and Roll's recordings at the famed Stax Studios in Memphis in 1973. Riding high from his triumphant shows in Madison Square Garden in the summer of 1972 and his "Aloha from Hawaii" TV special in early 1973, Presley entered Stax Studios and recorded some gritty and soulful tracks there that were eventually released over the course of several studio albums and compilations between 1973 and 2002; this new set also features previous outtakes from those sessions.
Fleetwood Mac
"Then Play On"
Reprise/Rhino
Before it became the preeminent Southern California rock band that exploded with 1977's smash album "Rumours" album, Fleetwood Mac was known as a British blues band in the late '60s led by singer/guitarist Peter Green. Proof of that is Fleetwood Mac's third record, "Then Play On," released in 1969. Fans who only know the music of the Stevie Nicks/Lindsey Buckingham/Christine McVie edition of the band might be in for a surprise when listening to the early Mac's music, a mix of satisfying electric British blues rock. In addition to featuring the original album, this latest reissue tacks on four bonus tracks -- among them two of the early band's famous songs, "Oh Well, Pt. 1" and "The Green Manalishi (with the Two Prong Crown)."
Bob Dylan
"Another Self Portrait"
Columbia/Legacy
First released in 1970, Bob Dylan's "Self-Portrait" received mixed reviews from critics who were baffled by the music from the album: a mixture of originals, covers and live performances. At the time, writer Greil Marcus famously began his review of the album in Rolling Stone with: "What is this (expletive)?" More than 40 years later, the album is presented in a different light with the latest installment of "The Bootleg Series"-- the standard 2-CD edition features 35 previously unreleased and alternate versions of songs from that album's sessions, along with a few songs from the "Nashville Skyline" and "New Morning" periods: among them include "All The Tired Horses" (without the overdubs); live performances of "Like a Rolling Stone" and "I'll Be Your Baby Tonight" with The Band at the Isle of Wight; and a demo version of "When I Paint My Masterpiece." For Dylan fans, this is a treasure trove of rare music from a period in the bard's career that deserves a second evaluation.
Sarah McLachlan
"The Essential Sarah McLachlan"
Arista/Legacy
One of the most important artists of the '90s, Sarah McLachlan made her mark not only through her exquisitely-produced songs but also as the co-founder of the highly successful Lilith Fair, which brought women's music to forefront. This new 2-CD set covers the Canadian singer's output so far, from the ebullient "Vox" from 1989's debut, Touch," through 2010's "Loving You is Easy," off her latest album "Laws of Illusion." In between are some of the great hits ("Possession," "Good Enough," "Angel," "I Will Remember You"), along with songs from movie soundtracks ("Toy Story," "I Am Sam") and previous compilations.
Sly and the Family Stone
"Higher!"
Epic/Legacy
One of the biggest funk acts of all time, Sly and the Family Stone -- led by frontman and driving force Sly Stone -- dominated music in the early '70s with hit songs that still resonate four decades-plus later: "Everyday People," "Dance to the Music," "Family Affair" and "Hot Fun in the Summertime" are just a few of them. "Higher!" is a recent 4-CD collection spanning the years 1964 through 1977 that not only contains familiar tracks but features some of them as mono singles -- plus live tracks and other rarities and unreleased songs. It's a well-deserved chronicle of a band whose sound has provided the template of many musical acts that followed.
The Band
"Live at the Academy of Music 1971"
Capitol/UME
An expanded version of the group's 1972 live album, "Rock of Ages," "Live at the Academy of Music 1971" is a 4 CD/1 DVD document of music from The Band's four concerts in New York City during the last week of 1971. The music from those shows make a greatest hits of some of the Band's work at that point on this set especially from its first two great albums "Music from Big Pink" and "The Band." A major highlight of this box is Bob Dylan, who makes a special appearance on several tracks form the Dec. 31, 1971 show. Two of the other CDs feature previously unreleased soundboard mixes from that New Year's Eve performance. In addition to the music presented in 5.1. surround sound, the DVD also contains two filmed performances of "The Medicine Show" and "King Harvest" that finally see the light.
The Clash
"Hits Back"
Epic/Legacy
Released simultaneously with a brand-new 12-disc boxed set, "Sound System," this collection, called "Hits Back," is the latest hits compilation from the '70s British punk rock band. Unlike previous greatest hits sets, the sequencing on "Hits Back" is from a set list drawn up by the band's late singer/guitarist Joe Strummer for a 1982 concert. No argument here about the set list as for the obvious inclusions -- "I Fought the Law," "Janie Jones," "Rock the Casbah" and "London Calling." This 2-CD chronicle also tacks a few familiar favorites that weren't performed from that set list, including "White Riot" and "Tommy Gun."
The Beach Boys
"Made in California"
Capitol/UME
The Beach Boys' music has been compiled many times over the years, but this latest 6-CD set -- coinciding with the band's recent 50th anniversary celebration -- might top all those previous hits collections. In addition to featuring nearly all of the band's iconic hits from mono version of "Surfin'" to last year's "That's Why God Made the Radio," "Made in California" also contains more than 60 never-before-released tracks, live performances and demo recordings. Packaged like a high school yearbook, "Made in California" is the ultimate Beach Boys collection. It might be difficult to find another hits collection to surpass this mammoth set.
UPCOMING
Nirvana
"In Utero" (Deluxe Edition)
DGC/UME
(Sept. 24)
At the time, "In Utero," first released in 1993, was the long-awaited follow-up to the Aberdeen, Washington-based grunge rock band's breakthrough, "Nevermind." Tragically, it would be Nirvana's final studio album - several months later, singer/guitarist Kurt Cobain committed suicide at the age of 27. Even though it's overshadowed by "Nevermind"'s massive popularity, "In Utero" -- recorded by Steve Albini -- nevertheless stands on its own as a powerful final statement highlighted by some memorable songs such as "Heart Shaped Box, "All Apologies" and "Dumb." To mark "In Utero"'s 20th anniversary, the original album is being released in a deluxe edition format that also contains B-sides, demos and bonus tracks, including a recently-found instrumental track. The super deluxe 3-CD/1 DVD set also contains those aforementioned rarities as well as the band's entire "Live and Loud" 1993 show in Seattle in both CD and DVD formats.
Eric Clapton
"Unplugged" (Expanded and Remastered)
Reprise/Rhino
(Oct.15)
There is no question that this set cemented the popularity of the MTV "Unplugged" series and that of the legendary British electric guitarist even further. It became Clapton's most commercially upon its release -- it sold 10 million copies and won six Grammys, including album of the year in 1993. In addition to drawing its songs mostly from his solo career, "Unplugged" also featured Clapton's acoustic interpretation of his signature song "Layla" (which he first recorded with Derek and the Dominoes back in 1970 ); and the very poignant "Tears in Heaven," inspired by the then-recent tragic death of his 1-year-old son, Conor. Twenty years later, the classic performance is getting the deluxe treatment with an additional CD of previously unreleased songs and a DVD containing the original concert broadcast with rehearsal footage.
Tears for Fears
"The Hurting" (Deluxe Edition)
Mercury/UME
(Oct. 22)
Two years before it became hugely popular in 1985 with the release of "Songs from the Big Chair" (which yielded the No. 1 hits "Everybody Wants to Rule the World" and "Shout"), the British group Tears for Fears released its debut "The Hurting" -- a very powerful record about emotional pain, drawing from the work of primal scream therapist Dr. Arthur Janov. In hindsight, it was a dark and haunting contrast to the shiny, state-of the-art synthpop pop at the time. Still, the album yielded three memorable hit songs: "Change," "Pale Shelter" and the since widely covered "Mad World." In celebration of the album's 30th anniversary, "The Hurting" is now being presented as a 3-CD/DVD compilation that includes B-sides and singles mixes, a filmed live concert performance from 1984 and live recordings from sessions for the BBC.
Van Morrison
Moondance (Deluxe Edition)
Warner Bros./Rhino
(Oct. 22)
One of Van Morrison's greatest albums, "Moondance" (1970) is being given the deluxe treatment that not only features the remastered original album but also additional tracks consisting of studio outtakes and a previously unreleased song, "I Shall Sing," which was later covered by Art Garfunkel. "Moondance" is a romantic and spiritual cornerstone album of jazzy soul tunes containing two of the Irish legend's enduring songs -- the title track and "Crazy Love." Those who love the album will probably feast on the extras here on this expanded set.
Jethro Tull
"Benefit" (Collector's Edition)
Chrysalis/Rhino
(Oct. 29)
Led by the charismatic flautist/singer Ian Anderson, the English band's third album is a collection of progressive rock and folk tunes that Tull has been renowned for throughout its career, especially during the '70s period; it represents stylistic evolution from the group's more blues-influenced debut two years prior. Its well-known track is "To Cry You a Song," and a subsequent reissue in 2001 contains two other popular Tull songs that weren't on the original album: "Teacher" and "Witch's Promise." Probably most importantly to Tull fans, "Benefit" was the album that preceded the band's commercially successful breakthrough "Aqualung" in 1971. This new collector's edition of "Benefit" contains the original album and bonus, augmented by an audio-only DVD that have both the U.K. and U.S. versions of the record and its bonus tracks mixed in 5.1 surround sound.
The Beatles
"On Air: Live at the BBC Volume 2"
Capitol/UME
(Nov. 11)
It's always an event whenever the Fab Four releases something new from the archives, and this upcoming set is no exception. The sequel to the previous "Live at the BBC" collection from almost 20 years ago, "On Air" contains 63 total tracks of Beatles recordings for the British Broadcasting Corporation between 1963 and 1964 -- 37 of those musical performances are being released for the first time ever. Among them are familiar original classics such as "She Loves You," "Please Please Me," "I Saw Her Standing There" and "I Want to Hold Your Hand" -- and performances of songs written by others, including "Twist and Shout," "Roll Over Beethoven" "and Money (That's What I Want)." Augmented by spoken-word bits from each of the members, "On Air" captures the boys at their best in these vintage recordings -- perfectly timed to coincide with the 50th anniversary of their first trip to America next year.
Miles Davis
"The Original Mono Recordings"
Columbia/Legacy
(Nov. 12)
The great jazz trumpeter's albums have been packaged together before, but this set is unique in that nine of Davis' Columbia albums from the late 1950s to mid 1960s are being re-released in monaural (mono) sound for the first time on CD -- as music was meant to be listened to back in the day before stereo sound took over and became the norm. With each remastered CDs packaged as if to resemble the original vinyl incarnations, this set includes some of Davis' greatest records: "'Round About Midnight," "Porgy and Bess," "Sketches of Spain," "Milestones," "Someday My Prince Will Come," "Miles and Monk at Newport," "Jazz Track," "Miles Ahead" and the immortal "Kind of Blue," which continues to be one of most popular jazz records of all time.
Tell us: Are you going to pick up any of these reissues?
Thanks for reading CBS NEWS.
Create your free account or log in
for more features.