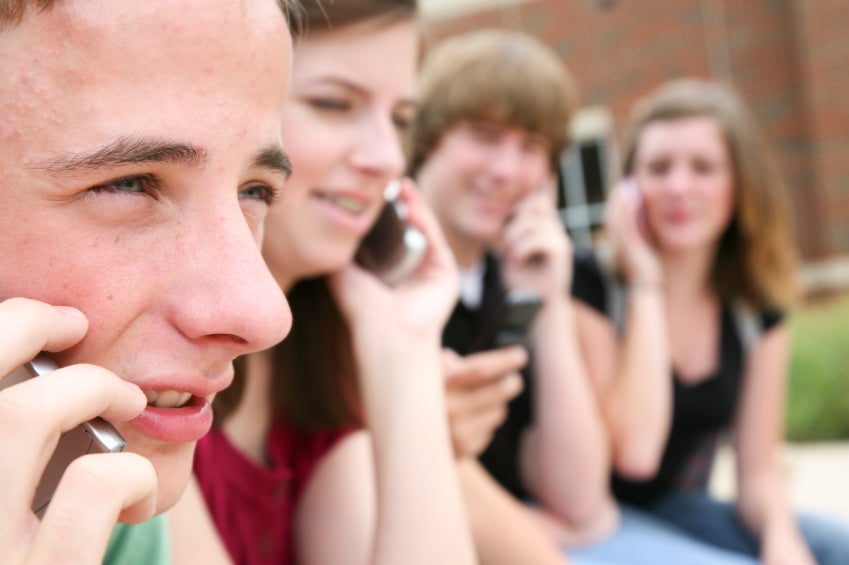 What do mobile phones do to teenage brains?
For every parent who's ever wondered whether spending hours on a cell phone might be harmful to their tech-crazy teen, a new study is seeking definitive answers.
The largest research project ever of its kind, the Study of Cognition, Adolescents and Mobile Phones (SCAMP) is launching in Britain today. Over the next three years, it will investigate the impact of mobile phones and other wireless technology on the developing adolescent brain, with a special focus on how the devices impact cognitive functions such as memory and attention.
The study, led by researchers from Imperial College London, will also look for any possible evidence linking radio wave exposure from mobile phones to the development of brain cancer. The researchers point out that no connection has been proven in adults, but they add, "scientists remain uncertain as to whether children's developing brains are more vulnerable than adults' brains, due to their developing nervous system, enhanced absorption of energy in head tissue, and increased cumulative exposure over their lifetime."
The study will track the health and development of about 2,500 students beginning at ages 11 and 12. At that age, researchers say 70 percent of children in the U.K. own a mobile phone, and that number rises to 90 percent by age 14. In the U.S., a 2013 survey by the Pew Internet and American Life Project found 78 percent of 12 to 17-year-olds have cell phones. A 2010 report by the Kaiser Family Foundation found that children ages 8 to 18 spent an average of 33 minutes a day talking on cell phones, plus over an hour and a half each day texting.
Public health officials in Britain advise that children under 16 avoid non-essential talking on cell phones, and use hands-free technology or texting instead when possible, to minimize exposure to radio waves.
The advice is just a precaution, not based on evidence of harmful health effects, Dr. Mireille Toledano, Principal Investigator of the study, explained in a press release. The SCAMP data, she added, will help policy makers and parents make more informed decisions about mobile phone use in the future.
She also emphasized the importance of learning more about how the technology may affect cognitive development in the teenage brain. "Cognition is essentially how we think; how we make decisions; and how we process and recall information. It is linked to intelligence and educational achievement and forms the building blocks of the innovative and creative potential of every individual and therefore society as a whole."
Parents and students who agree to take part in the study will answer questions about the children's use of mobile devices and wireless technologies, as well as their health and well-being, with a follow-up survey two years later. Participants will also be tested on computerized tasks designed to measure cognitive abilities that underlie memory and attention.
Thanks for reading CBS NEWS.
Create your free account or log in
for more features.