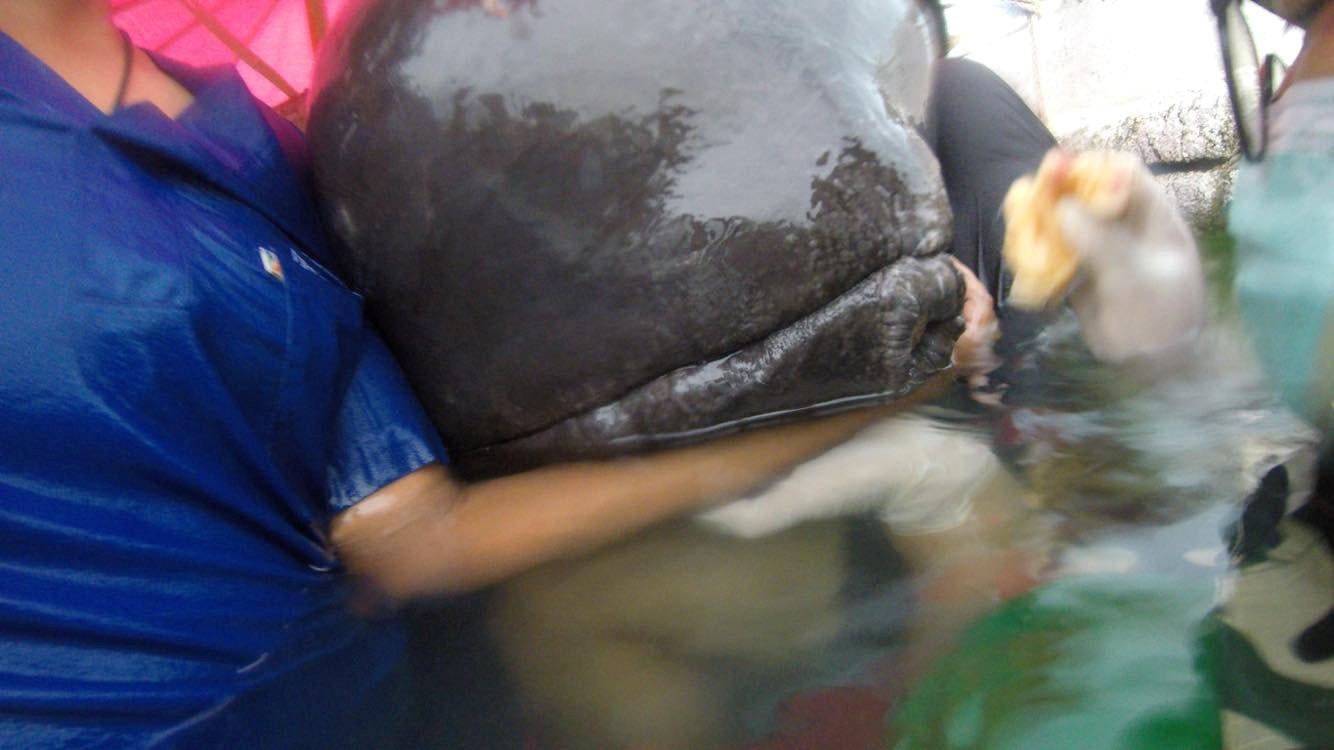 Almost 20 pounds of plastic found in dead whale's stomach
Almost 20 pounds of plastic bags and other plastic trash were pulled from the stomach of a pilot whale that died over the weekend in Thailand, officials have said. Thailand's marine agency has vowed to use the case to call for change in human behavior ahead of World Oceans Day, on June 8.
The pilot whale was first found struggling in a canal in southern Thailand's Songkhla province a week ago, according to the Reuters news agency. Veterinarians tried to help the animal, and it managed to spit out about five pieces of plastic on Friday but then died.
An autopsy revealed the massive haul of plastic bags and other human detritus in the animal's stomach; 80 bags and other pieces of plastic, weighing a total of 17 pounds according to a statement posted on the Marine and Coastal Resources Department's website.
"This plastic rubbish made the whale sick and unable to hunt for food," the government body said. The department head, Jatuporn Buruspat, said the whale likely mistook the floating trash for food. Pilot whales eat squid, octopus and small fish.
Buruspat told Reuters that the department would "use the whale case and invite all sectors to show their intentions on how to reduce the use of plastic in Thailand," ahead of World Oceans Day.
The United Nations' environmental chief warned in December that humans are dumping eight million tons of plastic into the oceans every year, and it will soon come back to bite us.
"At the current rate, we'll end up with more plastic in the oceans than fish by the middle of the century, and ultimately that comes back to our own food chain," U.N. Environment Executive Director and Under-Secretary-General of the United Nations, Erik Solheim, told CBS News' Pamela Falk.
"We need to understand that if we kill our oceans, we also kill ourselves," Solheim said.
Peter Thomson, the U.N. Secretary General's Special Envoy for the Ocean, told CBS News, "there is no quick fix to this gigantic problem and many processes and methods will be required to correct the wrongs that we have brought upon the ocean with our plastic plague."
The U.S. Environmental Protection Agency agrees, saying, "Following decades of uncontrolled dumping, some areas of the ocean became demonstrably contaminated with high concentrations of harmful pollutants including heavy metals, inorganic nutrients, and chlorinated petrochemicals."
Although the U.S. is withdrawing from several U.N. pacts and organizations, including the Paris Climate Agreement, UNESCO, and the Global Compact on Migration, the U.S. government appears to be on board to clean up the oceans, Falk reported in December.
President Trump's Principal Deputy Assistant Secretary of State for Oceans and International Environmental and Scientific Affairs Judith Garber attended the U.N. Environment Assembly last year in Kenya, meeting with youth groups on pollution and recycling.
Solheim was ultimately optimistic, telling CBS News "the solutions are straightforward: There are plenty of natural alternatives to plastics beads in toothpaste or face scrub ... We don't need food to be systematically wrapped in plastic, and we certainly don't need plastic straws or throwaway plastic coffee cups."
"It's a simple case of changing our habits, and stopping plastics from entering the ocean in the first place," he said. "For that we need governments to take action, and ensure that polluters pay and recycling is rewarded."
"This is an environmental disaster caused by laziness that is easily fixed by a healthy dose of innovation and political will."
Thanks for reading CBS NEWS.
Create your free account or log in
for more features.