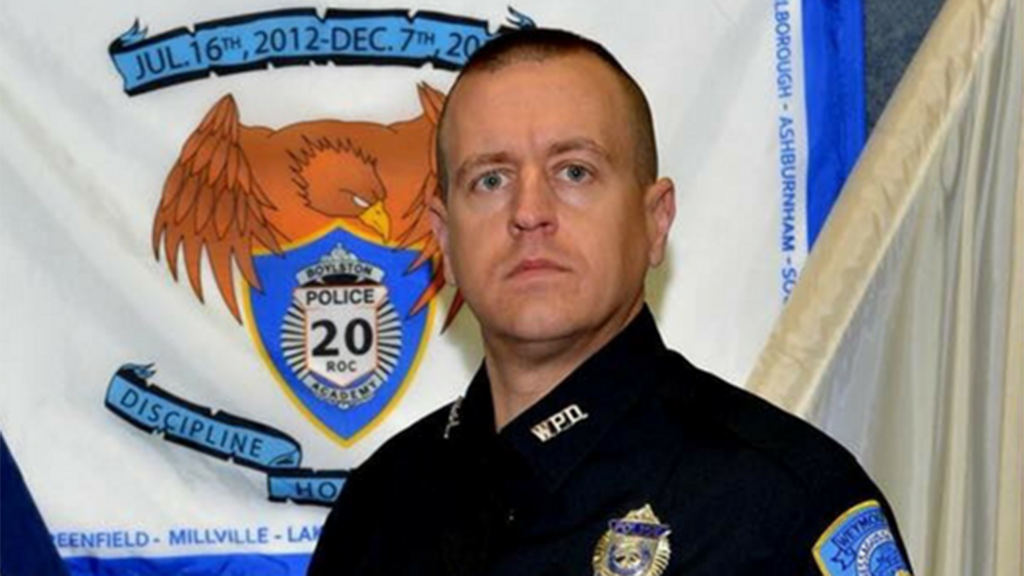 Weymouth cop, woman shot dead by suspect who allegedly took officer's gun
WEYMOUTH, Mass. -- A Massachusetts police officer and bystander have died from wounds sustained when a suspect allegedly took the officer's gun and fired following a vehicle crash and a foot chase. Authorities say Weymouth officer Michael Chesna was shot multiple times before 8 a.m. Sunday, and died from the injures at South Shore Hospital.
Officials say an unidentified elderly woman also died after being hit by stray bullets in a nearby home.
Weymouth Police Chief Richard Grimes identified the shooting suspect as Emmanuel Lopes, and said he was in custody.
Police say the suspect crashed a car, fled the scene, and attacked Chesna with a stone. Chesna fell to the ground, and officials say, Lopes took the officer's gun and shot Chesna multiple times.
Lopes then fled and fired more shots during a chase. Police say some of those shots fatally struck the woman. Lopes suffered a leg wound.
Chesna had been with the Weymouth Police Department for six years, almost to the day, CBS Boston reports. He leaves behind a wife and two young children.
"Officer Chesna has been an Army veteran, and in fact, I was speaking with his mom this morning, and she told me that he joined the military to help open the doors for him to get on this job. He was successful with that… He was just a great family man, he was a great officer," Grimes said.
A neighbor told CBS Boston she hear shots around 7:30 a.m. "I opened up the back door and instantly there was an officer there and then more came running out behind all those houses," she described. "I did hear the cops telling him 'put the gun down, put the gun down.'"
Thanks for reading CBS NEWS.
Create your free account or log in
for more features.