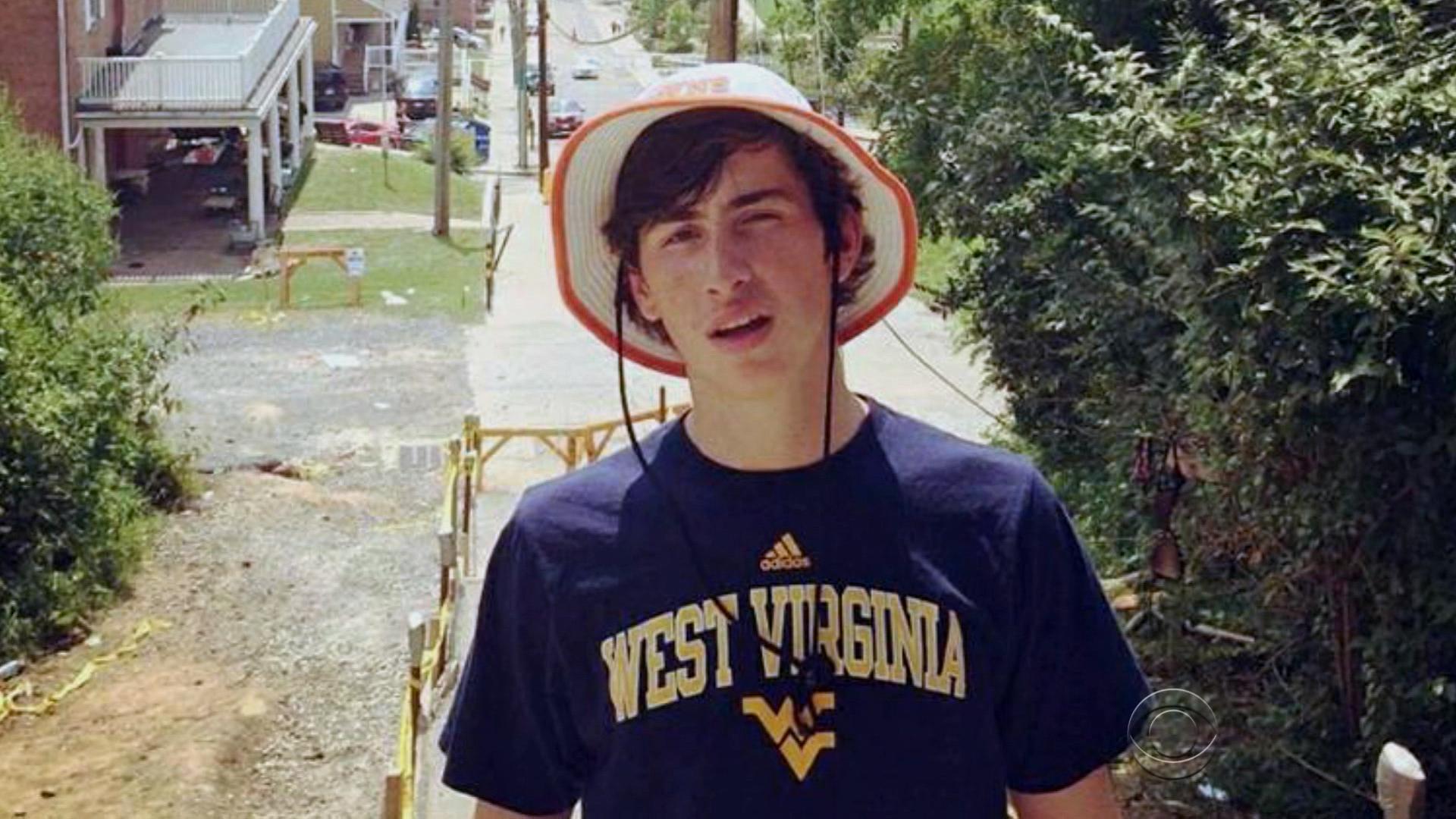 ​Student found unconscious at WVU fraternity dies
MORGANTOWN, W.Va. -- A West Virginia University student found unconscious and not breathing at a fraternity house died Friday, a day after the school ordered a halt to all activities at fraternities and sororities, officials said.
Nolan Michael Burch, 18, died two days after officers were called to the Kappa Sigma house and found someone performing CPR on him. His death was confirmed by Amy Johns, a spokeswoman for WVU Healthcare. Burch was being treated at the system's Ruby Memorial Hospital.
Friends and family made the five-hour journey from Burch's home in Williamsville, New York, to the hospital to be with him. Burch was a freshman majoring in pre-sport management, CBS affiliate WDTV reported.
The school's Inter-Fraternity Council and Panhellenic Council were organizing a candlelight vigil in Burch's honor Friday evening, according to CBS affiliate WOWK.
Dominic Parisi, 18, who graduated from Canisius High School in Buffalo with Burch, said his friend played hockey and lacrosse and that he had committed to a college before anyone else at their high school.
"He knew he wanted to go to WVU before anyone else," Parisi said. "This was where he wanted to be."
The Morgantown chapter of Kappa Sigma had been suspended since mid-October because of other violations of the fraternity's code of conduct, according to a press release from Leo Brown, director of chapter services at Kappa Sigma.
The chapter and WVU were notified on Monday, prior to the incident involving Burch, that the group's charter had been withdrawn and its operations had been closed.
"While we investigate, the fraternity is focused on working with the university to ensure that the proper support and counseling is available to the individual members of our former chapter," the statement from Kappa Sigma said, WOWK reported.
Meanwhile, the group's charter has been withdrawn and its operations closed, Brown said.
The suspended fraternity activity at WVU is in place indefinitely. The suspension follows Wednesday's incident as well as a Nov. 6 incident in which three students were arrested and 16 were cited by Morgantown police for causing a late-night disturbance in Morgantown's South Park neighborhood.
Police are investigating both incidents.
WVU President E. Gordon Gee also announced Burch's death in a press release.
"The outpouring of love and support from his friends and this community has been what you would expect from Mountaineers, and I would ask that you continue to keep the Burch family and many friends in your thoughts and prayers," he said.
Thanks for reading CBS NEWS.
Create your free account or log in
for more features.