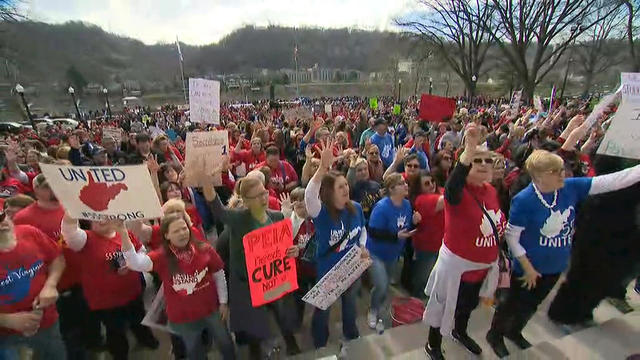 West Virginia schools will be closed for sixth day, Department of Education says
CHARLESTON, W.Va. -- The West Virginia Department of Education said late Wednesday all public schools in the state's 55 counties will remain closed Thursday despite the announced agreement Tuesday night between leaders of the unions representing striking teachers and school service personnel and Gov. Jim Justice to end the walkout. Strikers protesting low pay and rising health care costs have expressed doubts about politicians' promises short of actions that will guarantee raises and protect them from further hikes in benefit costs they say are squeezing them further.
The department's list kept growing Wednesday night even after the House of Delegates voted to approve the 5 percent raises in the deal.
The Senate is expected to consider it Thursday sometime after it convenes at 11 a.m.
The walkout began a week ago across the state.
Many educators said they're continuing the work stoppage because they want a permanent fix to rising PEIA premiums, rather than a temporary freeze, reports CBS Lewisburg, West Virginia, affiliate WVNS.
According WVNS, it's unclear when the work stoppage will end.
Thanks for reading CBS NEWS.
Create your free account or log in
for more features.