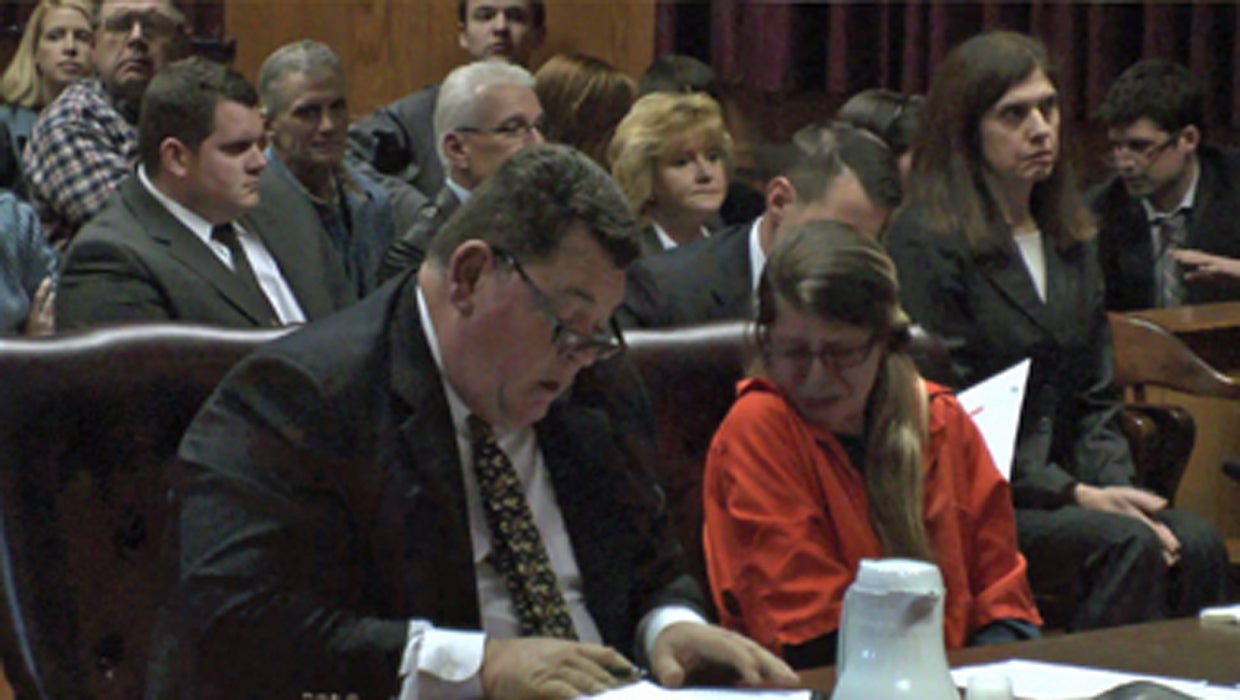 W.Va. teen sentenced to life in Skylar Neese's murder
MORGANTOWN, W.Va. - A West Virginia teenager was sentenced Friday to life in prison with the chance for parole in the slaying of her one-time best friend Skylar Neese, who was lured from her home, stabbed to death and her body left in the woods.
Shelia Eddy pleaded guilty to first-degree murder under an agreement with prosecutors in the July 2012 death of the 16-year-old Neese. Eddy's trial was scheduled to start this week in Monongalia County Circuit Court.
After entering her plea, Judge Russell Clawges sentenced Eddy to life with mercy, meaning the 18-year-old Morgantown woman would be eligible for parole after serving 15 years.
Under the agreement, a kidnapping charge and two counts of conspiracy were dropped.
Eddy, wearing glasses and an orange prison suit with her hair pulled into a ponytail, was visibly upset after entering the courtroom and her voice broke when giving short answers to Clawges, who then asked her how she pleaded.

"Guilty," Eddy said, her voice cracking.

Eddy declined to address the court prior to sentencing.

The victim's father, David Neese, told the court that since the day of his daughter's disappearance, "my life and my wife's life have been drastically altered. We're no longer a family. You can look into the eyes of those who were responsible but you can never know what they heard as they were taking her life."

After the hearing, Neese said it was "unacceptable" that Eddy didn't address the court or apologize for her actions.

Prosecutors say Eddy and another friend, Rachel Shoaf, lured Skyler Neese out of her ground-floor bedroom in Star City, drove her to a secluded spot near the unincorporated West Virginia community of Macdale, then stabbed her to death at an agreed-upon moment.

Authorities said the girls covered the body of the University High honors student with branches when they couldn't bury her, and it lay in a wooded area across the Pennsylvania border for months.

The break in the case came in January 2013. Prosecutors say that's when Shoaf finally cracked and told investigators the truth — and where to find the body.

Shoaf pleaded guilty last May to second-degree murder and is awaiting sentencing. Prosecutors have said they plan to recommend a 20-year prison sentence for Shoaf and will oppose any move to have her sentenced as a juvenile. But she could get as many as 40 years under the law.

Prosecutors never divulged a motive. Shoaf told police the girls no longer wanted to be friends with Neese.

Monongalia County Prosecutor Marcia Ashdown said Friday that Eddy and Skylar Neese had been friends since grade school and the pair went to the beach together in the weeks before the slaying. But Eddy and Shoaf began to distance themselves from her out of fear that their own friendship would dissolve.

"If that were to happen, Shelia and Rachel worried that Skylar would divulge their secrets, the kinds of secrets perhaps that girls have, and other things," Ashdown said without being more specific.

The prosecutor said the pair hatched a plan to pick up Skylar Neese by car after she returned home from work the night of July 5, 2012, arming themselves with kitchen knives concealed in their clothes. They also brought a shovel and clean clothes.

Ashdown said Neese's body wasn't buried because Eddy and Shoaf "couldn't dig into the hard earth at that time."

Though Eddy's name was no secret in the community, authorities didn't make it public until September, when they transferred her case from juvenile to adult court.

Clawges ordered Eddy to remain in a juvenile facility until the Department of Corrections finds room for her in one of its facilities. Clawges said she couldn't be transferred to a state regional jail due to overcrowding.

Skylar Neese was initially considered a runaway and no Amber Alert was issued to publicly notify people of her disappearance. Last year, the legislature tweaked the state's Amber Alert process that had limited it to cases where a child is believed to be abducted. The revised law now requires law enforcement to relay initial reports of any missing child to state police, regardless if the person is a runaway. Amber Alert personnel would then decide whether or not to issue an alert.
Thanks for reading CBS NEWS.
Create your free account or log in
for more features.